Modern House Design with Sliding Walls to Courtryard, House Eadie by Tribe Studio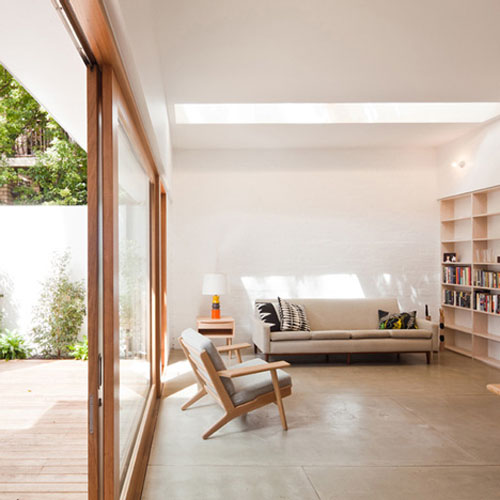 door and decoration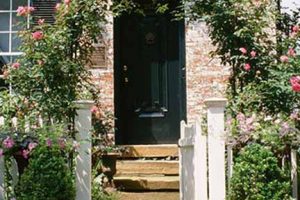 Modern house design with a sliding walls that open an L-shaped living room to a courtyard is located in Sydney. House renovation project is developed by Tribe Studio and offer simple, unpretentious and bright home interiors for a young family with a toddler.
Known to the owners as the 'crackden,' this Surry Hills terrace was severely dilapidated. Substantial reconstruction has yielded a fresh new house with innovative use of materials on a budget. The plan wraps itself around a courtyard, allowing northern light into the living spaces. Clever joinery design reveals and conceals a young family's abundance of stuff.
Designed by Tribe Studio, www.tribestudio.com.au/ modern house provides plenty of storage spaces tucked in wherever possible to make home very comfortable for raising a child and provide attractive spaces to entertain adults.
Corner courtyard and glass wall that connects outdoor with living room
Beautiful house design features light home interiors and pleasant neutral decorating color scheme, contemporary wood furniture and unique wooden shutters which fold, opening high windows upstairs.
Modern house design is a child friendly and made with new eco friendly materials, bringing modern forms and natural materials, creating unpretentious, clean and simple home interiors.
Living room with sliding glass wall to connect living space with a corner courtyard
The living spaces are designed around the courtyard, which becomes a part of an L-shaped living room with sliding walls. Large windows and skylights bring lots of light inside the house, creating pleasant interiors.

Winter backyard landscaping is about designing peaceful and beautiful outdoor spaces that celebrate natural beauty and provide a habitat to protect...
and enjoy free articles sent to your inbox