Modern Art and Floor Decor, Contemporary Rugs for Floor Decoration
---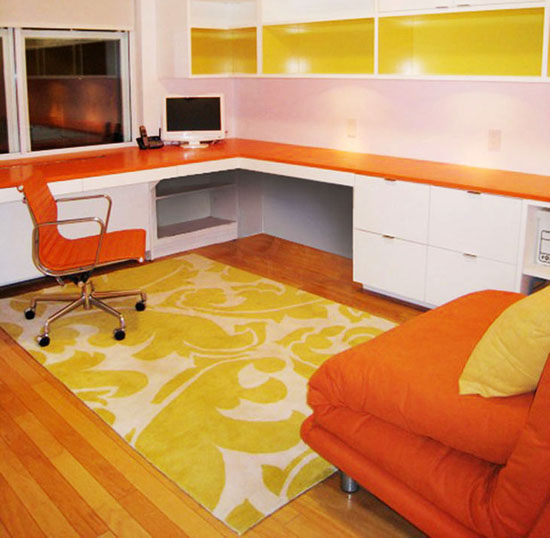 Floor decoration ideas, inspired by modern art, that bring unique and stylish contemporary rugs and floor carpet patterns into home interiors are modern interior decorating and design trends. There are many ways to add artworks to room decorating, and designer rugs and carpets is one of them which creates beautiful modern floor decor.
Practical and decorative contemporary or oriental rugs and carpets can be used in many ways, whether for fresh modern interior decorating or staging a home to sell. Carpet or rugs bring beautiful colors and unique patterns into interior design. Large contemporary rugs and carpets, inspired by modern art, are excellent for decorating open spaces where there are no furniture.
Interior decorating design that includes contemporary or oriental rugs and carpets in front of a fireplace or bookcase, in the hallway or in the middle of the room feels cozier and softer. Beautiful traditional and  modern rugs add a splash of stylish color, creating welcoming room decor. Unique rugs and carpets patterns make interior decorating and design ideas look luxurious and interesting.
Contemporary rugs
Modern floor decor ideas, unique contemporary area rugs
Sculptured rugs, decorating ideas with colorful kids rugs
Eye catchings, inspired by modern art carpet and area rugs design are easy ways to add more style and luxury to home interiors and create modern homes that have unique character. Interesting carpet or area rugs design ideas make living room or hallway feel formal or informal, but always inviting, setting the positive mood for visiting other rooms.
Floor decoration
Designers from Henzel create unique handmade contemporary rugs that look like modern artworks and great for wall and floor decoration. Surrealistic and abstract floor rugs in stylish bold colors or neutral tones make excellent floor decoration, celebrating interior decorating and design ideas in contemporary style.
Unusual carpet or area rugs in the hallway invite people to enjoy attractive interior decorating and design in other rooms, create a striking focal point and offer contemporary floor decoration ideas that add charm and artistic flavor to the living space.
Modern rugs, designed for large room decorating are great for adding drama and making an artistic statement. Abstract or floral, simple and intricate patterns of contemporary and oriental rugs and carpets attract the attention and add more interest to modern interior decorating and design, filling the room with warmth and comfort.
Modern floor decor ideas
Floor carpet tiles and space saving modern flooring ideas
Floor carpets design ideas for style, comfort and joy
One large area rug is one of the best ideas for room decorating. Large rugs or carpets on the floor look dramatic and create elegant room decor with matching wall paint colors, furniture upholstery fabrics, home accessories, throw and decorative pillows. Modern art inspiration help create floor decor that add more style and beauty to interior decorating design and emphasize the contemporary home decorating style.
by Ena Russ
last updated: 11.10.2016