Indoor Swimming Pools and Pool Enclosures Add Luxury to House Designs
Fun Rooms

Home Staging

Interior Design Ideas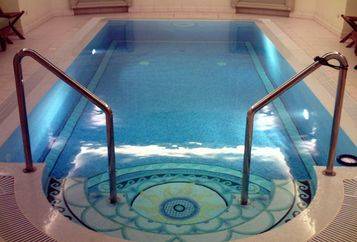 backyard designs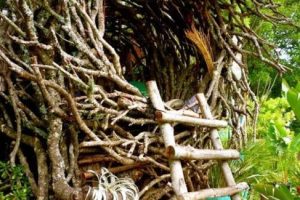 Indoor swimming pools and outdoor pool enclosures add luxury to house designs, offering a pleasant relaxation and fun after work. Indoor pools and outdoor pool enclosures make modern house designs and backyard ideas look more beautiful and inviting, creating a private retreat and a fun zone for the entire family.
With an indoor swimming pool or an outdoor pool enclosure you do not need to go anywhere. No public swims and crowded showers. Indoor pools are expensive and dramatic home and yard decorations, that offer a luxurious lifestyle and increase your home values which is great for home staging and selling your home for the best market price.
The ground floor is perfect for an indoor pool. The room will have natural light and a nice view to your backyard or beautiful surroundings. A spacious room with an indoor swimming pool on the ground level or a comfortable outdoor pool enclosure create wonderful atmosphere of a spa, keeping the level of moisture constant, regardless of the heating and ventilation systems.
Outdoor pool enclosures and indoor swimming pool designs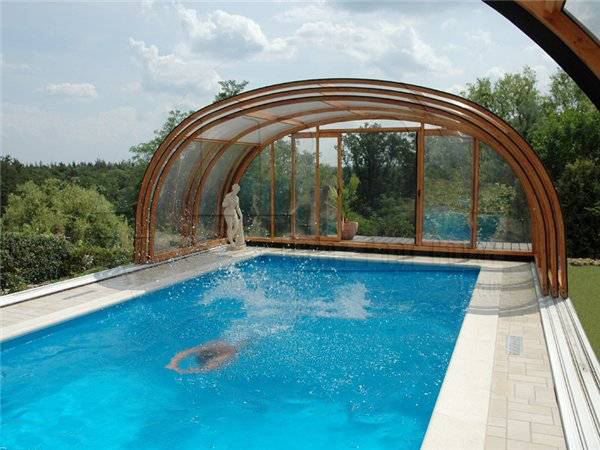 The size, shape and depth of the swimming pool is selected according to the ways you are going to use your pool area. The structure and design should be safe and easy to use for children living in the house or visiting you. Adults who can not swim should feel safe and comfortable in the swimming pool also.
An indoor swimming pool or a ground level pool enclosure can bring some changes to house designs. Adjacent rooms can provide the dressing area and a home gym zone. You may want to add a sauna, a seating area and a bathroom with a shower to create a spa-like atmosphere.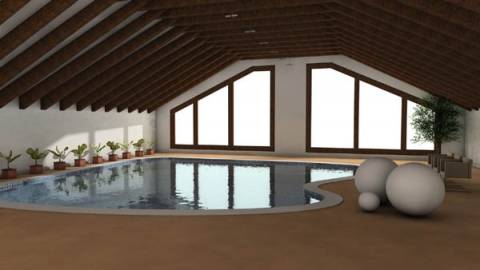 Reliable operation of all engineering systems serving the swimming pool – water circulation, ventilation, heating and electrics, – make house designs functional and comfortable, perfect for luxurious and stress free lifestyle.
Backyard swimming pool and small ponds, beautiful backyard ideas
Unique apartment building, Bandra Ohm Residential Tower with private pools on balconies
An indoor swimming pool and outdoor pool enclosures provide give a unique opportunity to use the pool all year around and swim at any time, including the evening hours and cold winter months.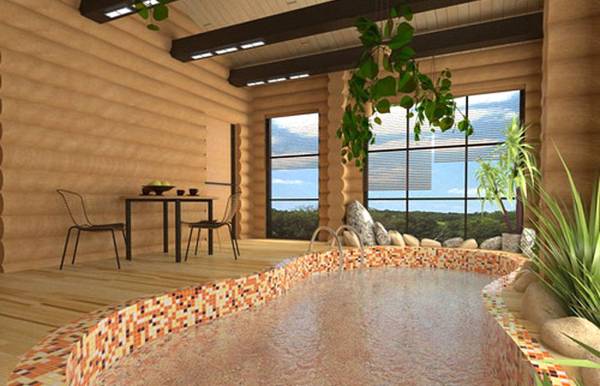 Built-in swimming pools can be easily converted into the multifunctional rooms with hydro massage and fitness equipment, a small home bar design and the TV.
Benefits of sauna, your health and wealth
Sauna with infrared heater, contemporary addition to modern bathroom design
An additional investment enables to add a small swimming pool wave or current generator or a water slide. Indoor swimming pools or outdoor pool enclosure can become a great source of positive emotions that make your family life interesting and happy.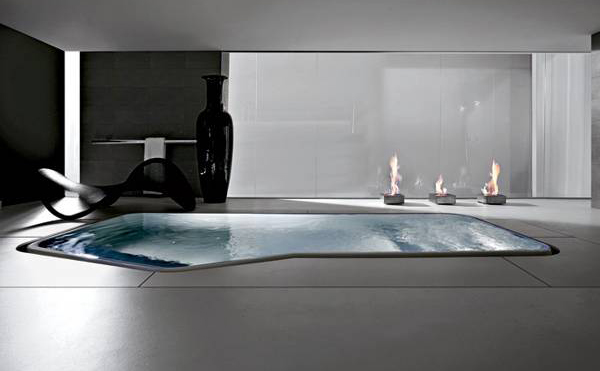 The interior design can implement any swimming pool and home decorating ideas. The abundance of modern house building materials and contemporary technical equipment you can create a gorgeous room with a fountain or a waterfall.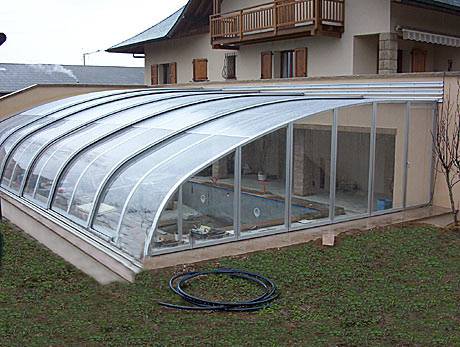 House designs with indoor swimming pools are expensive, but unique, offering lots of pleasure and fun for kids and adults in a privacy of your home.
More from modern interiors

Bright home interiors and amazing views of the ocean make this beach house a dream place. Large windows, light, neutral room...
and enjoy free articles sent to your inbox