Hydroponic Containers with Plants and Flowers, 21 Eco Home Decorating Ideas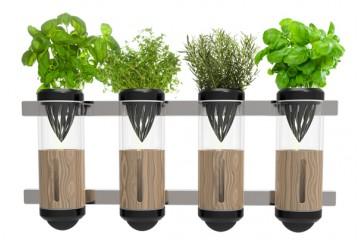 plastic recycling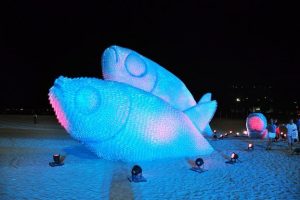 The word hydroponic comes from Latin and means working water. Home decorating with plants and flowers in hydroponic containers is the art of growing healthy plants without soil, and creating an attractive garden design while adding a splash of green color and freshness to your balcony, porch, backyard or interior decor.
Plants and flowers grown with their roots suspended directly into water with no growing medium is just one type of hydroponic gardening known as nutrient film technique. This type of garden design is a very popular method of growing hydroponically, but there are countless variations of hydroponic gardening and planters for home decorating with hydroponically grown plants and flowers.
Hydroponic garden design is a great home decorating idea which works well for outdoor rooms or sun rooms with lots of natural light and home interiors. Indoor garden design allows your to influence the growth of plants and flowers, creating suitable conditions for them and stretching their growing and blooming time. Hydroponic indoor garden design is a way to add beautiful containers and vases to your home decorating while enjoying house plants and flowers all year round.
Pendant lights with glass plant terrariums, modern home decorating ideas
Wall garden design ideas, diy projects for decorating small spaces with edible herbs
Hydroponic garden design and home decorating ideas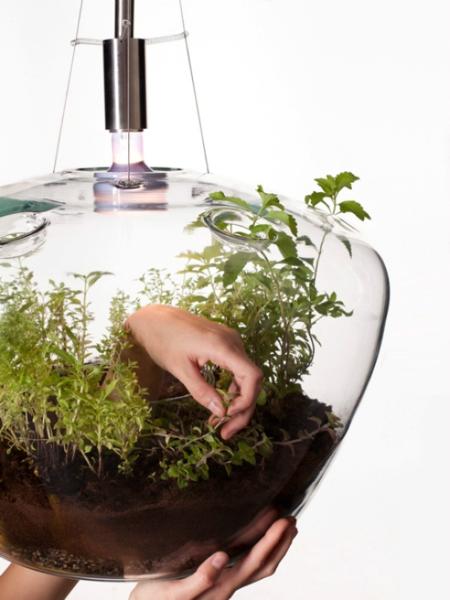 Growing your indoor garden in hydroponic plant containers is a very interesting process. Indoor plants and flowers in hydroponic containers and vases do not need to expend energy on root development to absorb as much nutrients and water as they need. All the energy goes to the development of indoor plants and flowers that beautifully grow and bloom.
In addition, you do not need to buy soil and bulky house plants pots. Attractive vases and decorative hydroponic containers add style and beauty to your home decorating ideas with light designs and contemporary interesting shapes.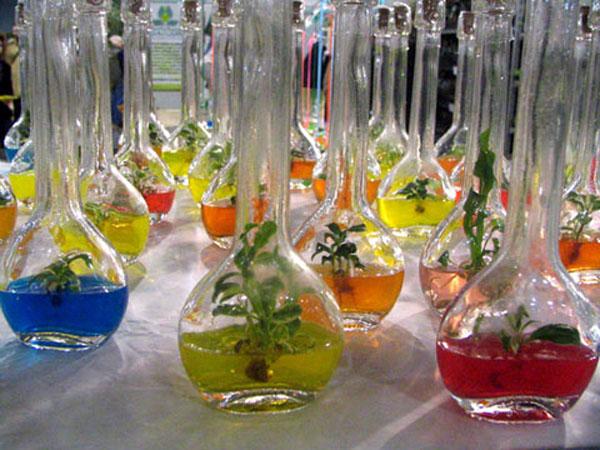 People in large cities seldom get a chance to have their own outdoor garden where they can grow vegetables, berries, decorative plants or flowers. Innovative modern hydroponic containers, which are designed specifically for home decorating and do not require electricity to operate the pump, or simple handmade planters for hydroponic garden design are excellent for growing your own vegetables, berries, edible herbs and decorative plants and flowers that add charm to balcony, porch outdoor room or home interior decor.
Sustainable design for growing furniture, Chair Farm
20 ideas for home decorating with glass plant terrariums, unique eco gifts
Hydroponic garden design ideas are becoming increasingly popular among people living in large cities. Growing vegetables, berries, edible herbs, decorative plants and flowers in homes and offices connect urban environment with natural world, creating more pleasant and relaxing spaces.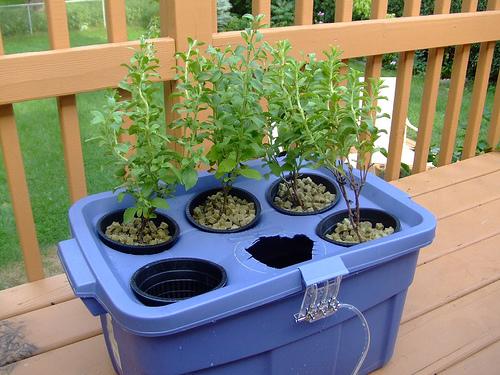 Recycling plastic bottles for inexpensive hydroponic garden design
Fans of hydroponic garden designs suggest to recycle and reuse empty plastic bottles, adding a small aquarium pump and a needle for inflating balls, and creating a simple and inexpensive hydroponic containers for growing plants and flowers in the city.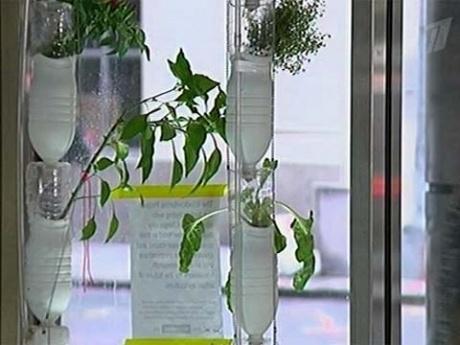 The circulation of water between the connected in series plastic bottles is the main principle of hydroponic garden design. Plants are planted in small concrete blocks for better irrigation. Planters are inserted into bottles with water. The pump makes the air go through a needle to the bottom of the bottle, filled with water, and the air bubbles lift it up. The movement of water is repeated every 15 min.
7 creative ideas with plants and flowers, Mothers Day gifts
Green ideas turn New York city into efficient urban farming area

Green ideas influence traditional and contemporary home decorating. Green ideas come in various forms, and a miniature garden with edible herbs...
and enjoy free articles sent to your inbox