Creative Way to Hide Cables on Wall, Picket Fence from Karl Zahn, Cable Organizers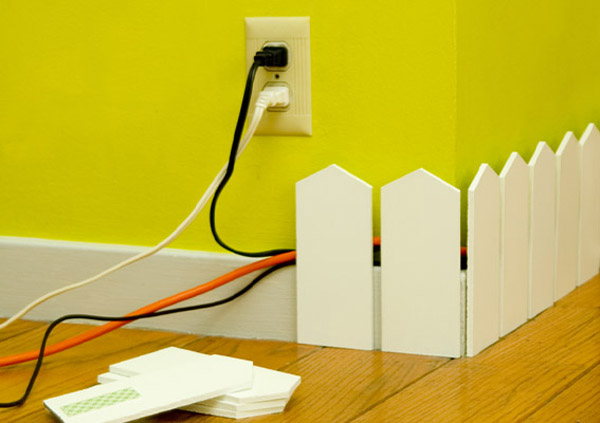 Creative design idea to hide cables on the wall, simple and functional cable organizers and wall decorations
floor decoration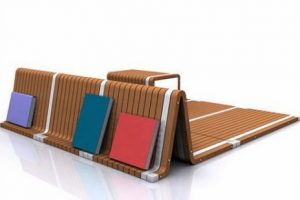 Decorative Picket Fence is a creative way to hide cables on the wall, enjoying more attractive, decluttered and interesting interior design. Loose electrical wires are unappealing, collecting the dust and making rooms look unorganized.
In looking to solve the problem of loose electrical wires Karl Zahn drew a connection between the wires that we wished stayed next to the wall and the baseboards that actually attach to the wall. A creative way to hide the wires on the baseboard with a decorative fence improves room organization and add more interest to plain baseboards.
Picket Fence in white color is an attractive cable organizer that offers a nice way to organize wires and uniquely decorate baseboards. Picket Fence that help hide cable on the wall will match any interior design style, adding a functional accessory and a light accent to room decor. Cables on the wall behind the fence can be covered with a piece of fabric that will protect them from the dust, making the cleaning easy and simple.
Wire organizers or wall decorating ideas
Organize cable clutter, hide cables in walls
Picket Fence to hide cables
Creative design idea to hide cables on the wall, simple and functional cable organizers and wall decorations
Karl Zahn is a freelance product designer living in Brooklyn NY. He created the oboiler.com website as a platform to display his products and explorations in their own venue. All of the products are the work of Karl Zahn, however not all of them are in production.
The Picket Fence adapts to older homes and cleanly manages the electrical necessities of the occupants. The baseboards have a certain thickness to them, typically much thicker than an electrical cord. By sticking these pickets onto the baseboard, a space is created between the wall and the picket points. This space serves as a track for routing all of the wires cleanly around the room.
Cable organizers to declutter your home, white Picket Fence to hide cables on the wall
Wires can go wherever they like and double back as much as they need to, all concealed behind a picket fence. Because of the gaps between the individual pickets, a plug can jump out wherever it is needed, offering convenient and practical design for your room.
Colorful outlet covers and socket plates, decorative home accessories
Energy saving plug and power bar from Ryan Jongwoo
More from wall decoration

Ceramic tiles are beautiful elements of modern kitchens which are not just functional interiors for cooking, but the open living spaces...
and enjoy free articles sent to your inbox