Contemporary Kitchen with Folding Front Panels Presents Hidden Kitchen Design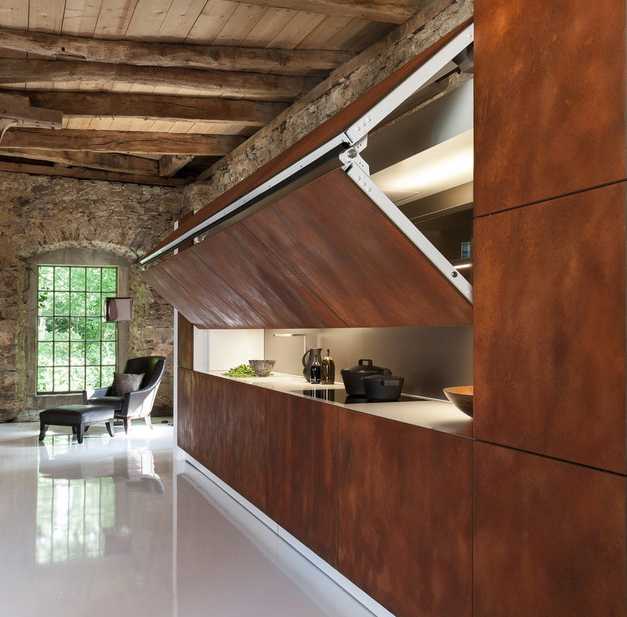 Contemporary kitchen design with folding front panels, Hidden Kitchen
DECORATING SMALL APARTMENTS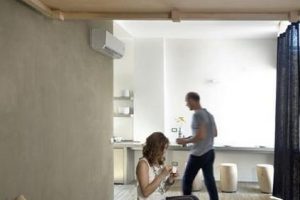 Contemporary kitchen design with folding front panels hides a cooktop and storage shelves when you do not use them. Hidden Kitchen design from Warendorf shows a new kitchen concept that is attractive, stylish, space saving solution for creating stylish contemporary open living spaces.
Beautiful new kitchen design is very functional and convenient. This contemporary kitchen design is perfect for loft-like-living spaces and studio apartments, small homes and large kitchen interiors with a dining area. The new kitchen design feels luxurious, bringing contemporary vibe into modern interior design.
The contemporary kitchen design features folding horizontal front panels that blends with interior design, creating a smooth surface when the kitchen is closed. You can hide all kitchen accessories, culinary essentials, small kitchen appliances and tableware behind an attractive front panels that turn into a stylishly finished wall.
Contemporary kitchen design with folding front panels in rich brown color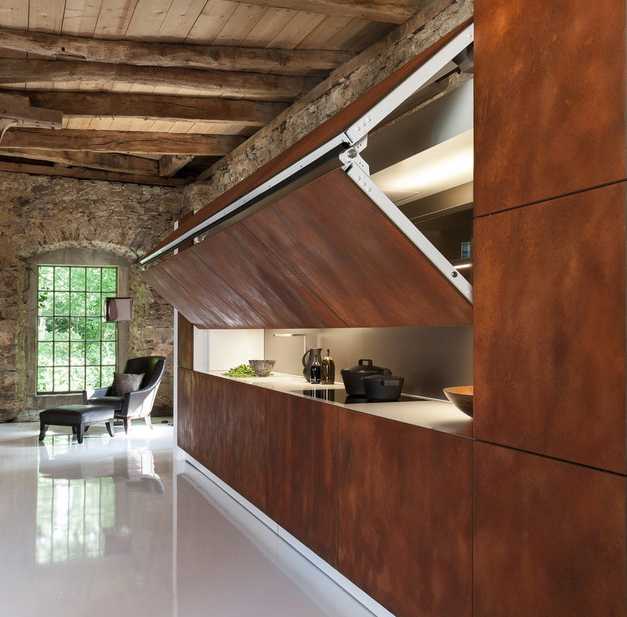 These large horizontal panels of Hidden Kitchen fold up and open a cooking workstation that includes a cooker, a sink, a meal preparation area and storage shelves. The Hidden Kitchen hood fan and lights are integrated into large storage shelves.
Ergonomic and comfortable, the contemporary kitchen design offer convenience and style, bringing innovative ideas and modern materials into your home. The facade is in rusty brown color, which can match any interior design and decor style.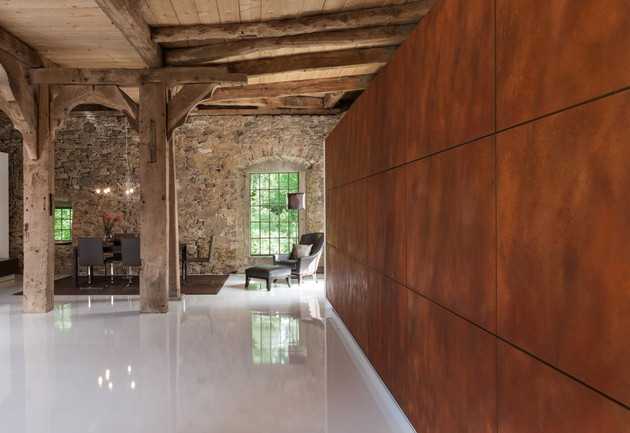 Sprayed rust finish looks dramatic and unusual, adding warmth to contemporary kitchen design and creating wonderful combination with stylish rustic and reclaimed wood elements and natural stone, giving an antique feel to kitchen interiors.
Contemporary kitchen design trends 2014 unite new materials and integrated high tech appliances
New kitchen countertop material creating clean contemporary kitchen design with invisible cooktop
Fabulous and elegant folding front panels create a fantastic accent wall design when closed and offer a stunning focal point for interior design. When the facade is open, contemporary kitchen shelves look very attractive also, demonstrating simplicity and style, functionality and exclusiveness of new kitchen design from Warendorf, www.warendorf.eu/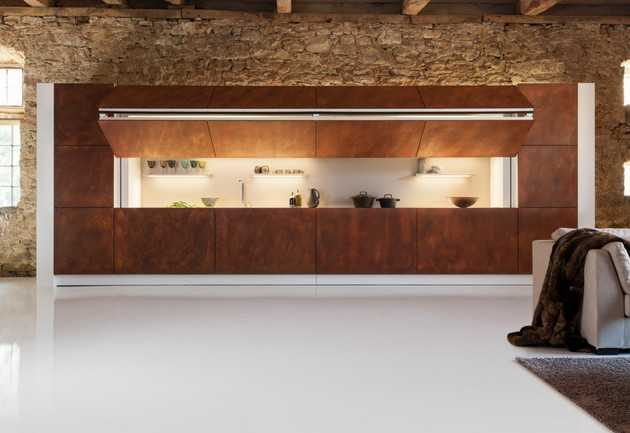 Warm metal accents are easy to incorporate into modern kitchen designs. Metal lamps, hardware, metal tiles, elements of kitchen designs will...