Contemporary House Design by Iroje KHM Architects, Island House with Rooftop Gardens

Interior Design Ideas

Outdoor Living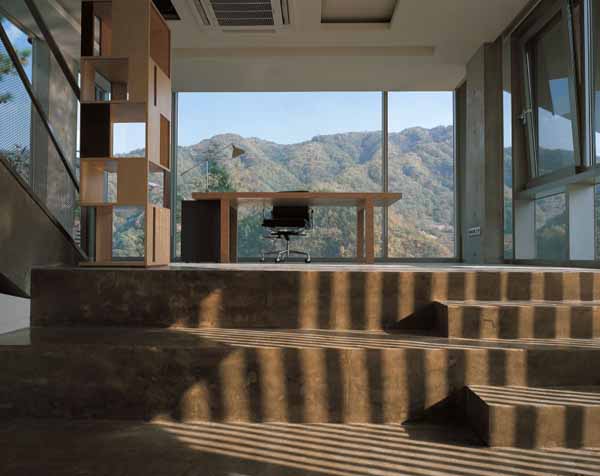 MODERN WALLPAPER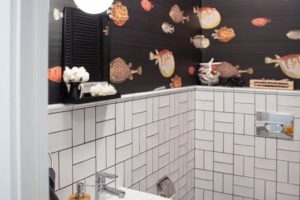 Contemporary house design project developed by a Seoul based architectural studio Iroje KHM Architects is unusual, innovative and impressive. Large modern house, located in Gapyunggun, South Korea, offers almost 7,000 square foot living space with an amazing view of a river and hills. This modern house design mazimizes the efficiency of landuse, creating a luxurious contemporary home.
Island House design by Iroje KHM Architects, www.irojekhm.com/ is an architectural island that features an irregular polygonal shape, created by concrete, metal mesh and glass. The site shaped house features rooftop gardens and a promenade, and allows to enjoy the picturesque landscape of the graceful river and forests that surround this site.
Sloped ceiling line, stepped roof gardens, a promenade on the roof and floating boxes with miniature bamboo gardens make this contemporary house design look futuristic and dynamic, offering creative modern home design ideas. Comfortable interior design, spacious rooms with large windows and glass wall designs, unique lighting ideas, creative bench with a cushion in a game room and amazing outdoor living spaces make this modern house design perfect for contemporary, relaxing and luxurious lifestyle.
Modern house with glass walls and rooftop terrace
Green building, green wall and rooftop garden for modern homes
Contemporary house with rooftop gardens and promenade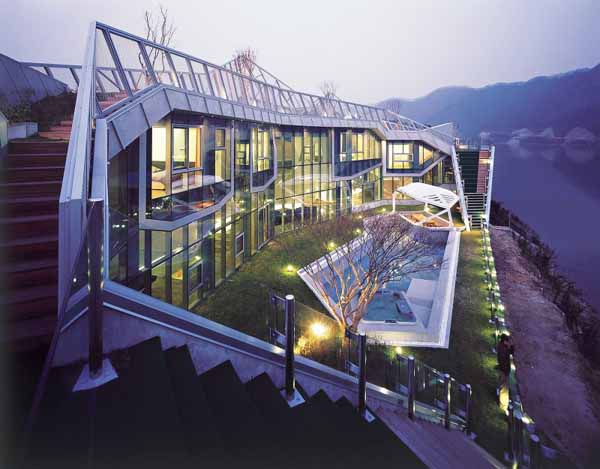 Island House design description by Iroje KHM Architects
Floating site on the river
This site, where is floating on river and confronted the graceful landscape, was strongly recognized to me as a part of nature, from the first time that I met.
From then, I started to visualize "the architectural nature" as a place of recreation.
Form of site = Form of architecture = Maximum efficiency of land use
While maximizing the efficiency of land use, the leaner concrete mass, that cherishes the courtyard where is filled with the water and the greenery, was laid out on this site along the irregular formed site line.
This courtyard is The Architectural Nature and a central recreation space as extended river that communicate the river and architecture.
Living room design with large glass wall
Continuous circulation of stepped roof garden – Creation of new green land in this site
The whole part of the step typed roofs, where is moving upward with various level, are directly linked to the bed rooms in upper floor.
Finally, this stepped roof gardens are linked to both sides of the inner court at where swimming pool is.
The inner court where is filled with the water and flower and fruit, and the whole of the roof gardens are circulated as the continuous landscape place and that is the place as The Architectural Nature in concept.
Dining furniture and lighting, modern house design with glass wall and sliding doors to outdoor pool
Sucking in dynamic-surrounding landscape
Naturally, all of the rooms inside this site-shaped-mass are laid toward the picturesque landscape to enjoy the graceful scenery surrounded this site.
The huge panoramic view framed with sloped ceiling line that is composed with the lines of stepped roof gardens and the bottom line of the inner court, is the major impression of inner space of this house.
Promenade inner space of skipfloor made the promenade roofgarden-space of skipfloor.
Skip floor plan of inside of this house produced various dramatic spaces.
Floating boxes with bamboo garden – Dynamic, unrealistic sequence of interior space.
As The Architectural Nature, floating white polyhedral masses that have the built-in bamboo gardens, produced the various stories of vertical space.
Built-in concrete frame bench with soft cushion, game table and billiard table, modern house design with game room
Landscape architecture – Harmonizing with the surrounding landscape
The shape of the mountain type composed of irregular polygonal shaped concrete mass and metal mesh was designed to harmonize with the context as The Architectural Mountain.
There was the intention to be a part of the surrounding context that consisted of the river and the mountain.
Architectural Island – Island House
As a result, this house was to be The Island House as an architectural island.
Amazing S House design by KO Plus KO Architects
Glass wall house design in Seattle


Modern house design in Japanese style celebrates the functionality and elegance of minimalism. Airy, bright rooms look inviting and comfortable. Natural...
and enjoy free articles sent to your inbox