Bouquets Made of Baby Clothes, Unique Gift Ideas and Baby Room Decorations

Clutter or Treasure

Decorating Ideas

Kids Rooms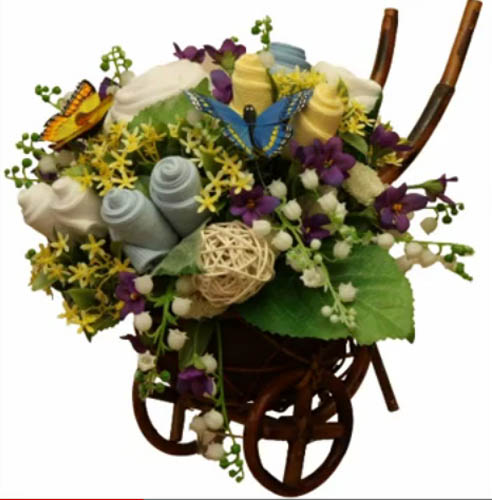 Flower arrangement made with baby clothes, artificial flowers and butterflies
floral designs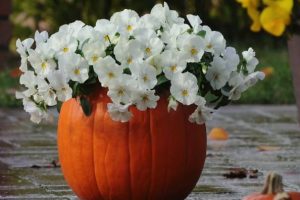 Bouquets made of baby clothes are unique gifts and great baby room decorations. Creative and unusual bouquets made of baby clothes make unforgettable and useful gifts for babies and mothers or can be used as beautiful and cheap decorations that help declutter nursery storage spaces.
Baskets with bouquets made of baby clothes, combined with artificial flowers, look gorgeous, offering practical and surprising gifts for baby shaowers, toddlers birthdays and Valentines Day.
If some clothes are too big for a baby, they can be used for creating bouquets for baby room decorating, saving money and decluttering storage space.
Unique gift ideas and baby room decorations made of kids clothes
These unusual and attractive bouquets are simple and quick to make, adding a basket and artificial flowers or small toys.
Bouquets, made of baby clothes are excellent, attractive and cheap decorations, that help declutter your home, organize and add a charming accent to nursery decor.
Floral arrangement made of baby clothes, creative nursery decorations and gift ideas
Any set of baby clothes can be turned into a creative and memorable gift and a beautiful baby room decoration.
4 simple empty wall decoration ideas to declutter you home
Handmade kids room decorations, cheap ideas for decorating toddler rooms
Cute bouquets made with baby clothing items and small toys, artificial flowers and a basket, look interesting, offering thoughtful and cheap decorations for a baby room.
Flower arrangement made with baby clothes, artificial flowers and butterflies
Baby clothes bouquets are great gifts for baby shows and toddlers birthdays from relatives and friends, and lovely handmade decorations that can be designed for nursery decor on Valentines Day.
Functional nursery decor, Open Corner, simple baby room ideas
Baby hammock bed, nursery decor ideas
Making decorations of baby clothes is one of great gift ideas. Using a plastic wrap or kids clothes that you can not use for wrapping diapers, you can create cakes and flower bouquets of diapers, keeping them protected from the dust.
Making baby room decorations and gifts of kids clothes and artificial flowers
Your creativity and a sense of humor help design unique and cheap decorations or gifts that are charming, funny and whimsical.
Unleash you imagination and make wonderful handmade decorations and gifts of baby clothes for your friends and relatives to celebrate Valentines Days, baby showers and toddlers birthdays in style.


Handmade planters are unique home decorations that everyone loves. Handcrafted or hand painted containers make great eco gifts in any season....
and enjoy free articles sent to your inbox