Bold and Modern Interior Design Ideas from Spain, Portago Urban Hotel Rooms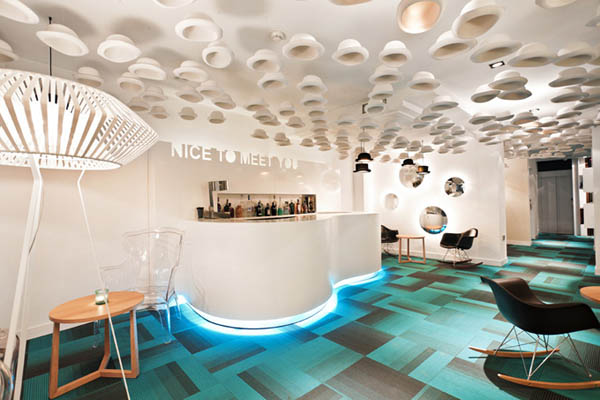 Modern interior design ideas from Spanish architects and decorators are bold and bright. Simple lines, white room colors, surprising color combinations and unexpected decorating ideas create impressive interior design with artistic flavor.
Portago Urban hotel designed by Ilmiodesign is located in Granada, Spain. The hotel is not large, featuring four floors, a reception area, a terrace which offers a panoramic view of the landscape, a breakfast room, a coffee bar and attractively decorated bedrooms in white color.
Black and white room colors are emphasized with rich blue, orange, red, purple and pink color accents. The ceilings and walls are painted in white, which makes it look clean and fresh. Room colors create dynamic contrasts that create energetic spaces. Interior design feels interesting, youthful and exciting.
Contemporary chairs and lamps made of felt and knitted fabric, unique furniture and lighting ideas
Hotel experience in redesigned old planes
Black and white decorating with Hat lighting designs and blue carpet flooring
White room colors are an excellent neutral background for playing with bright color shades which add different mood to each room decorating and create unique interior design.
The hotel offers twenty five bedrooms. Bright and colorful carpet flooring unite interiors. All floors are covered with colorful InterfaceFlor carpets. Creative carpet flooring bring geometrical designs based on contrasts and various hues of the same color to modern interior design.
Pink carpet flooring and black and white bedroom decorating with Hat ceiling lights
Room decor accessories in bright colors are wonderful accents that emphasize bright and colorful flooring ideas.
Floor carpet tiles and space saving modern flooring ideas
Modern floor decor ideas, unique contemporary area rugs
More from modern interior design

Here is a new design concept of Ibis Hotel in Sao Paulo, Brazil. The contemporary and original interior design invites everyone...