Apartment Ideas from POINT, Hidden Bed Design for Small Rooms
---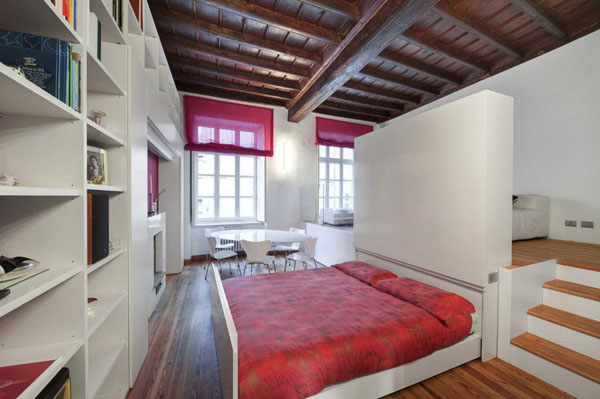 Apartment ideas for decorating with ehite and pink colors
Space saving apartment ideas turn small rooms into functional and more spacious interiors, maximizing the available spaces and creating more comfortable interior design. Creative apartment ideas from POINT. were developed for the project in Turin, Italy.
Hidden bed design is one of space saving ideas that dramatically changed interior design. The space divider separate the living room area from the rest of the apartment. The bed rolls underneath an elevated living room area, offering a smart space saving furniture design for small rooms.
White wall paint color and well organized storage, hidden bed design and strong color contrasts, wooden floor and the room divider, which provides additional storage spaces, beautiful old wood ceiling beams and bright pink accents that give small rooms contemporary look are inspiring apartment ideas and main takeaways from this interesting project by POINT., www.getthepoint.it/
Transformer design ideas, space saving furniture for small rooms
11 space saving fold down beds, small spaces furniture design ideas
Hidden bed design for small rooms
Space saving bed design and small apartment ideas for spacious decorating
Space saving apartment ideas, functional furniture for small spaces
Contemporary home office design, big concepts for small spaces
Description from the designers
Since the family had increased in number the challenge of the project has been to make the most of the available space. The project aims to bring up the family to a multifunctional use of the spaces, without conventional limits. That's why we decide to give the existing big living room space a multiple function, being at the same time the owner's bedroom, the living and dining space and the relax area and to to dedicate the only existing room to the newborns. The challenge of the project has been to maximize the available space avoiding chaos and disorder.
Hidden bed design, rolled underneath of the elevated living room area bed and aspace divider
POINT. decided to heighten half of the room to create a larch wood platform to host the relax space with sofa and TV, using the high difference to hide a roll away bed and storage spaces.All the new furniture items are made on our own design, in white or champagne lacquered MDF wood. A new big wardrobe space, conceived externally as a white varnished monolith, but internally totally equipped, divides in two the entrance area, serving also as a decompression space to enter the babies room.
Apartment ideas for decorating with ehite and pink colors
The project is totally made on design, with broad use of larch wood for the flooring and matte varnishing for all fixed furnishings and mobile elements. The original furniture pieces are mostly vintage design pieces, as for the marble table, or contemporary ones as the sofa.
Transformer design ideas, modern furniture for small spaces
Kids bedroom space saving ideas
Space saving apartment ideas,room divider and hidden bed design details
photography by Enrico Muraro
by Ena Russ
last updated: 15.02.2012