7 Tips and Modern Lighting Design Ideas for Kids Rooms

Decorating Ideas

Kids Rooms

Lights Appliances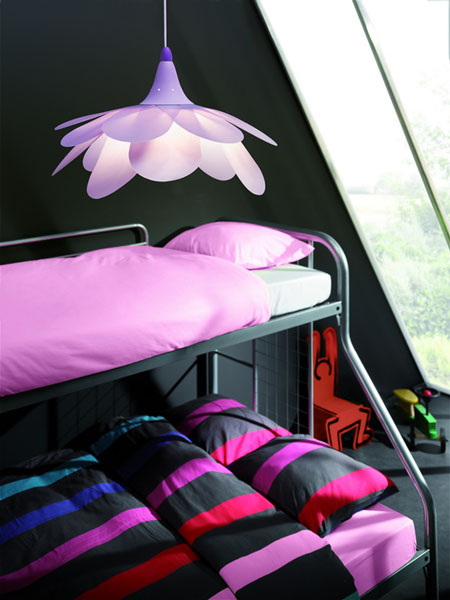 children bedroom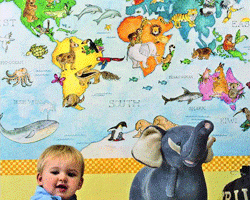 Modern lighting fixtures are very important for healthy and comfortable kids rooms design. Many our fears are from childhood. Playful lighting design is great for creating comfortable and interesting kids rooms that help prevent the feeling of loneliness and developing the fear of the dark.
Contemporary lighting design ideas and proper lighting fixtures arrangement create a pleasant environment for a child to grow happy, optimistic and enthusiastic.
Lots of natural light, large windows, functional and beautiful modern lighting designs for nights are important elements of great kids rooms.
Colorful chandelier for children bedroom decorating
Modern lighting design ideas for kids rooms
Children spend a lot of time in their rooms, so efficient and functional, sufficient and modern lighting ideas help create beautiful and comfortable interiors, while saving on the energy costs.
Natural lighting
1. Large windows and their location in kids rooms are very important. Light rooms with south-facing or south-east-facing windows are the best for kids rooms. South and south-east facing kids rooms windows allow children to enjoy soft and beautiful sun light in the morning.
Contemporary lighting ideas for kids rooms, pink chandelier for girls bedroom decorating
2. West-facing windows provide lots of light in the afternoon, especially in winter, when the sun is low, creating too bright environment that is hard for young eyes. Modern window shades that protect kids rooms from the sun light and heat, while keeping interiors light, help create more comfortable children bedrooms and playrooms.
Kids rooms design, 5 basic decorating principles
Japanese lantern with butterflu, romantic table lamp
3. North-facing windows provide very little sunlight. North-facing kids rooms require an additional lighting during the day, increasing the energy costs.
Contemporary lighting ideas for kids rooms, ceiling light with colorful planes for boys room
Additional lighting ideas
4. An interesting and colorful chandelier is a nice general lighting idea. Bright, made of glass or shiny plastic, chandeliers and ceiling lights are hard for young eyes. Soft materials are better for lighting ideas for kids bedrooms.
Colorful wallpaper for kids room designs from Wall Candy Arts
Sculptured rugs, decorating ideas with colorful kids rugs
5. Spotlights, that create soft light, are good for kids rooms design.
6. Nightlights near children's beds allow to illuminate kids bedrooms, creating safe, pleasant and friendly atmosphere at nights.
Modern nightlights, contemporary lighting ideas for kids rooms
7. 60 Watt desk lamp bulbs provide enough light from kids desk lamps for writing and reading. More powerful light bulbs produce too bright light and unpleasant reflections from white paper that make eyes feel tired.
Handmade kids room decorations, cheap ideas for toddler rooms
Pendant lighting fixtures, interior design trends
Well chosen, unique and modern lighting ideas for kids rooms are important for creating healthy, functional, safe and beautiful environment for children. Toys-like chandeliers, desk lamps, nightlights and wall lights, proper bulbs, pleasant colors, flamp shades, made of non-reflective materials, and thoughtfully selected light location are modern lighting design ideas for kids rooms that make interiors for children safe, cozy and comfortable.
Modern lighting fixtures for kids rooms from Belgian, Italian, Spanish and German companies, Massive, Eglo, Globo, Odeon.
More from lighting design

Modern bathroom design trends bring beautiful tub forms, colorful sinks, and beautiful, fine materials that reflect advanced technologies. Colorful bathroom sinks,...
and enjoy free articles sent to your inbox