20 Modern Kitchen Designs Enhanced with Warm Wood and Sophisticated Leather
---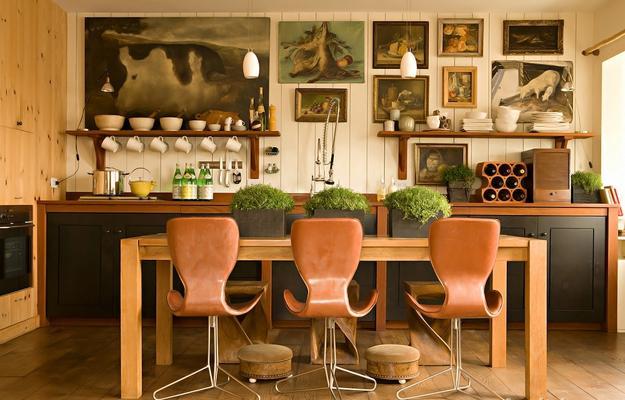 Modern kitchen design and decorating, leather furniture, wooden table and dining chairs in contemporary style
One of modern kitchen design trends is blending natural materials and unexpected ideas into unique, beautiful and luxurious home interiors. The functionality of modern kitchen interiors is enhanced and emphasized with a gorgeous wood and leather combination.
Wood and leather in kitchen furniture, lamps and decorations bring sophistication and chic into modern kitchen design. Wood and leather can give kitchen interiors a dramatic lift. Room makeovers with elegant wood and leather furniture are quick, but expensive and spectacular. Adding leather to your kitchen design beautify its decor.
Leather kitchen bar stools and small sofas, leather lamp shades and dining chairs with leather seats provide modern kitchen design with functional and sophisticated home furnishings, bringing style that most kitchens do not have. Leather kitchen furniture, lamps and decorations, like vases or pots for indoor plants, transform modern kitchen design from dull to vibrant and beautify all kitchen decorating style.
Top 16 modern kitchen design trends, kitchen furniture and accessories
Wood and leather kitchen decor ideas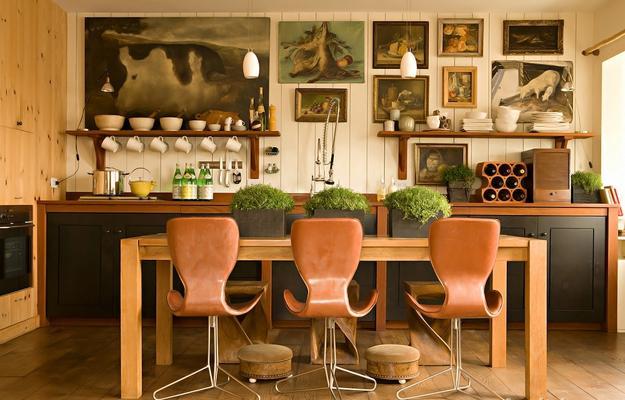 Wood and leather kitchen furniture, lamps and decoration allow to create fabulously stylish, warm and comfortable interiors that people always dream of.
Leather bar stools, sofas, lamp shades, dining chairs and decorative kitchen accessories made with leather are available in various style ranging from traditional to contemporary and country kitchen. Handmade leather recycled crafts and functional items made with leather are another great option to add sophistication of this wonderful material to modern kitchen design and decor.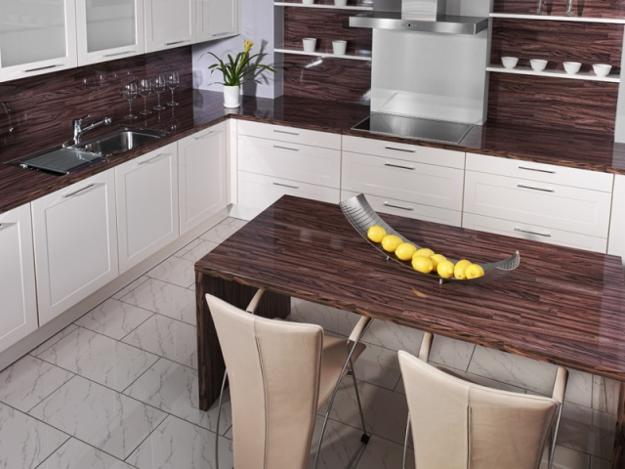 Leather kitchen stools and dining chairs will take your entertaining style to a new level. Leather lamp shades look spectacular. Wood and leather combinations easily create a unique and impressive look and give a fine touch o modern kitchen design and decorating.
33 kitchen design ideas with islands and peninsulas
Dining chairs, 8 tips to create functional dining room decorating
Leather kitchen bar stools that swivel brings style, fun and comfort into modern kitchen decor. Leather dining chairs have clean, simple and elegant appearance, offering functional and practical kitchen furniture pieces, great for families with young kids.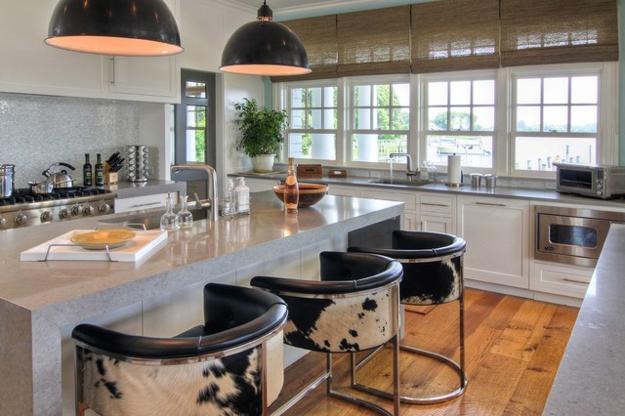 Leather is versatile and universally appealing. You can combine your leather kitchen furniture items with wooden bar stools and metal pieces. Leather lends sophistication to the whole look of your kitchen design and work well with all traditional and contemporary materials.
Retro modern kitchen decorating with open kitchen shelves
Stylish kitchen countertop materials and modern kitchen trends
You can not go wrong with leather kitchen furniture, lamps and decorations. These types of home furnishings are beautiful and timelessly stylish. Glass, metal, ceramic and wood with leather create bold combinations and enhance modern kitchen design with wonderful contrasts of textures and colors.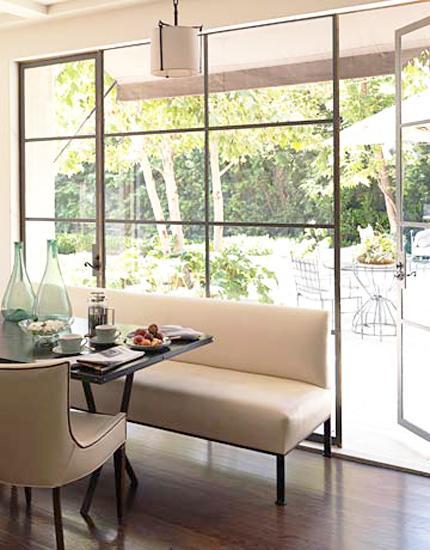 Wood and leather combinations are especially warm and pleasant, offering fantastic alternatives for modern kitchen design and decor. Leather and wood furniture are great for kitchen decorating which needs softness and functionality of its elements to create convenient, comfortable, elegant and modern kitchen design.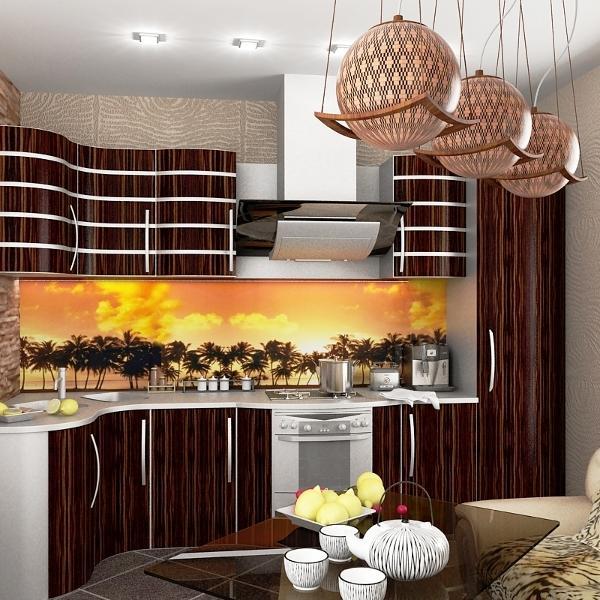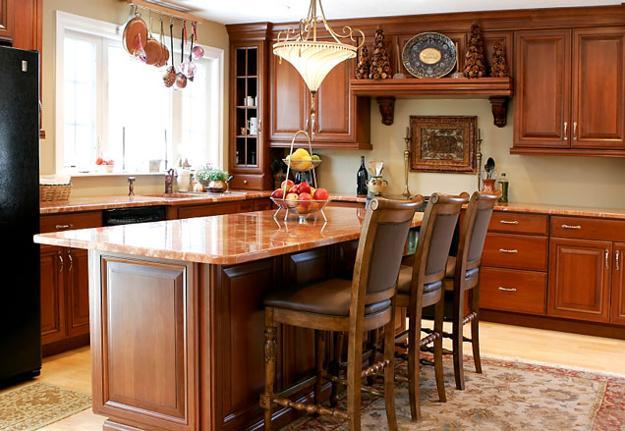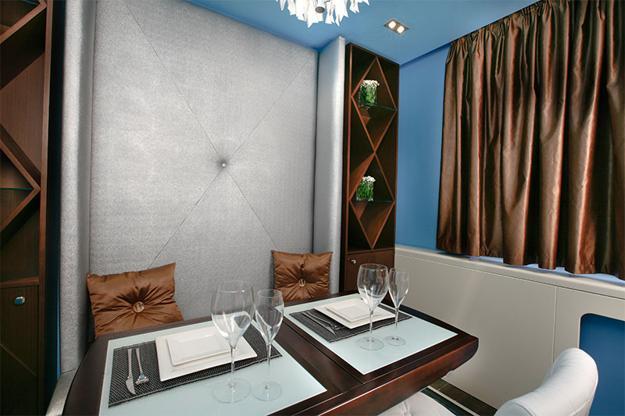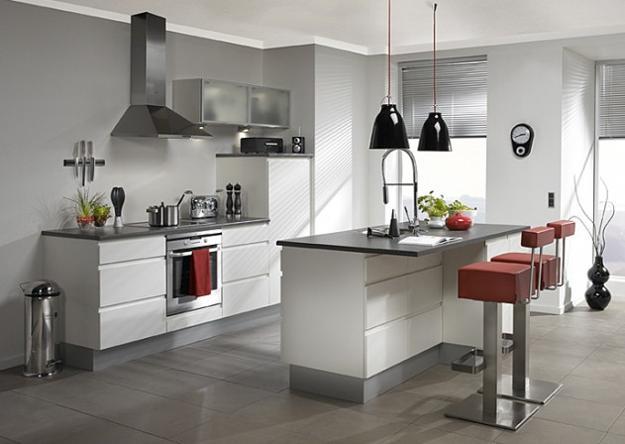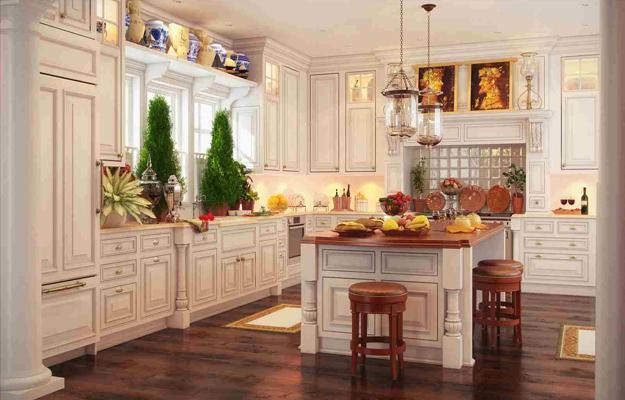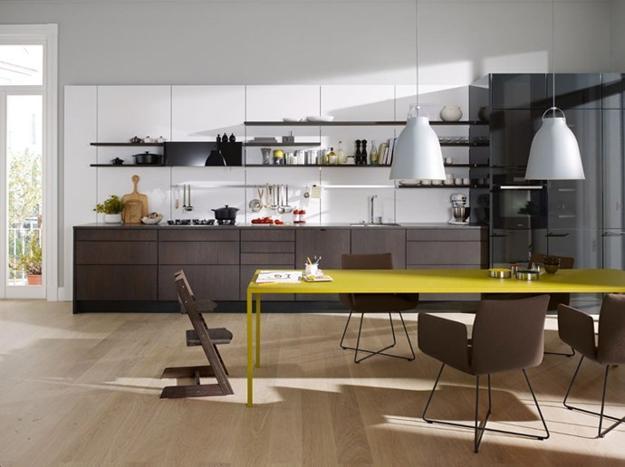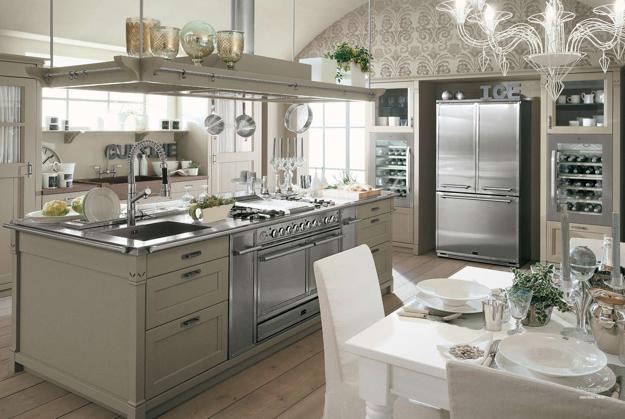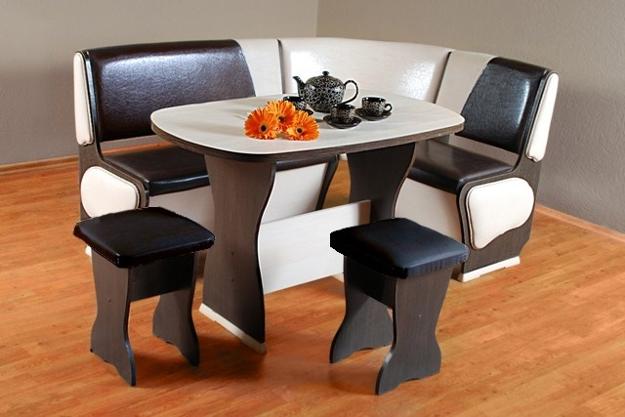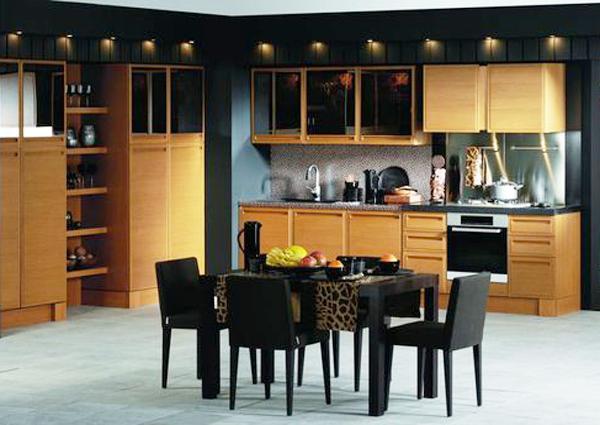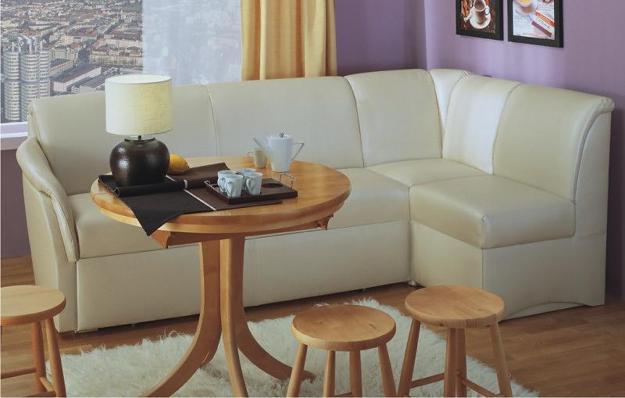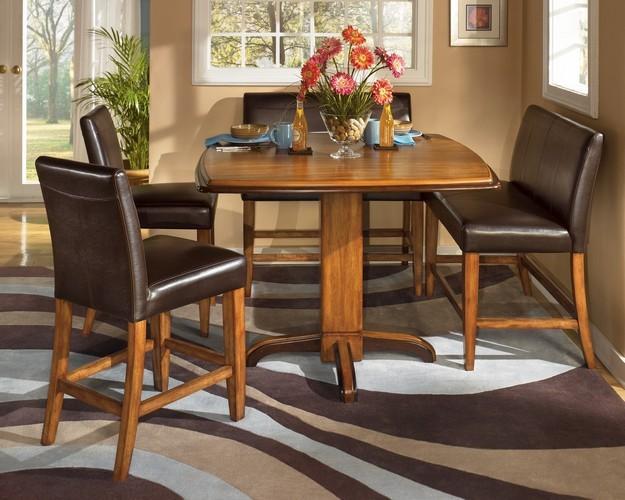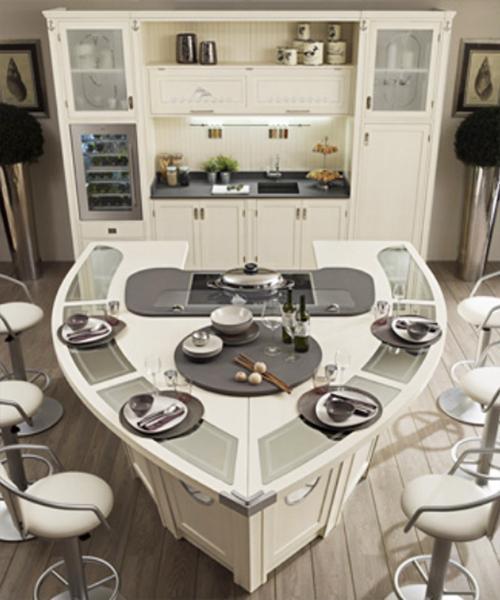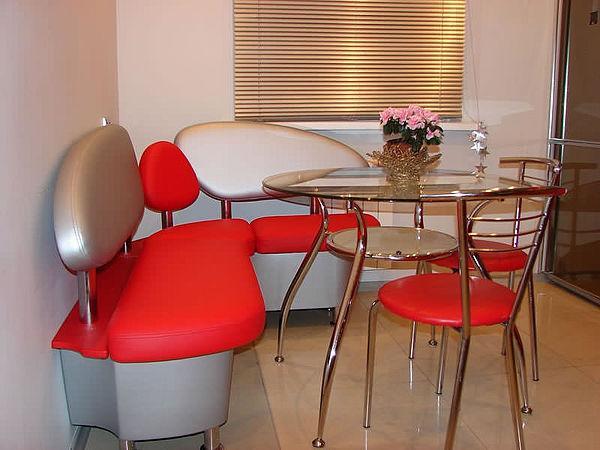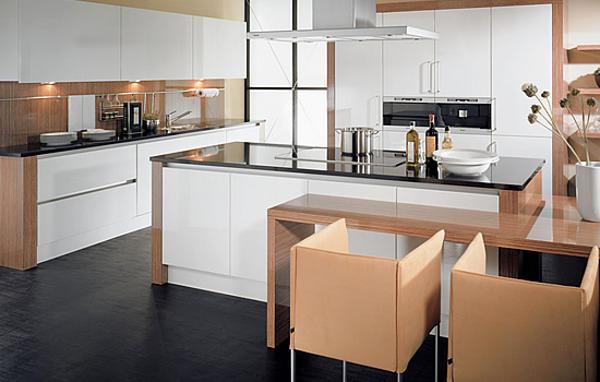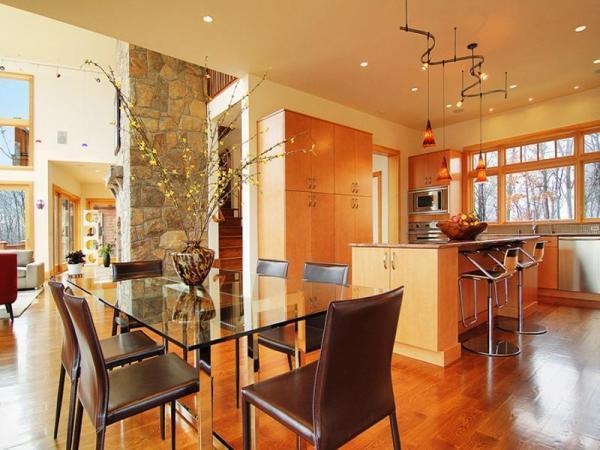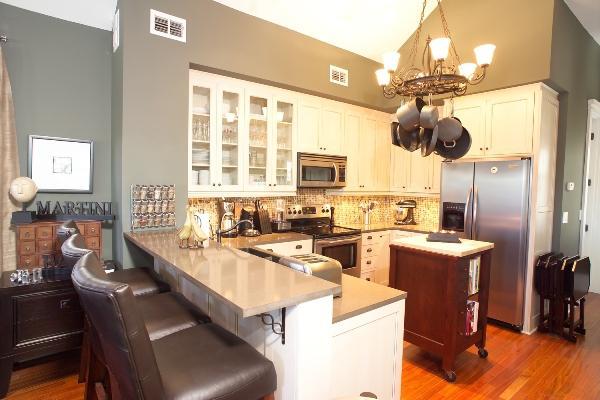 by Ena Russ
last updated: 29.03.2014