Stylish Kitchen Countertop Materials, Modern Kitchen Design Trends 2013

Interior Design Ideas

Kitchen Ideas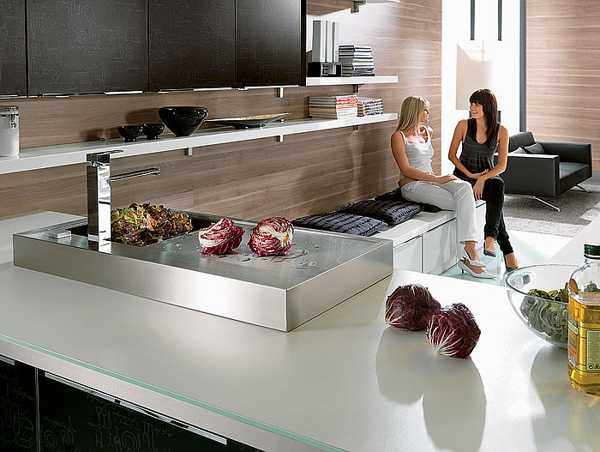 Modern kitchen design trends and counter top materials, recycled glass and stainless steel combination
kitchen islands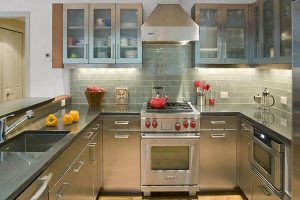 Modern kitchen design trends 2013 bring exciting countertop materials and their new combinations. Enriched with LED lights, recycled glass and stainless steel kitchen countertops are one of the most spectacular modern kitchen design trends 2013.
Here is a unique collection of modern kitchen design ideas that demonstrate all these beautiful countertop materials and helps select your favorite contemporary kitchen design trend 2013, adding stylish and functional working surfaces to your kitchen interior.
Top 8 contemporary kitchen countertop materials include reclaimed wood and cork, soapstone and slate, recycled glass and quartz, decorative concrete and metal alloys, like stainless steel, bronze and brass. Contemporary kitchen countertops that combine glass and stainless steel look especially attractive, fresh and innovative.
Countertop materials and kitchen design trends 2013
Top 16 modern kitchen design trends 2013, kitchen furniture and decor
Top 8 contemporary kitchen design trends 2013, modern kitchen interiors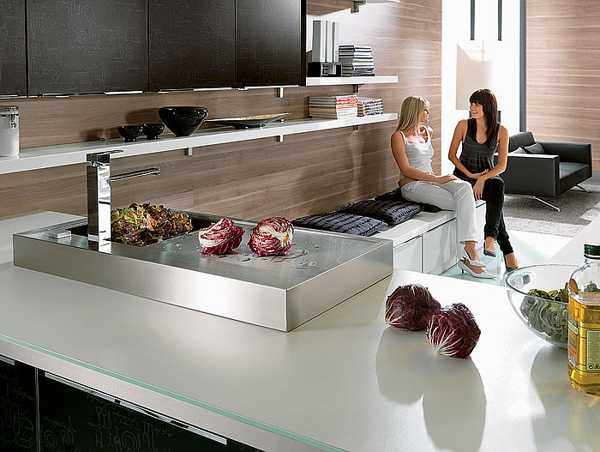 1. Reclaimed wood kitchen countertops

Reclaimed wood is a popular interior design and decorating material. all the buzz lately. Salvaged wood from older homes and barns is a unique, warm and beautiful material that give your modern kitchen design strong personality and charming look.
Kitchen countertops design with reclaimed wood are eco friendly products, perfect for decorating eco homes and for all those who support green living concepts. If you are concerned about the environment, modern kitchen countertops made of reclaimed wood is a way to practice green living and make your home eco friendlier.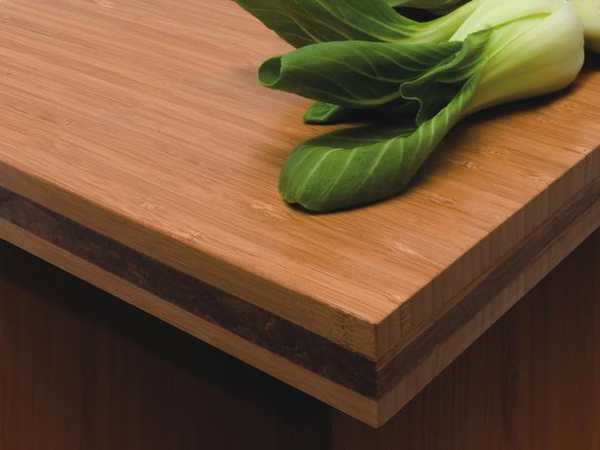 2. Cork kitchen countertop design
Cork is a natural material that add the warmth of wood and innovative feel to modern kitchens. Cork countertop designs are unusual, versatile, dense, sturdy, mold-resistant, sound-decreasing and light, perfect for creating eco friendly products for stylish and green homes.
Cork is a reinvented, sustainable material that can be effectively used for exploring modern kitchen deisgn trends 2013 . Cork kitchen countertops are resistant to water and heat. Cork has anti-bacterial properties and gives modern kitchen design a contemporary flair.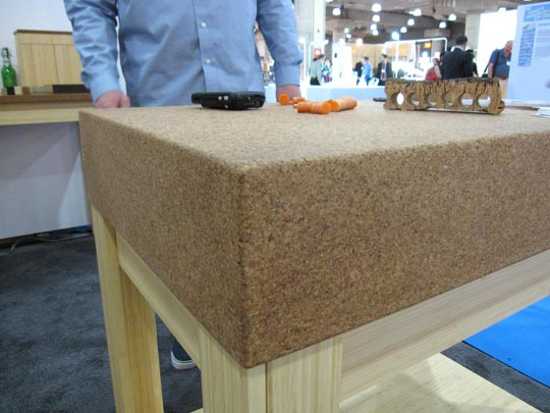 3. Soapstone kitchen counter tops

Soapstone is a natural stone in gray and bluish gray colors that darken with age. Soapstone kitchen countertops look like made of granite but the surfaces are softer, as the soapstone is composed from mineral talc. The combination of talc and quarts allows to make strong and sturdy kitchen countertops, but they are not impervious to scratches, although they can be easily sanded. Soapstone kitchen counter top designs add very attractive, smooth and pleasant working surfaces.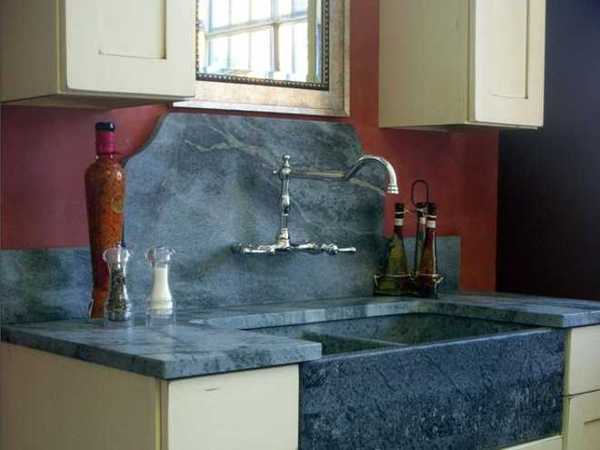 4. Slate kitchen counter top designs

Natural slate is softer than granite but harder than marble. Slate counter top designs feature a naturally uneven surface that adds to unique kitchen design and aesthetic appeal. Slate has a dull matte surface and can attractively complement and soften contemporary kitchen design with glossy cabinets and lighting fixtures. Slate kitchen counter top designs are a practical option. They can be washed with soapy water.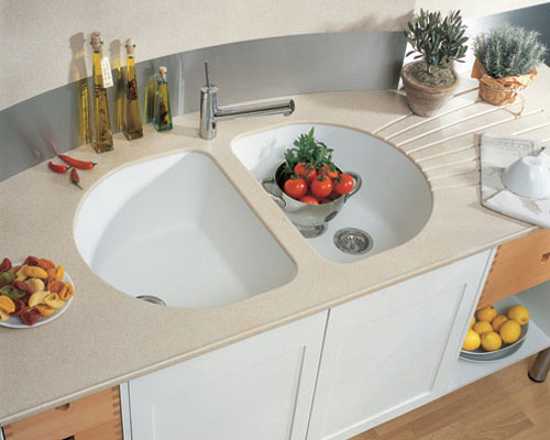 5. Quartz kitchen countertops
Quartz is a natural material, hard, strong and scratch resistant. Quartz kitchen counter top designs are beautiful and practical kitchen design trends 2013. Easy to clean, quartz kitchen countertops are a great choice for busy, suffering a heavy traffic kitchen interiors. Quartz kitchen counter tops can be any color and shape, creating unique modern kitchen design and offering a contemporary alternative to granite working surfaces.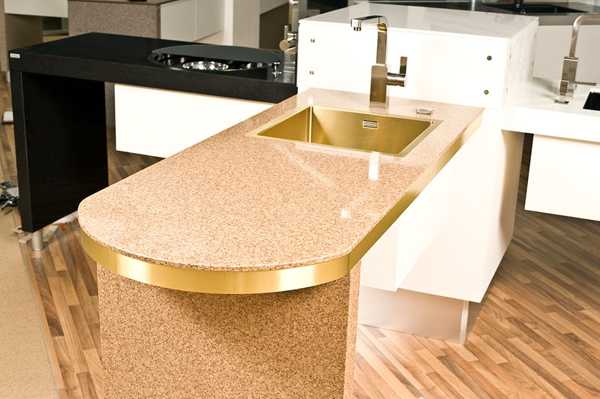 6. Glass kitchen counter tops
Modern kitchen design trends 2013 bring LED lights into kitchen interiors. Recycled glass kitchen counter tops are eco friendly products that allow to create very beautiful, personal and spectacular kitchen decor, changing colors and mood in modern kitchens.
Glass kitchen counter tops are extremely decorative and available in many colors and styles. They allow to add gorgeous decoration patterns and striking lighting to modern kitchen design  that you will enjoy for many years. Glass kitchen counter tops are easy to clean, but require to apply a sealant every year or two.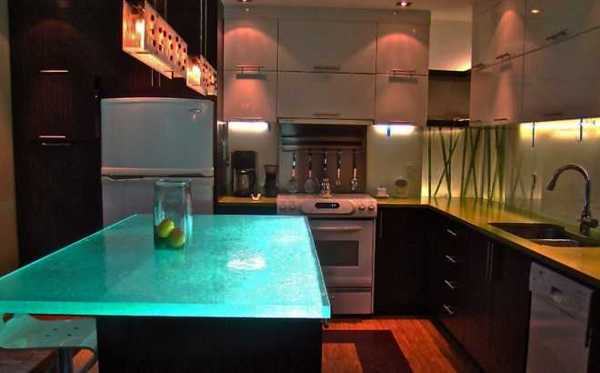 7. Modern kitchen countertop designs made of alloys

Metal alloys, pewter, brass and bronze, are softer that stainless steel. Metal kitchen counter top will show nicks and dents, but still will showcase a beautiful look. Made of metal alloys kitchen counter tops soften modern kitchen design, adding tender contrasts and gently emphasizing stylish materials.
Pewter kitchen counter tops have muted dark silvery color, perfect for traditional kitchen designs. Also these kitchen counter tops, bringing elegant neutral color tones into kitchen interiors, create a nice background for displaying kitchen decor in contemporary or eclectic style.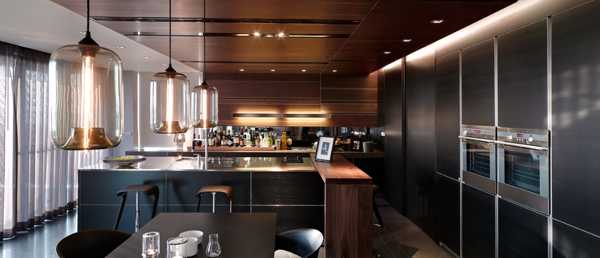 8. Decorative concrete
Modern kitchen countertops made of decorative concrete offer strength, stylish look and durability. These kitchen counter tops appear natural, creating eco friendly and organic kitchen design. The surfaces are sealed which prevents staining, and they continue to look attractive for long time, improving their appearance with age.
Decorative concrete kitchen countertops are available in any color, shape and design style. The sealer is not heat-resistant and hot pots and pans should not be placed directly on kitchen countertops made of decorative concrete. Cutting boards should be used on concrete surfaces as chopping directly on these counter tops could damage the sealant.
10 modern kitchen design trends
Modern kitchen design trends 2012, redesigning kitchen interiors


Remodeling bathroom interiors is an essential part of creating a modern home. A beautiful, functional, well-planed, and modern bathroom design affects...
and enjoy free articles sent to your inbox