15 Christmas Decorating Ideas for Pendant Lights and Chandeliers

Decorating Ideas

Holiday Decor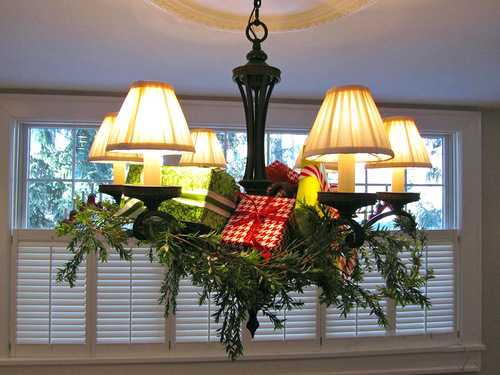 handmade Christmas decorations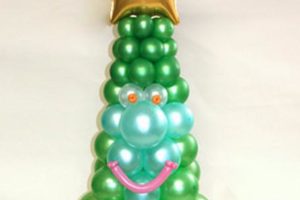 Christmas decorating ideas for chandeliers are a quick and easy way to design a stunning centerpieces that dramatically transform winter holiday decor with beautiful items hanging on them. Christmas decorating that includes gorgeous pendant lights and chandelier decorations spice up room decor with unusual designs and bright colors.
Christmas decorating with tree branches, ribbons and other winter holiday themed decorations turn a chandelier into an impressive item that is easy to make by yourself. Green branches, dried fruits, berries, simple paper crafts and handmade Christmas decorations are perfect ornaments to hang on pendant lights and chandelier. Here are 15 creative Christmas decorating ideas for your lighting fixtures that are inspiring and attractive.
Easy and quick, inexpensive and original Christmas decorating ideas for lighting fixtures add a personal touch and unique design to winter holiday decor. If you don't have a chandelier, you can make one out of ornaments or Christmas wreaths. Adding greenery, berries, poinsettia flowers, pine cones, light paper crafts or handmade Christmas decorations and bright holiday ribbons are a perfect way to explore novel Christmas decorating ideas and show your creativity.
15 quick Christmas decorating ideas for stress-free winter holiday
Top 6 modern Christmas decor trends
Creative Christmas decorating ideas for pendant lights and chandeliers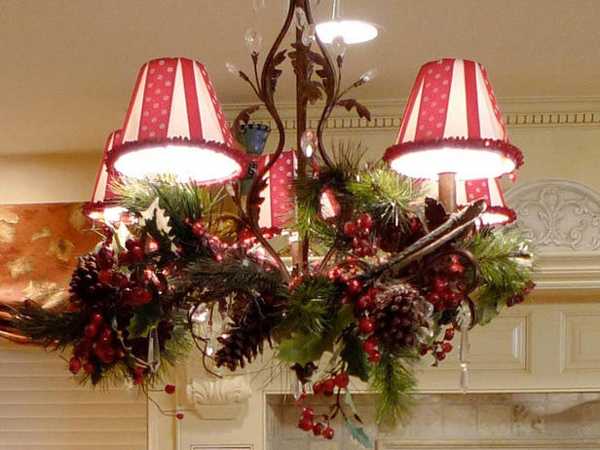 Pendant lights and chandeliers can be decorated in neutral colors, dark, pastel or rich colors that you like. A set of ornaments, placed on different lengths of ribbon and tied randomly all around the chandelier create gorgeous display and add stunning details to Christmas decorating.
You can use a large pine or spruce twig or a thin bare branch for hanging Christmas decorations. Place two cup hooks securely into the ceiling, space them evenly apart, 2 or 3 feet apart, and decorate with light paper crafts or fabric Christmas decorations.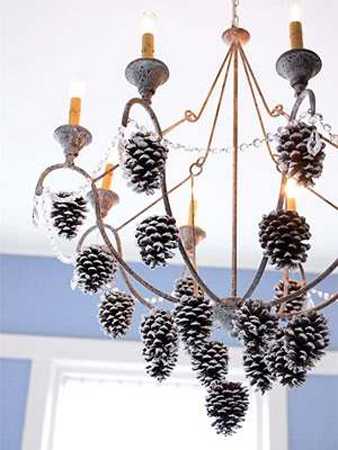 A suspend branch with a sturdy fishing line, wire or twine is excellent for hanging Christmas balls and wooden Christmas decorations. Hang ornaments at least 24 inches (60 cm) from a dining table at random heights and spacing until you achieve a spectacular look you want. Christmas decorations can be hung with ribbons, twine, long pieces of fabric or fishing line. This creates a stunning, one of a kind Christmas decoration that is sure to be a conversation piece around the dining table.
Novel Christmas home decoration ideas, Christmas wreath chandeliers
25 Handmade Christmas decorations bringing ancient crafts into winter holiday decor
Here is a collection of Christmas decorating ideas for your pendant lights and chandeliers that will inspire you to design your own impressive and elegant Christmas decoration for your dining room or any room in your house. Hanging Christmas decorations and chandeliers add bright decorative accents, warmth and intimacy to the dining experience and create unforgettable winter holiday decor.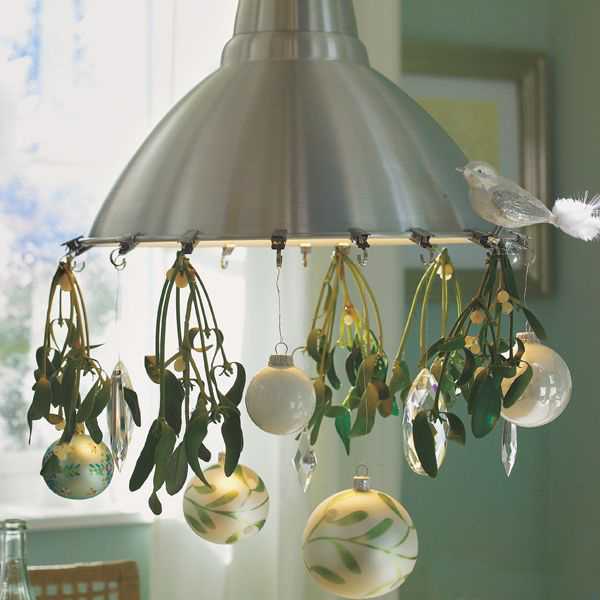 Christmas decorating can be easy, inexpensive and quick, adding joy and fun to winter holiday season, and creating unique, festive and fabulous rooms.
More from room decorating

Throw pillows in various colors, designs, and patterns are one of the easiest ways to refresh your room design and inject...
and enjoy free articles sent to your inbox