Wood Wall Design and Storage Idea Offering Alternative Storage and Organization Concept
---
Modern wall decoration with salvaged wood pieces that overlap creating 3d decoration pattern
We buy wall shelves and storage furniture to organize our homes. We spend time and money trying to make our rooms look decluttered, clean and spacious. Here is a clever alternative for home organization, an informal contemporary storage solution by Safari West.
This is an artistic, innovative and fun project that give an alternative way of storage and home organization. Phoebe Washburn is an artist, who created this clever contemporary art installation that is inspiring and very interesting, changing the traditional view of home storage and organization problems.
The wall design, made of overlapping slats of salvaged wood, looks very decorative, stylish and expressive. It features a natural material, pleasant warm colors and a striking decoration pattern, created with wooden pieces.
21 green design ideas, reclaimed wood for home decorating
Modern home decorating with reclaimed wood, 14 artistic wood recycling ideas
Reclaimed wood wall tiles, modern wall decoration from Everitt Schilling
Salvaged wood wall design
Various in size and shape wooden pieces give the wall design striking appearance, unique feel and depth, blending creativity with green design idea, perfect for a garage, laundry room, craft room or home office in modern eco homes.
Chaos and organization blend into unusual wall design that provide easy storage solution, saving time and money on buying wall shelves and storage furniture, and then cleaning and organizing them.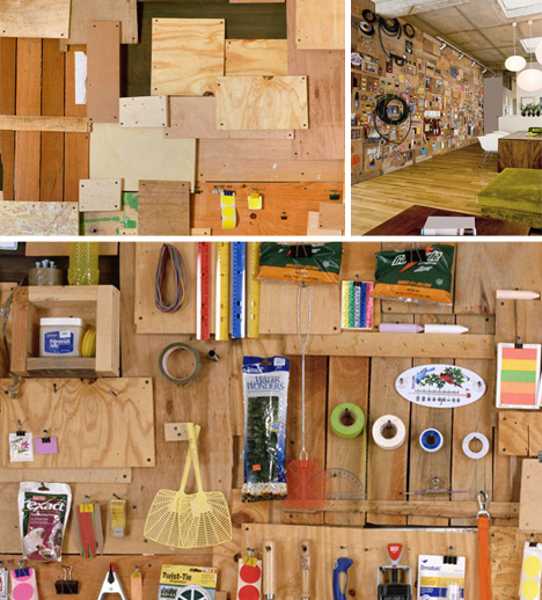 Maybe this new, surprising and extravagant, but interesting and contemporary storage organization concept can free your time for more enjoyable, creative and useful things.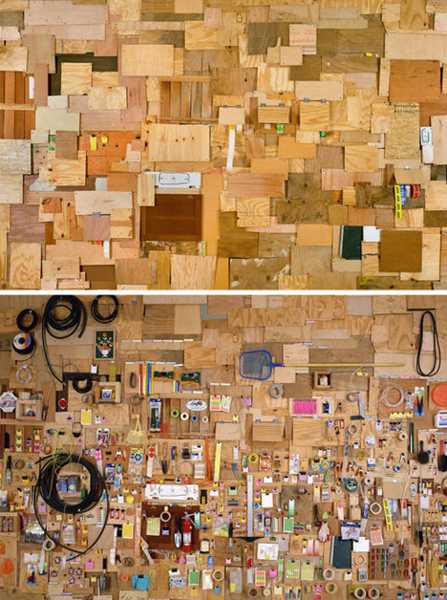 Open kitchen shelves are one of the modern interior trends. Decorating kitchens with corner shelves is inexpensive and stylish. Open corner...