Striking Step Ladder Chandeliers Bring Unique Lighting Fixtures into Interior Decorating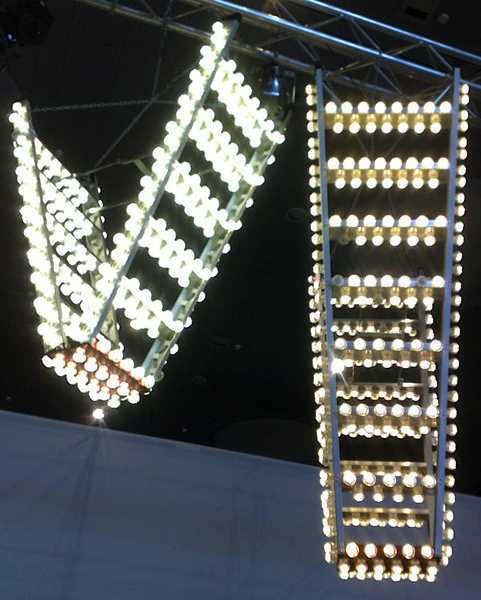 DECORATING SMALL APARTMENTS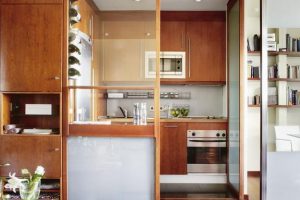 These modern chandeliers are created of step ladders and strings of light bulbs. Whimsical and unique lighting fixtures look striking, adding unexpected, original, and creative details to interior decorating. Bright and unusual lighting fixtures made of step ladders are ideal for a bold and extravagant interior decorating style.
The chandeliers feature frames made of familiar, featuring a simple design step ladders and offer an innovative way to recycle these old items. Designed by Bertjan Pot from Holland, the fantastic chandeliers Downstairs surprise and amaze.
The designer lighting turns an ordinary step ladder into a dramatic centerpiece, creating an amazing and amusing lighting fixture that can jazz up gloomy or lacking any interest interior decorating and brighten up an ample space.
Unique lighting fixtures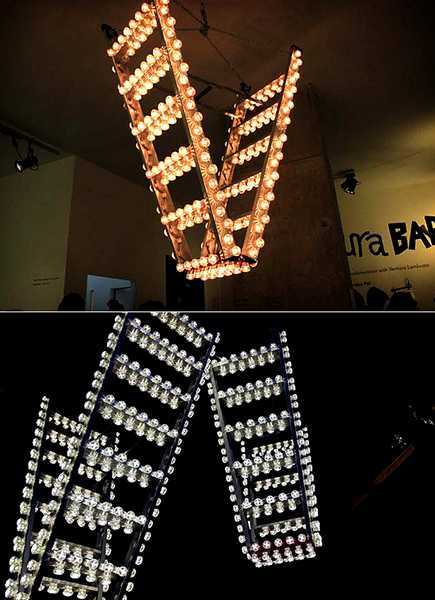 The unique lighting fixtures created with step ladders look like contemporary art objects that look sensational and very impressive while being functional and decorative. The ladder chandeliers can be decorated with large light bulbs or small LED lights, which adds a mysterious glow to modern interior decorating and create fantastic ceiling designs.
There are several models of wooden and aluminum ladder chandeliers that differ in design, size, and price. The manufacturer Den Herder Production House creates Downstairs lighting fixtures a different number of steps.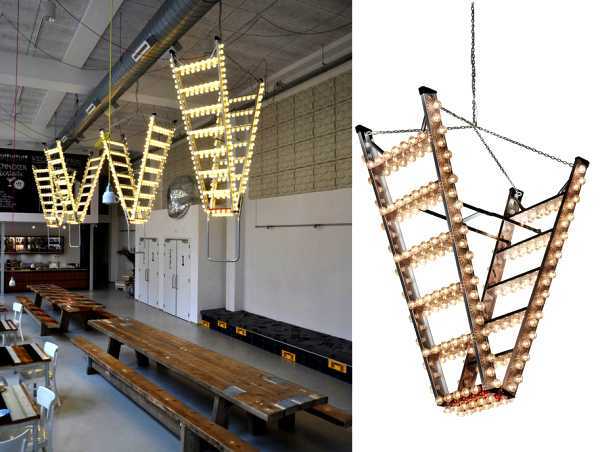 The Downstairs comes in 3 sizes with large light bulbs, or small energy-saving LED lights. The lighting fixtures are available with twelve, ten, eight, six, or four rungs, which allows choosing smaller and cheaper lighting fixtures for interior decorating by your needs and taste.
Creative wall decoration ideas, old ladders for modern wall decor
Recycling used brass musical instruments for unique lighting fixtures, Music Lights by Mitya Hashak
The Downstairs started as Stairway to heaven, a unique project we did for a theater cafe not far from our studio. It is certainly not your average chandelier. Where normally the eye is seduced by lots of shiny metal and flickering crystals, your jaw might now drop by seeing this light-piece and realizing that you are looking at a safety-ladder with carnival lights. Who would have thought that this chandelier would win the 1st Frame-Moooi Award 2012 and become a real product in the collection of DH PH.  The 8 step has been taken into the permanent collection of the Dutch Museum Boijmans Van Beuningen in Rotterdam.
These unique lighting fixtures are available from DH PH, http://dhph.com/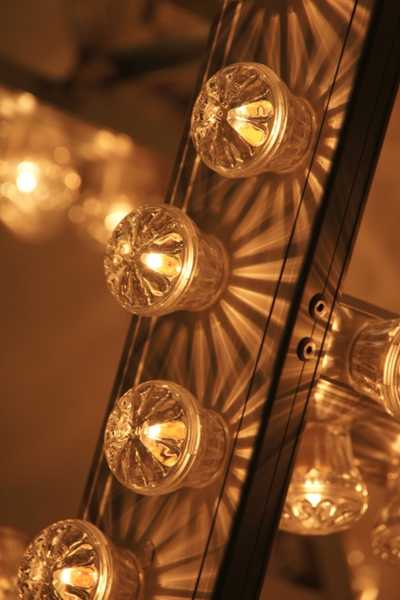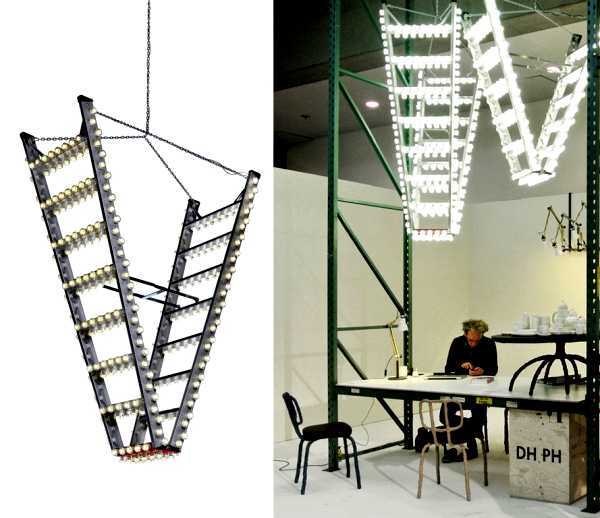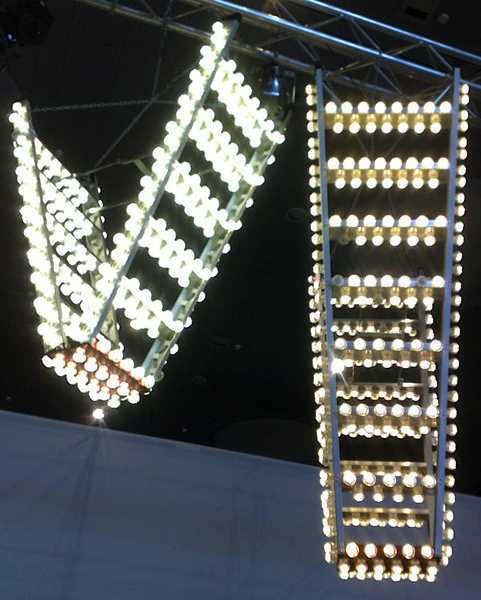 More from modern interior design

Here is a new design concept of Ibis Hotel in Sao Paulo, Brazil. The contemporary and original interior design invites everyone...