Pendant Light by Tom Dixon, Etch Web Lamp, Unique Lighting Design

Decorating Ideas

Lights Appliances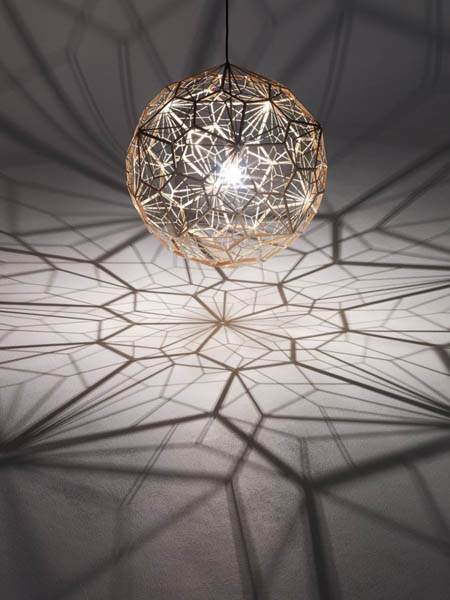 Contemporary lighting fixture that casts geometric shadows, new pendant light design idea
lighting fixtures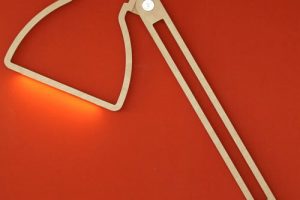 Pendant light design idea from British designer Tom Dixon is interesting and unusual. Etch Web Lamp with an open structure in a round shape creates amazing shadows, adding unique, surprising and stylish decorative accents to contemporary interiors.
'Etch Web Lamp is a vast 65cm wide shade with an unusual open structure, designed to cast atmospheric angular shadows when lit. Another experiment in our long running exploration of mathematics and geometry, an irregular pentagon shape is repeated 60 times across the body to create a total sphere.
The enormous globe is astonishingly lightweight, weighing only 980 grams, with a correspondingly ethereal visual attitude. Formed from copper anodised aluminium through a process of digital photo-acid etching, an oversized LED bulb is suspended within the centre of Etch Web to make it the ultimate shadow play pendant,' – the designer says.
Contemporary lighting fixture that casts geometric shadows, new pendant light design idea
Pendant light design idea from Tom Dixon, www.tomdixon.net/
Stylish contemporary lighting fixtures that are designed to cast attractive shadows come in various types and sizes, with different patterns and decorative details, creating an exciting modern interior design trend.
Pendant light with open structure, creative design ideas for contemporary homes
Unique lighting design ideas, Skirting Board Sunset floor lamp
Toy like contemporary lighting fixtures, 5 unique lighting design ideas
Open structure that allows to create geometric shadows
Contemporary lighting fixtures that cast interesting shadows
Modern lighting design ideas, charming shadows for room decorating
Unique lighting design idea, Etch Web lamp

Snowflakes are perfect Christmas decorations and eco gifts that you can make in an infinite variety of sizes and designs. White...
and enjoy free articles sent to your inbox