Parisian Penthouse, Fresh Apartment Ideas and Colorful Interior Design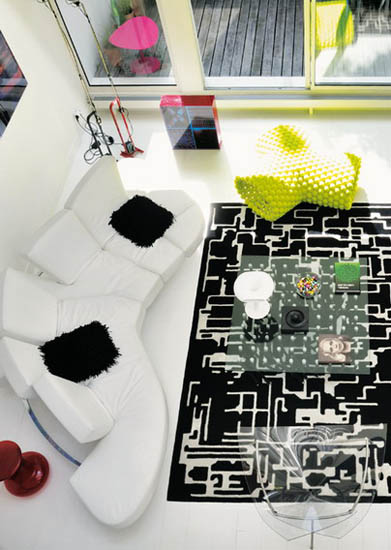 Black and white living room furniture with bold citrus yellow and red color accents
MODERN WALLPAPER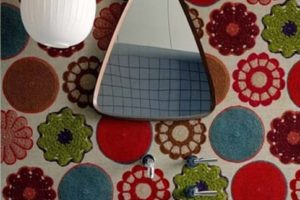 Modern penthouse apartments have the advantages of regular apartments, such as security, beautiful view and convenient location in a large city, and all those of a contemporary homes, such as size, interior design and architecture. Modern penthouses are usually located in the heart of busy cities, offering a sense of being situated far away from or above noisy and crowded urban life.
The idea of an American penthouse apartment was born in the 1920s, when economic growth brought a construction boom to New York City. The high demand for contemporary interior design, architecture and comfortable interior space planning for living in urban areas and the wealth of Americans led to creating luxury apartments on the top floor of a building.
Overcoming the issue of small interior space planning in regular apartments, modern penthouse apartment interior design and architecture look large, luxurious and stylish. Located on two or more top floors of a building, the penthouses are luxurious apartments that have a size that is often equal to multiple floors.
Modern home interiors, cottage like contemporary homes
5 contemporary bedroom interior design trends
Parisian penthouse, interior design ideas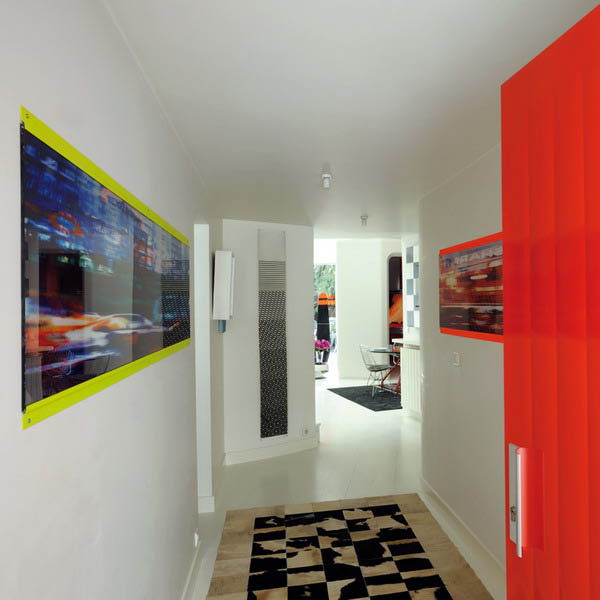 Modern penthouse apartments offer luxurious amenities of contemporary homes, high-end appliances, finest interior decorating materials, luxurious flooring systems, spacious interior design and architecture that are impressive and comfortable. A Parisian penthouse apartment, designed by the artists Miguel Chevalier, is a beautiful example of how modern penthouse apartment interior design and architecture for creative and artistic people, living in a large busy city, may look.
Unusual contemporary interior architecture and design ideas, black and white color combination with yellow and red color accents create interesting optical and psychological effects, making modern penthouse apartment interiors unique, adding bright details to relaxing interior decorating and creating striking contracts with hectic everyday life.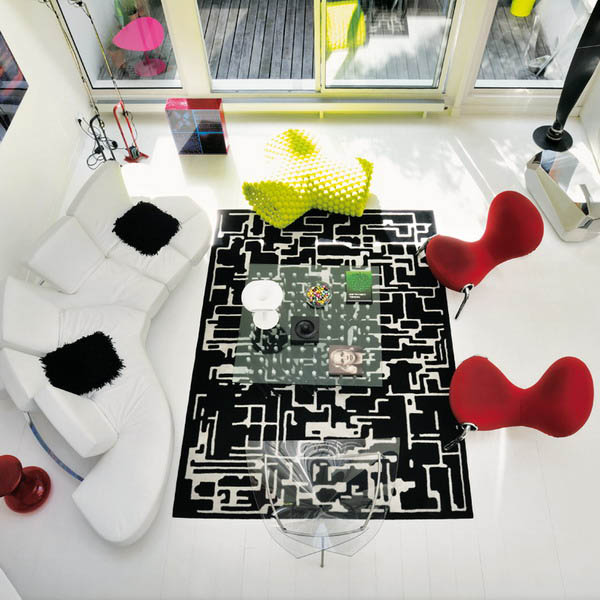 Everything is possible in Paris. The penthouse apartment interior architecture and design is a vivid manifestation of creative imagination and innovative contemporary interior decorating ideas that instantly attract the attention with classy black and white color combination and bright yellow and red color accents.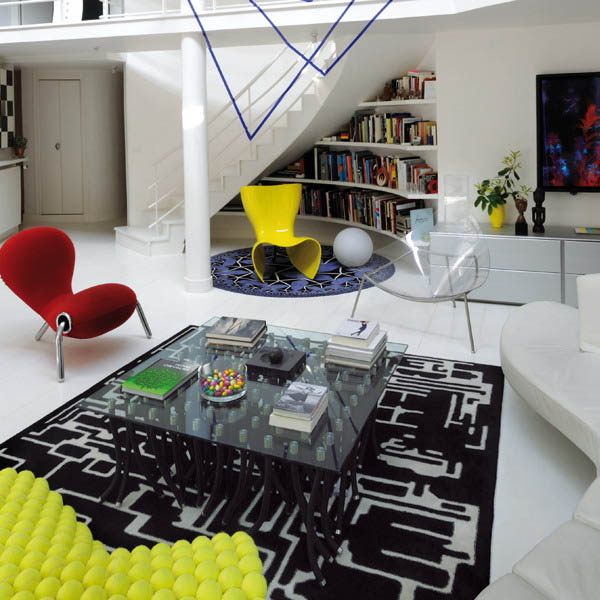 Modern penthouse apartment interior architecture and design ideas are unusual and stylish, offering many simple and interesting contemporary interior decorating inspirations for large luxurious apartments and small homes, whether for creative interior decorating or home staging for sale.
Luxurious homes prices, from Montreal to Bulgarian coast
Unique furniture design ideas, tennis balls for playful seats
The penthouse apartment is located in the 18th century Parisian building, but vibrant black and white color combination with stylish yellow and red color accents, unique furniture design and creative interior architecture, design and decorating ideas look contemporary, spacious and bright.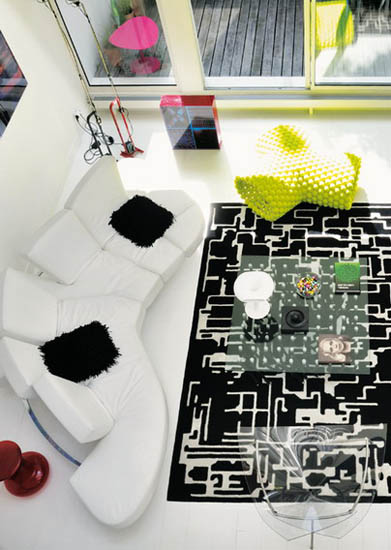 Decorative blue lines, that looks like a laser beam, makes walls, ceiling, staircase look unusual, interesting and futuristic. Thoughtfully designed blue lines meet at certain points, creating stunning and surprising visual effects.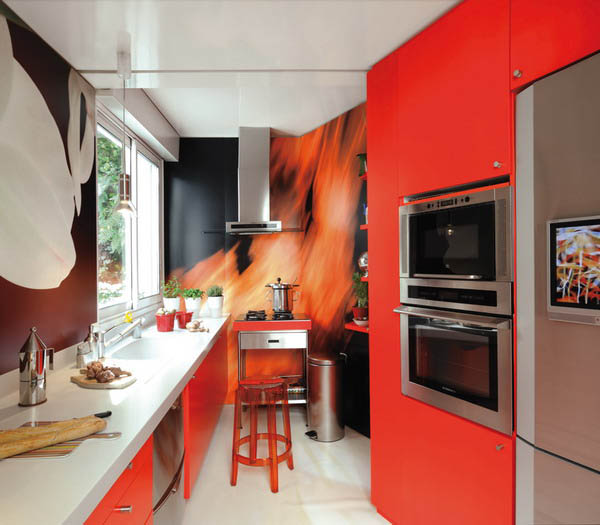 One of the chairs in the living room is made of tennis balls. Modern yellow and red color accents, that kitchen cabinets and furniture upholstery fabric add to penthouse apartment decorating ideas, and designer chair on the terrace made of wire, add the artistic touches and art deco style flavor to penthouse apartment interior design.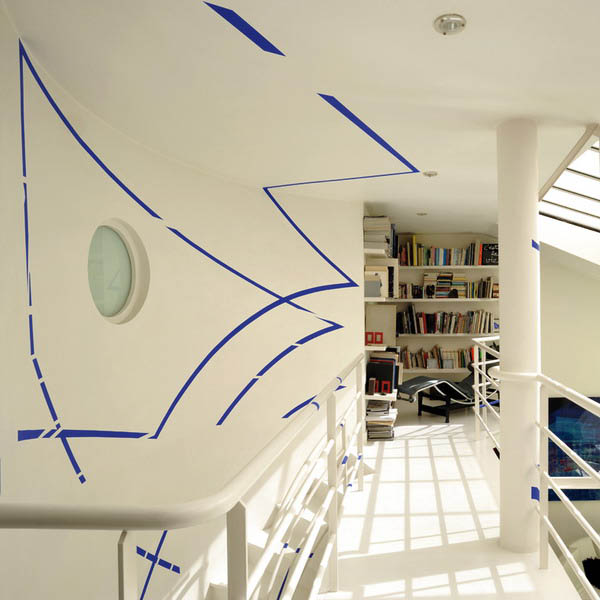 The bedroom on the second floor is simple and comfortable. Bedroom decor creates a perfect place for rest, balancing dynamic, bright and modern penthouse apartment interior design.
Interior designers present their chair masterpieces
Bedroom decor accessories look ordinary and functional, except the wall decoration and furniture in red color and antique Orthodox icon of the 19th century from the Parisian antique market, which add more interest to the modern penthouse apartment interior, creating eclectic charm.
Modern penthouse apartment ideas
More from interior design

Bright home interiors and amazing views of the ocean make this beach house a dream place. Large windows, light, neutral room...
and enjoy free articles sent to your inbox