Modern Penthouse in Sweden, White Decorating Ideas with Nordic Charm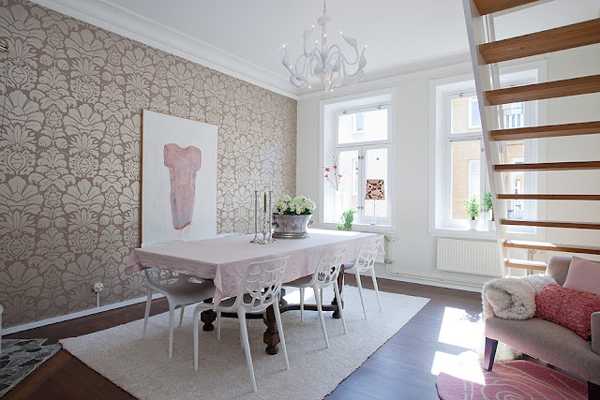 Modern wallpaper with floral design for accent wall in dining room with an antique table and handmade table cloth
DECORATING SMALL APARTMENTS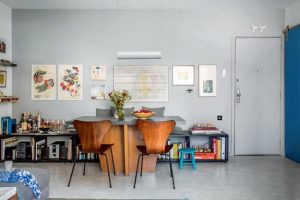 Modern penthouse in Sweden looks spacious and beautiful. It features white decorating ideas, bold color accents, wood and the simplicity of the Nordic or Scandinavian style. Swedish interior design style, is a popular trend that is associated with natural materials, light decor, antique and modern furniture combination and neutral interior decorating color schemes.
White decorating ideas feel natural and elegant, opening living spaces and making rooms feel airy and spacious. White paint for walls, wooden floors, antique furniture pieces, natural wood furniture or painted white furniture pieces and colorful decor accessories create an interesting blend with Nordic charm.
The main interior decorating colors that designers selected for this penthouse decor are typical for modern homes in Scandinavian style. White, creamy tones, beige and all brown colors create a background for Nordic design. Light blue, green, pink and purple are excellent for adding bold accents to interior decorating or home staging in neutral palette.
Beautiful penthouse interiors and balcony decorating ideas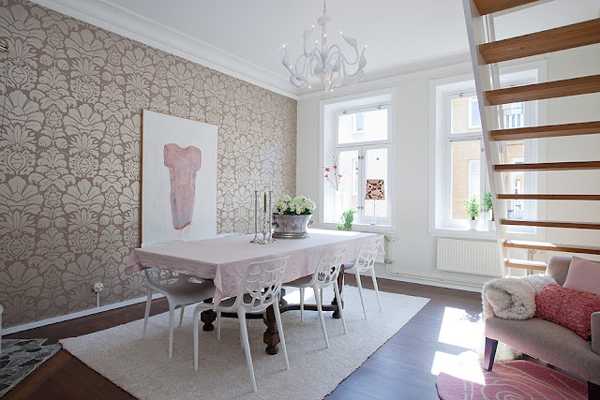 Just few room furniture pieces and efficient lighting design make penthouse interior design very functional and spacious, emphasizing the Scandinavian style. The simplicity is one of important considerations.
Elegant simple shapes and symmetrical furniture arrangement add some organization to modern interior design and decor in Scandinavian style. White decorating ideas, combined with the natural beauty of wood create an atmosphere of calm and relaxing homes in Scandinavian style.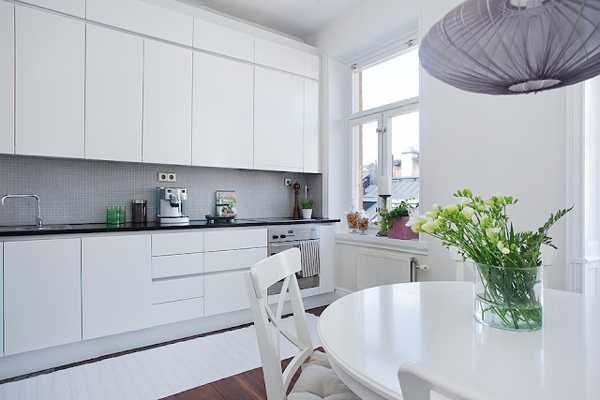 Scandinavian style interior design and decor look unpretentious, but harmonious and cozy. The blend of white decorating, natural brown colors and colorful accent pieces in vibrant shades add interest and balance to room decorating in Scandinavian style.
Scandinavian style apartment ideas from Albhem Makleri Interior, white decorating
Floating houses, contemporary home AquaVilla in Stockholm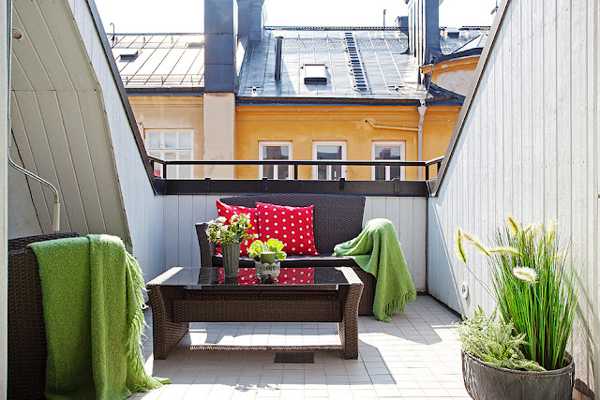 White decorating ideas in Scandinavian style
More from home decorating ideas

Bright home interiors and amazing views of the ocean make this beach house a dream place. Large windows, light, neutral room...