Gorgeous Small Bathroom Design with Penny Tiled Floor, DIY Bathroom Ideas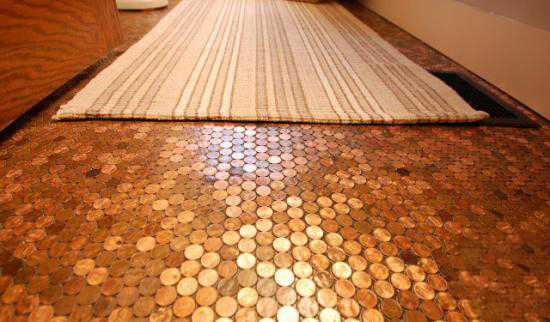 Penny tiled bathroom floor, small bathroom decorating ideas
flooring ideas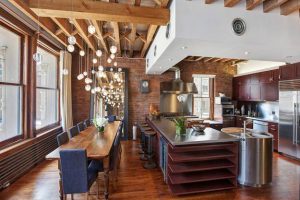 Small bathroom design can bering creative, unusual and exciting ideas. Brian Quinn shared his gorgeous small bathroom design with the large wall mirror, contemporary lighting, beautiful wooden sink vanity and penny tiled floor, that create an attractive contrast with white wall paint and white bathroom fixtures.
The vinyl was striped off the original small floor tiles, and the floor was cleaned with a paint stripper and then painted with some leftover paint. Pennies were placed on the floor and glued to the surface. A clear coat of epoxy was applied to feel the gaps between pennies, sealing them and creating a smooth floor surface, which is unusual and attractive.
This very small bathroom now looks stylish, luxurious and very interesting. Bathroom remodeling, adding modern lighting, large wall mirror and bathroom sink, getting rid of an old vinyl floor and bringing wood into the room turned  the small bathroom into an elegant and cozy retreat.
Onyx slate tiles for small bathroom designs, modern bathroom floor tiles
Small bathroom floor tiles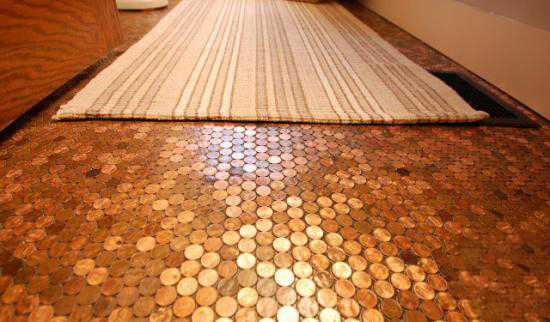 The original bathroom floor tiles were in very bad condition, and the floor was leveled out with a quick dry concrete mix and painted dark gray color.
Pennies, used as a floor tiling material, dramatically transform the way the small bathroom looks. The small bathroom design, including penny tiled floor, is by a professional interior designer Laura Quinn, www.happyroost.com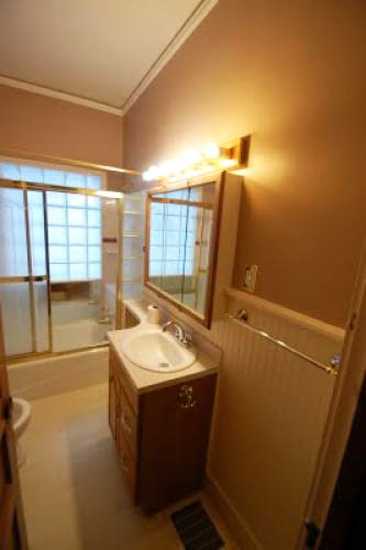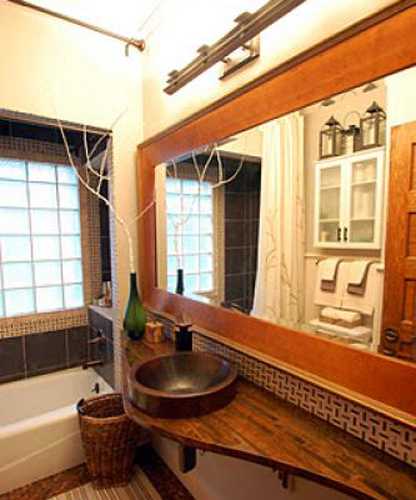 Penny tiled floor is a unique and creative DIY small bathroom decorating project that cost only $150.
Small bathroom decorating ideas
Small bathroom remodeling and staging ideas
Modern bathroom design trends and popular bathroom remodeling ideas
Penny tiled floor designs
More from bathroom remodeling

Remodeling bathroom interiors is an essential part of creating a modern home. A beautiful, functional, well-planed, and modern bathroom design affects...
and enjoy free articles sent to your inbox