4 Simple Laundry Room Decoration Ideas, Eco Style Laundry Room Design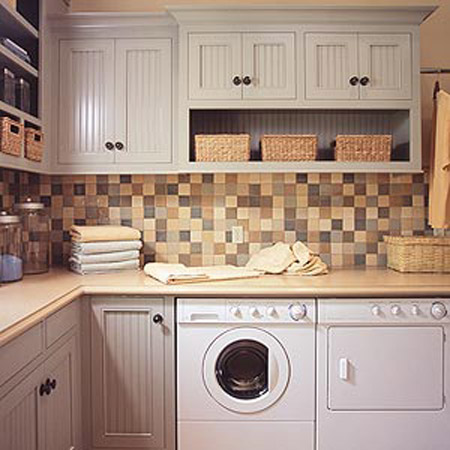 White laundry room cabinets and light brown walpaper
DECORATING SMALL APARTMENTS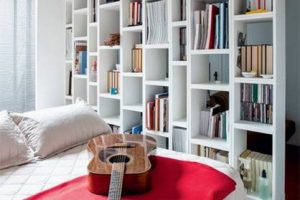 Laundry room decoration is fun. Your laundry room design can be as bright and cheerful as you like. You can use any paint or wallpaper pattern for decorating, creating a special place, pleasant and organizied, that makes you smile.
Laundry room designs are practical and functional, but you can spice up the room with bright color accents, handmade decorations, creative storage ideas or elegant color combination, creating healthy and eco friendly laundry room design.
Eco friendly appliances and cleaning products, laundry room organization and comfortable storage ideas, convenient shelves and baskets, pleasant paint colors and simple elegance of decorating with playful curtains and small indoor plants create laundry room designs that energize and improve mood.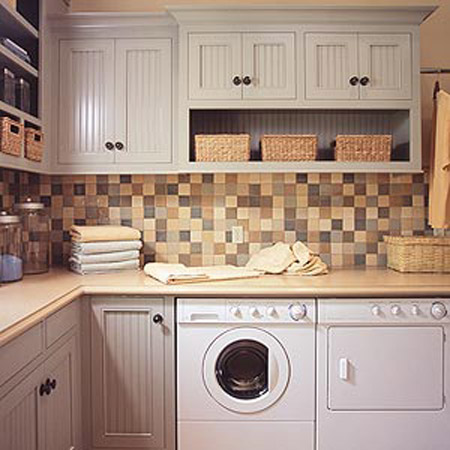 Warm laundry room decoration ideas feel comfortable and functional. Light laundry room colors look pleasant and cheerful. Vibrant color accents, floor rugs, hangers and hampers, add charm and beauty to laundry room designs.
Laundry room designs are about chores that can hamper almost any day, but a well organized, task focused, light and tidy laundry room decoration can alleviate stress of your busy day and lift your spirit.
Light yellow laundry room cabinets with gray countertop
Built-in shelves, a contemporary shelving unit or luxurious laundry room cabinets with an ironing station, a chair or a small bench, simple laundry room decoration items and small accessories create not only functional, but stylish, comfortable and friendly laundry room decor.
1. Eco style laundry room design
Decorating a laundry room in eco style
Contemporary laundry room design in eco style, photo from BetterHome&Gardens
Laundry area in kitchen, white appliances and kitchen cabinets
2. Laundry room cabinets and accessories
Effective laundry room storage is an important part of functional and comfortable laundry room designs. Metal shelves above washer and dryer or wood laundry room cabinets are stylish and functional ideas for laundry room decoration.
Wood laundry room cabinets, light yellow curtains and a comfortable chair
Shelves offer convenient storage for eco friendly products for cleaning and washing. Wicker baskets and made of natural or eco friendly fabrics bags, unscented detergents and natural air fresheners create healthy and pleasant laundry rooms.
A rolling laundry cart, which can fit between appliances, is one of space saving laundry room design ideas. Additional laundry carts, rods or a pole with hangers, a chair or a bench are also nice to have in a well organized room.
Laundry room cabinets for appliances
A two-story house can benefit from a laundry chute which prevents lugging hampers up and down stairs.
3. Paint colors for decorating
When considering paint colors or wallpaper patterns for wall decorating think of light and cheerful colors and patterns.
Bright and fresh laundry room decoration ideas
Natural interior design colors, inspired by blue sky, green leaves and sunny yellow days and blooming flowers, combined with comfortable brown colors, light gray and white laundry room accessories, create the elegant crispness, harmony and beautiful laundry room decor in eco style.
Make sure that you use water resistant paint for laundry room decoration. Satin, eggshell, or semi-gloss wall paint or coated wallpaper look great with wooden laundry room storage shelves and natural decorative fabrics.
Light paint colors and small indoor plants for laundry room decoration in eco style
4. Light and small indoor plants
Modern lighting and small indoor plants add lightness and freshness to small room decor in charming and relaxing eco style.

Here are great ideas for kids toys storage and wall decoration with small cars that everyone would love. DIY organizers, like...