Blue Cargo Container House Casa El Tiamblo by James and Mau Arquitectura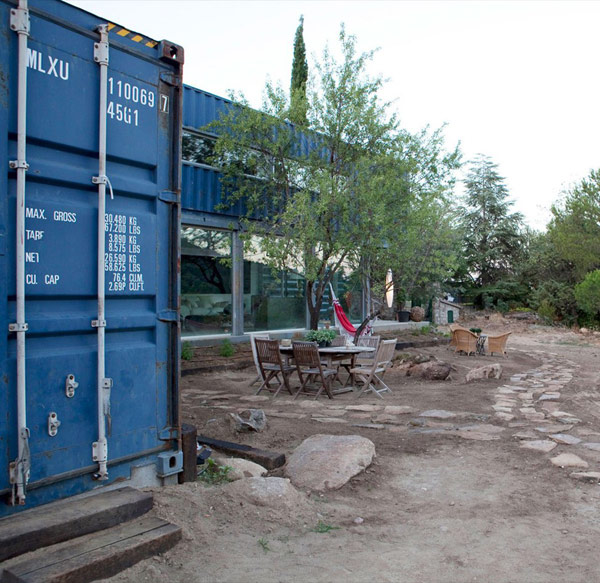 Cargo container house design is one of latest trend in eco friendly building technology. Empty shipping containers are an alternative, unconventional and cheap building material, perfect for durable, simple and functional modern homes.
Cargo container house Casa El Tiamblo is designed by studio James & Mau Arquitectura, based in Madrid, Spain, and built by sustainable building company Infiniski. Attractive and comfortable sea shipping container house Casa El Tiamblo is made of 40 feet empty shipping containers and offers a contemporary way of green living.
Unusually looking cargo container house design features eco friendly architectural solutions, unique house exterior with an industrial flavor, spacious interior design, bright stylish decor and inviting outdoor living spaces.
Empty container house, cheap ad durable modern house designs
Eco homes, Two Tree house design
Shipping container house design
Living room in shipping container house
Original and provocative appearance emphasized by beautiful deep blue color of cargo containers, used for this house design. The blue shipping containers blend well with sunny skies, looks bright and feel energizing.
Very functional modern interior design and stylish decor in calming neutral colors, bold color accents and wooden elements are combined for creating this cargo container house with contemporary, elegant and welcoming interiors.
Shipping container house design with a balcony and patio
Large glass wall designs, sliding doors and creative glass roof extension over the balcony add more comfort to this cargo container house design, perfect for those who can tolerate and enjoy the heat.
Eco friendly modern house Casa Della Buona Rorchette, green building ad sustainable design
Movable beach cottage, Whangapoua house design
Large glass windows and inviting patio design make this elegant home, built of recycled empty shipping containers, feel warm and friendly.
Bedroom in shipping container house, black and white bedroom decorating with bright accents
Container house design details
Potographs by Pablo Sarabia

Modern house design in Japanese style celebrates the functionality and elegance of minimalism. Airy, bright rooms look inviting and comfortable. Natural...