Adjusting Ironing Board, Creative Design Idea for Modern Homes
---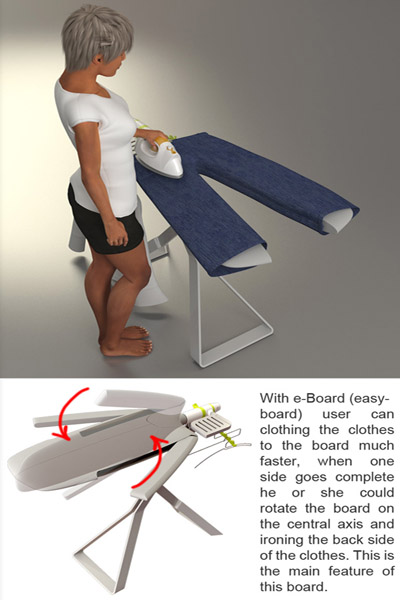 Conceptual ironing board design, 5 components E-Board for ironing clothes
A conceptual design of an ironing board with five elements is developed by designer Mohsen Jafari Malek. The ironing board E-Board is convenient, practical, ergonomic and easy to use. The creative design idea will low the electrcity bill and add more fun and style to modern homes.
E-Board consists of five movable components that help adjust the ironing board shape to the garments you want to iron without wasting time and making ironing quick. The board rotates around the central axis, allowing comfortable ironing the back side of the clothes.
A green knob that controls the shape of the ironing board and five components are the main features of this conceptual design which speeds up the ironing process, saving electrical energy and offering an eco friendly product for modern homes.
Innovative washing machine Orbit, eco friendly products and green technology for modern homes
Futuristic small kitchen appliances design trends
Ironing board design
Conceptual ironing board design, 5 components E-Board for ironing clothes
The ironing board design saves time and effort, offering easy ironing of paints and shirts with long sleeves. Skirts and trousers, pants and tops, all clothes can be flatten on this board in no time, which is great for more efficient usage of the energy and save money on electricity.
The hanger holder and iron stand adds more convenient and practical features to this ironing board design, presented as the iF Design Talents entry.
Comfortable and practical five componen ironing board, creative design idea for modern homes
Energy, money and time saving adjusting ironing board
by Ena Russ
last updated: 23.10.2016