Zjedzony Chair Design, Food Inspired Modern Furniture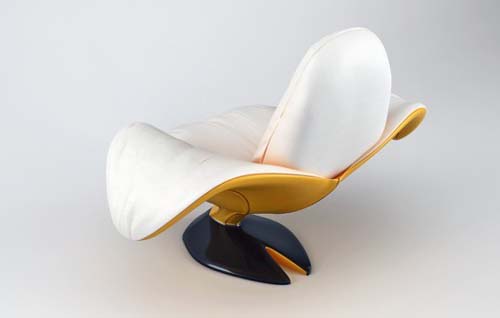 Contemporary armchair in white and yellow colors, banana inspired modern furniture design
This modern chair design from Poland is inspired by and looks like a banana. Luxurious and soft chair design brings original aesthetic and functionality into room decor, offering a comfortable shape and a cheerful color combination.
Modern chair design by WamHouse continues the tradition of creating food inspired modern furniture pieces that add fun to interior decorating.
Optimistic and inviting, light and modern chair will add a splash of sunny color to room decor , creating positive atmosphere and lifting your spirit.
Banana inspired modern chair design
Modern chair design in white and yellow colors, living room furniture
Food inspired modern furniture design idea
Stylish and very decorative chair design in bright yellow and white colors is great for sdults and kids room decorating, hotels and restaurants. This conceptural chair design has a great potential.
Comfortable high back, padded seat and curvy armrests create a banana peel like chair design that feel welcoming and cute.
Contemporary armchair in white and yellow colors, banana inspired modern furniture design
More from contemporary design

Modern house design in Japanese style celebrates the functionality and elegance of minimalism. Airy, bright rooms look inviting and comfortable. Natural...