Target Interior Decorating and Design Ideas for Small Spaces from Geometrix Design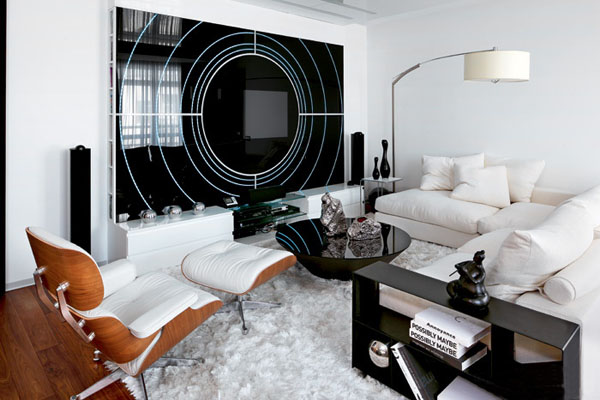 Contemporary living room design with home theater, black and white apartment ideas
VALENTINES DAY IDEAS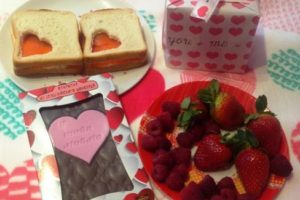 Light contemporary interior decorating and design ideas from Geometrix Design combine attractive furniture and decor accessories, unique glass doors and panels, simplicity, comfort and functionality. A home theater and space saving ideas create stylish and airy, functional and unique small apartment interiors that are beautiful and inviting.
The traffic flow is directed diagonally for efficient utilizing available small spaces and creating more spacious apartment decorating. Classic contrasts and interesting geometry make contemporary apartment ideas look unique and impressive.
A sliding glass partition separates the kitchen area from the living room and small entryway, allowing more lights and creating functional, bright and flowing small spaces.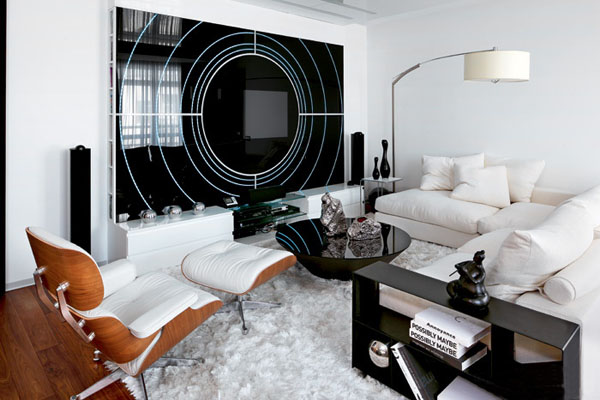 The home theater and black glass wall panel are a focal point of apartment interior decorating that design multifunctional and impressive contemporary home interiors. The home theater design looks like an art object, adding a striking accent to small apartment decorating.
LCD TV panel is an invisible part of a larger panel, made of black glass, decorated with LED lights in a target shape. The black glass wall panel that stretches almost from the floor to ceiling, creates a glossy canvas with built-in lights for painting with colors that the TV panel brings. This Target shaped design is amazing, harmonious and very decorative.
Black kitchen cabinets and glass partition, contemporary apartment ideas
The combination of unique black glass wall panel, white storage units under the TV panel and glass shelves with LED lights allow to change interior decorating and design, creating different mood and exploring fresh, surprising and bright apartment ideas.
Transformer design ideas, space saving furniture for small room
Space saving decorating, functional furniture for small spaces
There is another unique, multifunctional technological feature in the kitchen, – a table transformer with a remote control. The design can be transformed from a dining table to a home bar or a desk for work.
Living room design with a large wall panel made of black glass for home theater
Black lacquered kitchen cabinets doors bring more style and chic into small apartment ideas for creating luxurious and comfortable contemporary homes. Strong white and black contrasts and contrasting materials make apartment decorating and design ideas look interesting and adventurous.
Transformer design ideas, modern furniture for small spaces
Space saving ideas for small kitchens, modern kitchen appliance design
Wood is the interior decorating material that connects apartment interiors, add comfortable brown colors and cosiness to contemporary design. Beautiful wood floor and wall panels, furniture and dark wood door frames are attractive apartment ideas that give integrity and completeness to contemporary home design.
Smart home technology affects contemporary decorating and design. Unique apartment ideas and technological features are two modern interior decorating and design trends that turn small spaces into multifunctional, attractive and comfortable homes for people, living in the city, say architects from Geometric Design, Russia.

It is possible to find enough space for a small bedroom even in a tiny apartment or home. Here are smart...