Roof Top Garden Design Turns Helicopter Landing into Spectacular Green Place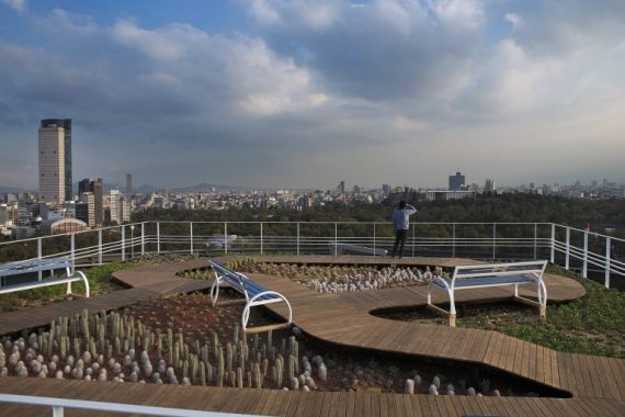 Rooftop garden design with wooden benches and spectacular views
A roof fop garden design that turns a rooftop helicopter landing into a beautiful public outdoor space contributes to creating clean environment and improve modern lifestyle. The large companies want to make their contribution to the protection of the environment and advertise their green ideas, creating roof top gardens with breathtaking views for people to enjoy.
A helipad on the roof of Coca-Cola office building in Mexico City was transformed into a roof top garden, creating beautiful outdoor rooms with gorgeous views. Designed by architectural firm Rojkind Arquitectos, the rooftop garden design creates an inviting areas on the roof of the office building, providing a nice place for staff to take a break.
The new roof design with a garden and benches is called Foro Ciel. The roof top garden created with local plants, including cacti and fruit trees. The roof design is eco friendly and built with recycled materials. Purified rainwater and irrigation system are used for watering plants. 
Roof top garden design ideas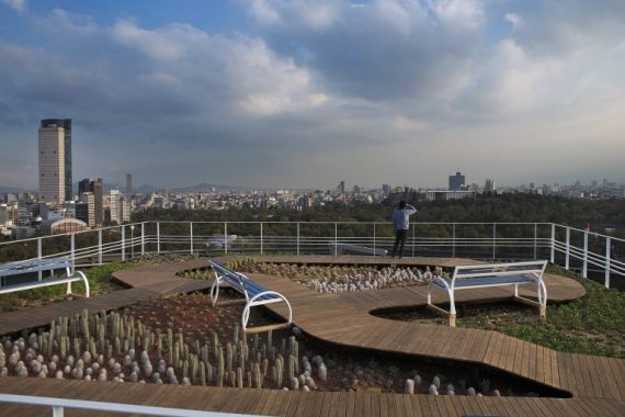 The irrigation system will process about 5,000 liters of rainwater per year, and growing in the rooftop garden plants will capture up to 81 kg of air pollutants and CO2, contributing to the improvement of air quality in Mexico city.
Wooden walkways and a few benches make the roof top garden design look very inviting and comfortable. This creative  conversion of the roof turning the former helipad into rooftop garden demonstrate positive changes in architectural designs, influenced by green ideas.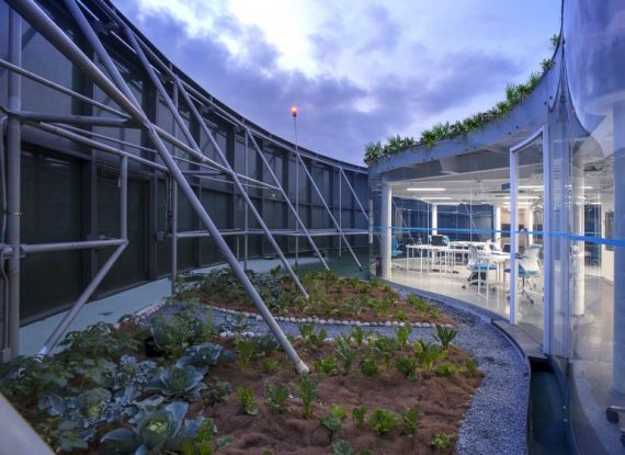 The architects, inspired by the rooftop garden design, decided to go even further and turned the spaces under the  helicopter landing platform into environmentally friendly office spaces.
Rooftop garden designs
Green building, growing wall and rooftop garden designs for modern eco homes
Green roof, sustainable architectural design with rooftop gardens
Rooftop garden and small pond romanticize modern house design

There are hundreds of reasons to recycle metal parts, old cookware, wires, tools for creating unique designs and decorating your office...