Sitting Lamps from Produkt Designs, Modern Lighting Design Idea
---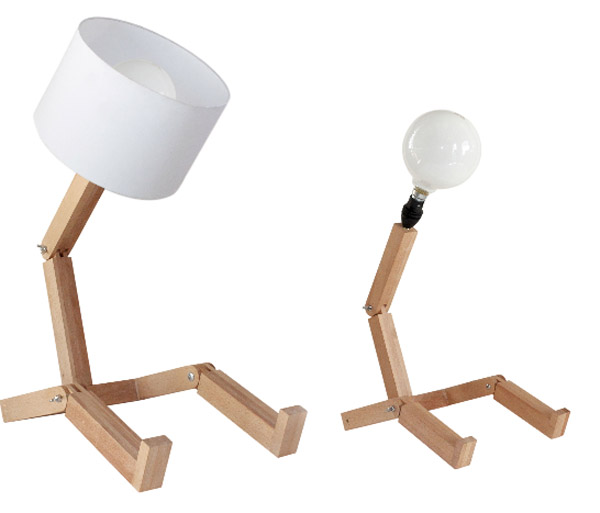 Sitting Lamps in large and small sizes with cylindrical lamp shades, creative table lamps made of wood
Unique Sitting Lamps from GraemeBettlesDesign look like tall and small funny men, walking, sitting or standing on the table top. Made of beautiful pink beech wood, Funny Man Sitting Lamps are available in large and small sizes with or without cylindrical lamp shades.
This Sitting Lamps from GraemeBettlesDesign are wonderful decorations for tables or shelves, and functional decorating items that can brighten up any interior, – kids rooms, teenage bedrooms, kitchens or home office interiors. These table lamps in large or small sizes can be used for bedrooms and living room decorating, bringing more fun into modern interior design.
Sitting Lamps look cool and playful. Table lamps design reminds of wooden dolls living and playing on the table top. Modern lighting design idea is a blend of creativity and functionality, simplicity and innovating thinking.
Sitting table lamp
The Sitting Lamp without a lamp shade looks very contemporary and unusual. The Sitting Lamp with a cylindrical lamp shade in retro style feels familiar and pleasant.
Playful and romantic table lamps create smiles, adding joy and fun to modern interior design. Natural materials and functionality bring warmth and comfort into interior decorating.
Table lamps base that looks like legs may be used for creating funny man sculptures and adding cheerful look and unusual flavor to personal and unique interior decorating.
Pureness Lamp by Simone Savini, contemporary lighting design idea
Mona table lamps from Koso Lamp, unique lighting design ideas
The table lamps base offers a small space for book storage, adding more organization to computer desks or writing tables. The legs are made of pink beech wood and feature handles to regulate the incline.
Sitting Lamps are great home decorations for any living space, especially kids rooms and teenage bedrooms, home offices and computer corners in kitchens, making home interior decorating look charming and offering delightful and interesting modern lighting design.
Wall lights and table lamps, 6 modern lighting design trends
Table lamps inspired by forest ans wet grass, modern lighting design ideas
Wooden table lamp design details
More from lighting design

Bright contemporary lighting, gray and brown colors are the perfect combination for decorating a bachelor apartment. Neutral colors, comfortable furniture, and...