Recycling Old Floppy Disks for Amazing Art, Eco Gifts and Wall Decorations
---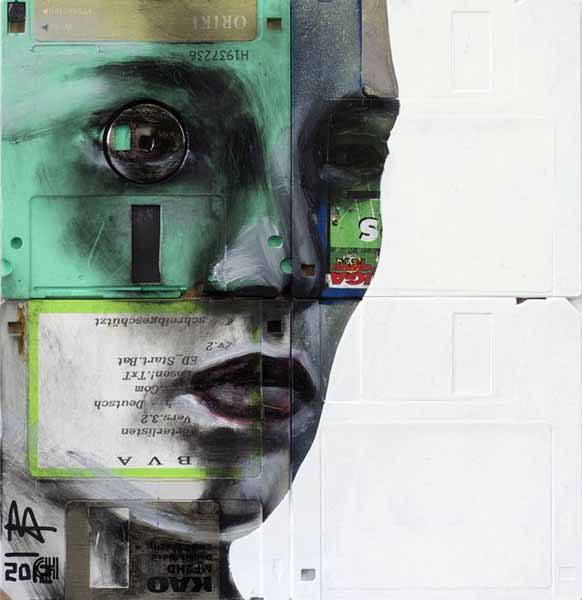 Recycling old floppy disks, used for computer storage, for beautiful art works, unique eco gifts and creative wall decorations is another green way of home decorating in eco style, showing your talents and interest in saving the environment.
Old computer storage disks with portraits or landscape paintings look unusual and interesting, offering great craft projects for making eco gifts and wall decorations.
Painting on old computer disks is fun for adults and kids. You can create an original and personal wall decor and wonderful cheap gifts, inspired by artworks from the portrait collection by Nick Gentry, www.nickgentry.com/
Old floppy disks
Recycling old floppy disks for art
Nick Gentry is a British artist from London. Much of his artistic output has been generated with the use of contributed artifacts and materials.
He states that through this process contributor, artist and viewer come closer together.
His artworks are influenced by the development of consumerism, technology and cyberculture in society, with a distinctive focus on obsolete media.
He is best known for his floppy disk paintings, placing an emphasis on the reuse and recycling of personal objects as a central theme.
Painting on used floppy disks
Recycling old floppy disks for painting canvas
Old floppy disks used as wall mosaic tiles
Old floppy disks are a good material that can be used as a canvas for paintings or wall mosaic tiles. Simple images on empty walls look gorgeous and easy to make with kids, creating beautiful, bright and cheerful wall decorations for kids rooms and kitchens, family rooms and home offices.
Small and large artworks created with old floppy disks can attractively decorate any room in your house, celebrating the creativity and recycling ideas, and adding gorgeous accents in eco style and an artistic touch to your home decorating.
Recycling old floppy disks for mosaic wall tiles, creative recycled crafts and art projects for kids and adults
Toaster made of recycled floppy disks used as mosaic wall tiles
Old floppy disks can be used for furniture decoration and adding charming designs to your garden fence. You can glue them to your car or garage door, recycling garbage bin and storage boxes, giving an artistic touch and character to your backyard and home decorating ideas.
Recycled crafts
Artistic ways to recycle bottle caps, recycled crafts for kids
30 amazing ideas to reuse and recycle old car tires, creative recycled crafts
Car decoration
Recycling used computer disks for unique car decoration
Colorful car decoration with used computer disks

Waterproof wallpaper designs are a bright, innovative, and functional solution for modern bathrooms. Beautiful wallpaper patterns can decorate all walls, including...