Juju Hats and Wall Decoration Ideas

Furniture Accessories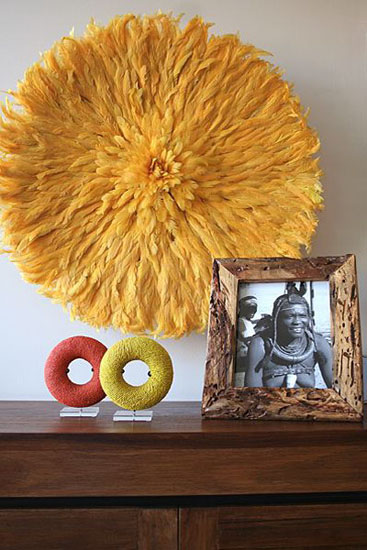 empty walls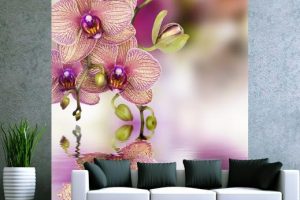 Wall decoration with Cameroon Juju hats is one of modern interior design trends that adds exotic flavor and bright color to room decor. African hats from Cameroon are a great way to create a bold statement and add drama with unique texture of colorful bird feathers to modern wall decoration ideas. An array of feathers colors, that range from bright magenta, striking red, yellow or orange to deep purple, sapphire and dark blue, elegant black and soft creamy white tones, allows to select the right Juju hat design for any wall decorating that will perfectly match existing room decor and emphasize the beauty of interior design color scheme.
Juju hats are the symbol of Cameroon, clothing accessories, talismans and festive decorations that can be used for striking wall decoration. During royal court affairs in Cameroon, tribal chiefs and dignitaries wear this spectacular headdress, made of multi colored bird feathers, known as the tyn, or Juju hat. African Juju hats are often used by interior designers as impressive and unique wall decor pieces, that offer simple and stylish wall decoration for modern interior design. White, black and colorful bird feathers, used for making Juju hats, symbolize prosperity and beauty. People in Cameroon believe that Juju hats attract wealth and give people positive qualities associated with birds.
Home of beautiful forested volcanic mountains and picturesque villages, Cameroon is the country with a diversity of chiefdoms and kingdoms. During royal affairs, the celebrants, the chiefs, prominent officials and dancers wear a spectacular headdress, Juju hat. Large bright African hats from Cameroon consist of hundreds of colorful bird feathers. The feathers are carefully sewn onto a base, made of raffia fiber, covered with material that splays out into a large circle. Juju hats can be folded for storage between festivities or used for modern wall decoration ideas.
Empty wall decoration ideas
Wire organizers or wall decoration ideas
Modern bedroom wallpaper, one wall decoration trends
Moroccan decor, home accessories and wall decoration in Moroccan style
Empty wall decorating with clutter
African hats from Cameroon and modern wall decor ideas
Hanging on the empty wall over the fireplace mantel or the bed, grouped for colorful wall decorating or used as a single bright wall art centerpiece, African hats from Cameroon, Juju hats are sure to attract the attention. A stylish interior design item and colorful room decor  accessory, a Juju hat creates an unusual focal point for modern interior design and colorful wall decorating with gorgeous circle of multi-colored bird feathers.
Decorating with faux Juju hats, made of felt or wool, or original African hats from Cameroon, traditionally worn by prominent members of society and Juju dancers in West Africa, are modern interior design trends that dramatically transform home interiors with the intricate design of soft colorful feathers, sewn onto a tight raffia base and covered with cloth material.
Traditional Juju hats are excellent wall decorating ideas that bring exotic Cameroon clothing accessories, bright color and unique African crafts into modern homes. Juju hats are the evidence of a fine weaving from Western Africa, made by using old world techniques and skillful hands. Each Juju hat is made by a group of three or four artisans in two days.
Interior decorating with African hats
Juju hats are extremely popular with interior designers and used as room decor accessories for beautiful wall decorating with tender feather in modern home interiors. African hats from Cameroon have been featured in numerous modern interior design magazines and home decor television shows. Get inspired by 20+ interior design pictures with attractive Juju hats made of colorful bird feathers, and add gorgeous soft and bright feathers to your room interior decorating or home staging project, creating unique, personal and stylish wall decorating ideas for your home.
Creative wall decoration ideas
Wall decoration with stripes width and direction, striped walls
Black color bedroom wall decorating for teens
Wall decor ideas, decorating with frames

Here is a new design concept of Ibis Hotel in Sao Paulo, Brazil. The contemporary and original interior design invites everyone...
and enjoy free articles sent to your inbox