Green Building and Modern House Design Saves Trees and Offers Garden Like Setting
---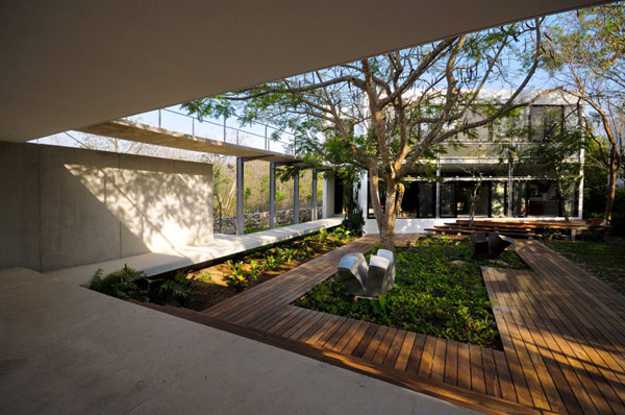 Beautiful modern house design around trees creates a gorgeous contemporary home with a garden like atmosphere. Connecting three building and blending bright interior design with nature, this modern house offers eco-friendly, peaceful and pleasant indoor and outdoor living spaces while saving 52 gorgeous trees that grow on the property.
Mexican architectural studio Muñoz Arquitectos Asociados, www.munozarquitectos.com/ presented their fantastic project, modern house design surrounded by a beautiful garden. The contemporary residence is located in Merida, Mexico and features an original layout design that creates harmonious, spacious and beautiful modern home interiors.
The site of Casa Entre Arboles is rectangular-shaped and allows to create the original architectural design, connecting rooms in different building into a contemporary home that is airy and comfortable. The primary residence has the bedrooms, kitchen, and dining room. The large, most beautiful trees add a charming vibe to it. The garage and laundry room are located closer to a road.
Modern house built around mature trees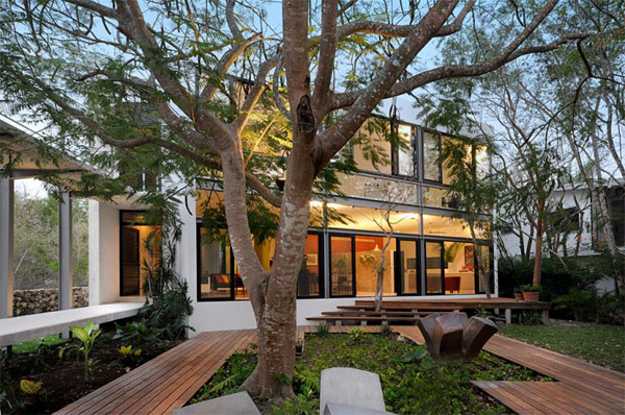 The third element of this architectural design is placed closer to the golf course and consists of a large swimming pool and a covered patio. Architects envisioned an axis that connects and join the buildings, creating the flow through the architectural interiors and outdoor living spaces.
The original architectural design gives unity to the ensemble while saves trees that provide a gorgeous view from all rooms. Walking from side to side of the modern house takes you through wooded areas outside and inside the rooms, emphasizing the connection with nature and reinforcing the idea of a modern house design showing the sensitivity and respect for natural life.
The home interiors are light, spacious and bright. Enriched by unique home decorating ideas, artworks, furniture and decor accessories they offer a beautiful retreat adorned with fabulous decorations and trendy room colors.
Das House design, sustainable design and green interior decorating
Stylish house connecting modern interior design with lush landscape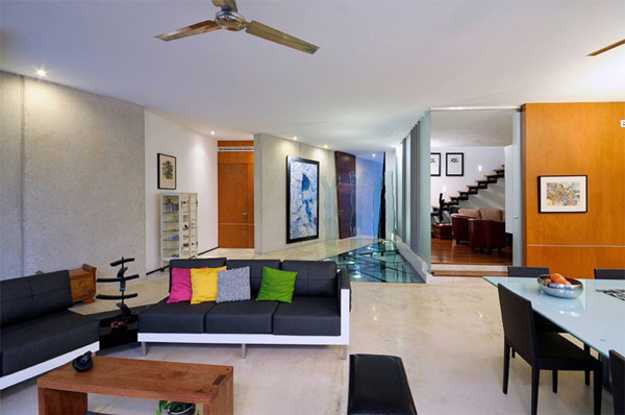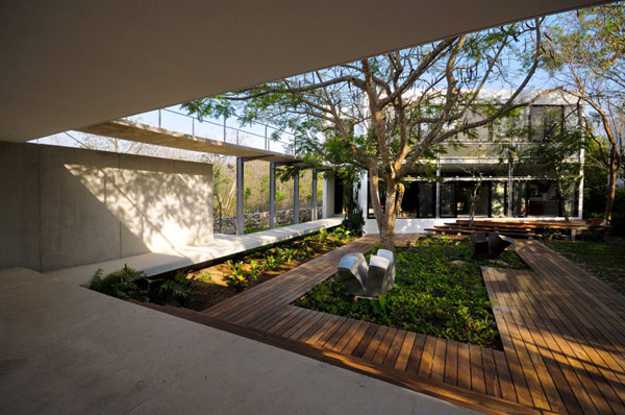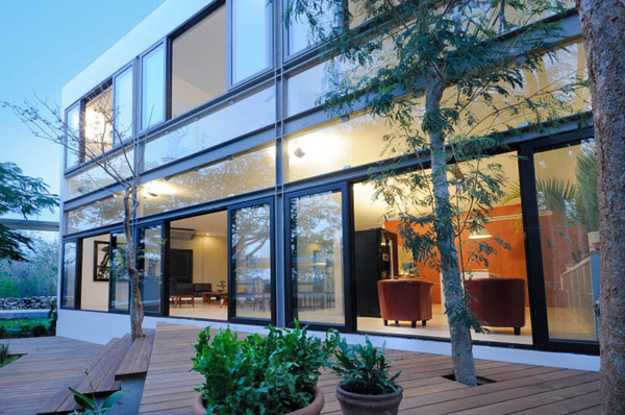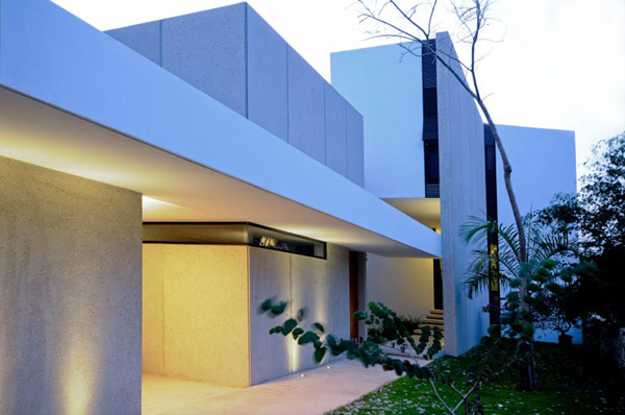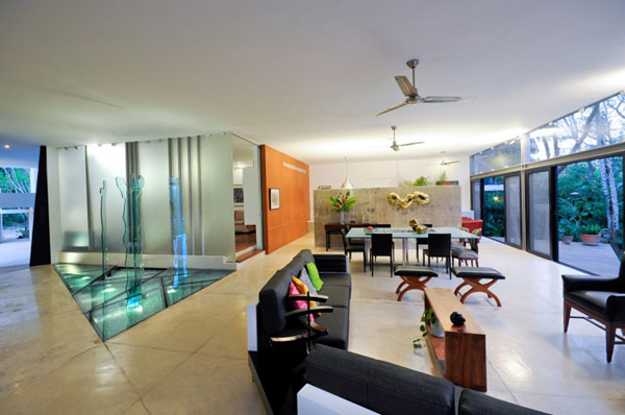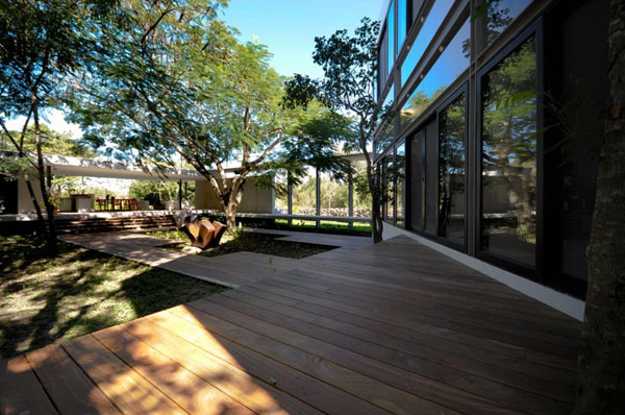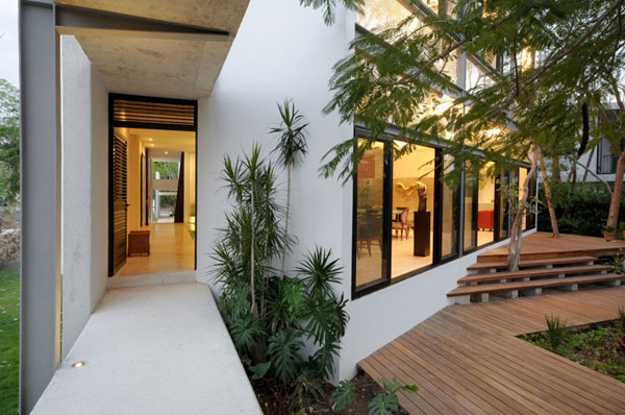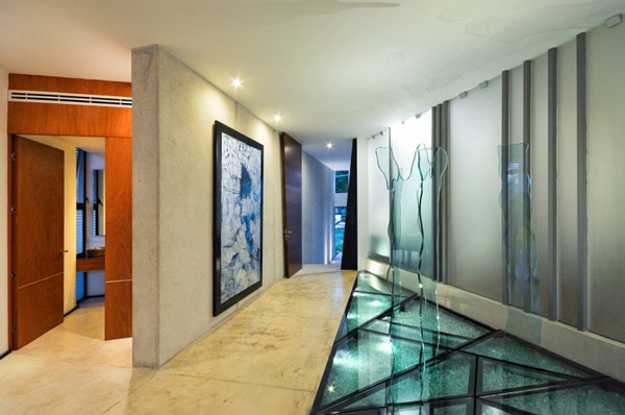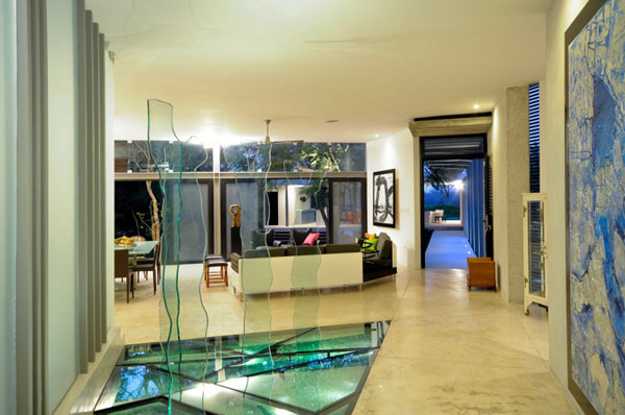 Red Creek House is built on the shores of the picturesque Peconic Bay in Long Island in California. The fabulous, luxurious...