Glass Wall House Design and Eco Decor by Atelier Sano, Modern Houses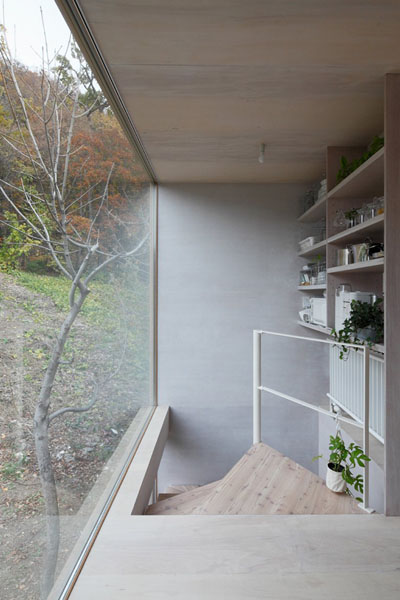 Glass wall and indoor plants for eco friendly interior design and decor
Glass wall house design is a new project by young architect and designer Atelier Sano. This modern house ss located in Sapporo Japan and provides a contemporary home on the top of a picturesque hill. Glass wall and large windows offer beautiful views of the city and connect interior design and decor with the nature.
Light neutral color tones, white room furnishings and black-n-white kitchen island, combined with wood furniture and spacious interior design, create pleasant and airy architectual interiors for contemporary lifestyle.
Open kitchen shelves and contemporary appliances, wooden shelving units and simple ceiling light make modern kitchen design by Atelier Sano, www.at-sano.com/ feel relaxing ad functional.
Floor rugs and windows curtains in white colors, traditional baskets and soft chair seats add freshness to light interior design and decor.
Sliding glass door and large glass wall bring light and nature inside, helping design eco friendly house. Indoor plants in creative bags add charming accents to modern interior desgn and decor.
Unique house design with roof opening by Studio Velocity, modern houses in eco style
Sustainable home design from Canadian architects, modern houses for green living

What looks better than white and blue colors for the winter holidays? Vibrant and festive green and red color combinations are...