Fantastic Penthouse Design and Interior Decorating in Avant Garde Style in Moscow

Interior Design Ideas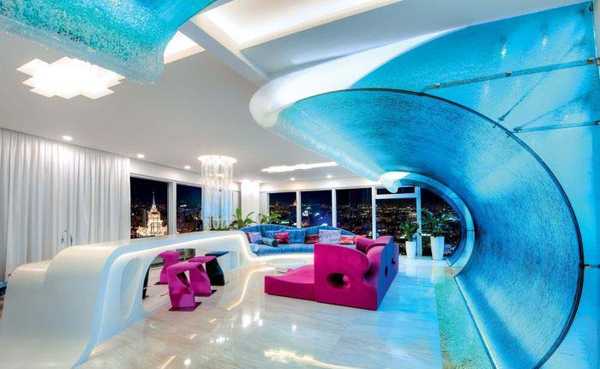 Entertaining zone with glass wall design inspired by ocean waves
decorating with glass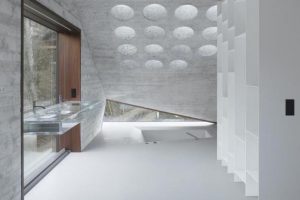 Amazing architectural interiors, striking room colors and bold decorating ideas create this fantastic penthouse in Moscow. Architect Sergei Estrin designed spacious apartment with impressive, unusual and unforgettable interior design and decor in av avant-garde style. The apartment is not designed as a permanent residence, but as a private place for entertaining where the owner can enjoy parties with friends.
This penthouse looks futuristic and very interesting. Impressive architectural interiors make a powerful statement. The living space feels exciting, inspired by a huge ocean wave. Colorful interior design and decor in bright pink, red and blue colors look dramatic and create a sense of a powerful flow that can wash all everyday problems away.
The penthouse is divided into two parts. An enormous wave created of glass separate the living room and dining area from kitchen, bedroom and bathroom. 14 m (46 ft) wide, more than 3 m (10 ft) height, this luminous turquoise wall design overshadows everything else in the room, adding a futuristic feel to fabulous interior design and decor in avant-garde style.
Ocean wave inspired interior design and decorating ideas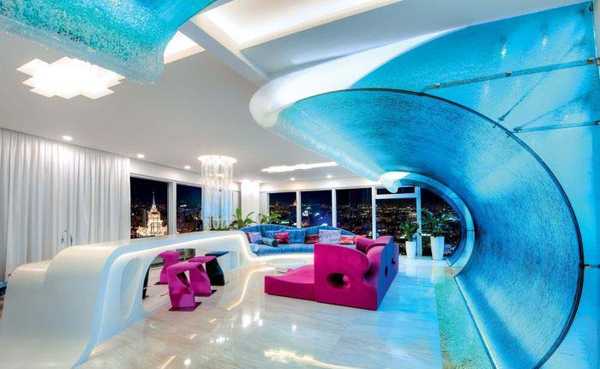 These architectural interiors are powerful and expensive. The Wave accent wall design is innovative and remarkable, adding to fantastic, bold and contemporary look of penthouse interior design and stylish apartment decorating.
The Wave wall design cost few hundred thousand euros due to the exceptional complexity of curvy glass work. Bent glass parts are created in Germany for this penthouse design.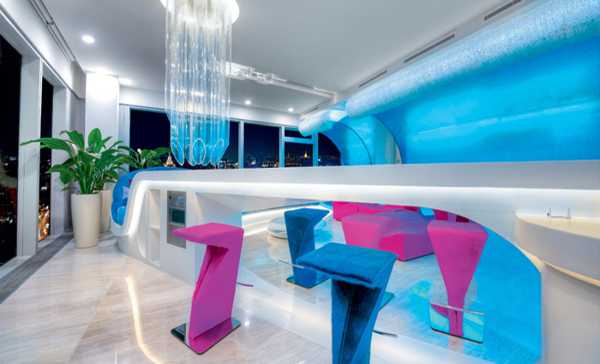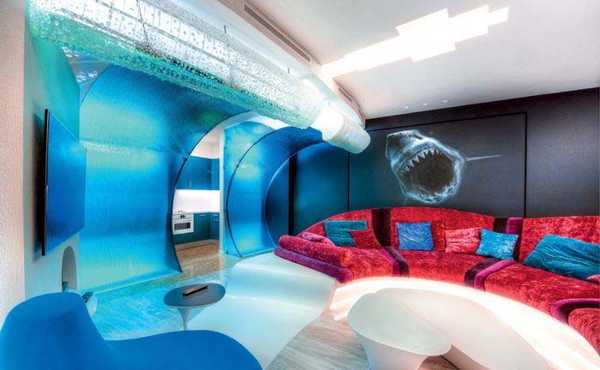 Luxury apartments and penthouses
Glamorous penthouse interior design with mirrored walls and furniture
Modern house design with indoor garden, Broadway penthouse renovation
Parisian penthouse, apartment ideas, modern penthouses and interior design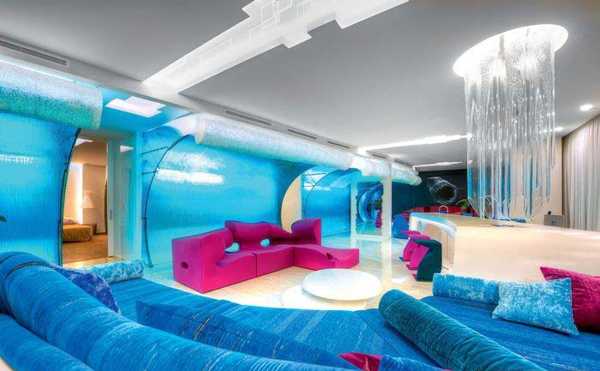 From traditional ceramic tile designs to trendy wood-like, shiny metal, and mesmerizing glass, there is seemingly unlimited ways to brighten up...
and enjoy free articles sent to your inbox