Fall Leaves Yard Decorations and Cleanup Ideas Preparing Lawn for Winter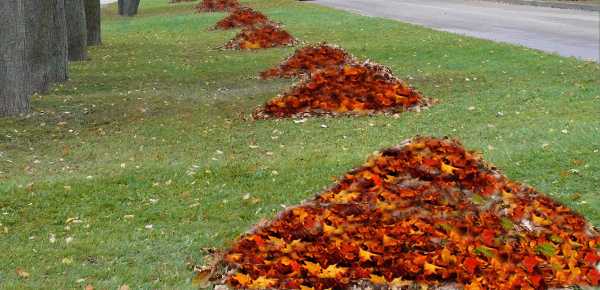 fall colors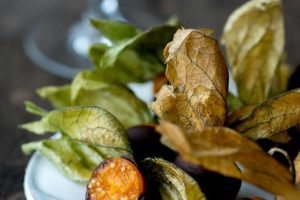 Fall yard decorating and cleanup at the same time is a way to save time, beautify your backyard ideas and increase  chances of a great looking lawn next spring. Winterizing lawn this fall prepares it for winter and allows to create more attractive backyard design in spring.
Weed control, fertilizing, mowing, raking and aerating are all important steps to ensure a desirable lawn in the years to come. Fall yard decorations made of natural materials, tree branches and leaves make fall cleanup easier and fun. Make them while you prepare your lawn for winter.
To avoid facing many of the lawn care troubles in the spring prepare your lawn for winter in fall, while the weather is not cold and you can enjoy working outside and create beautiful fall yard decorations of natural materials that your yard provides.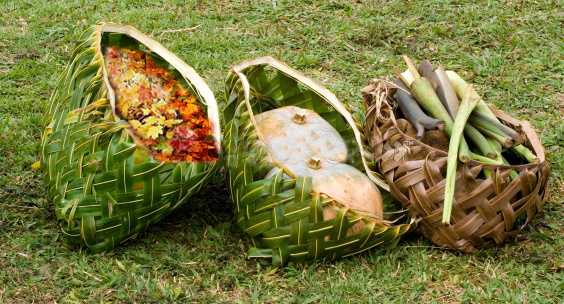 Yard cleanup and lawn winterizing tips
Control broad leaf weeds such as the dreaded dandelion in early fall when they germinate. Apply a regular broad leaf herbicide at a low rate because the weeds are still quite small.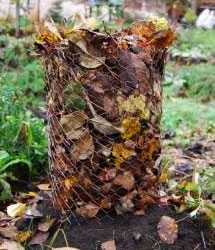 Fertilize in the fall because when a lawn goes dormant in the winter, well-nourished roots will continue to grow in soil temperatures above 35 degrees.
If grass will be covered by a blanket of snow in the winter, cut the grass a bit shorter than one-third of the grass blade at the end of the mowing season.
This will remove leaf blades that turn brown and go dormant during the winter. It will also make the yard look greener earlier in the spring.
When raking, remove large piles of leaves, twigs and other debris from the lawn. These elements break down slowly, suffocating the lawn and contributing to rot, mold and other diseases. Collect leaves in black and orange bags for Halloween yard decorations.
Use baskets and buckets for fall yard decorating with leaves. Make sculptures and large smiling pumpkins, wall and door wreaths and garlands with gorgeous fall leaves. Then grind up leaves and return them to the lawn to add nutrients to the soil.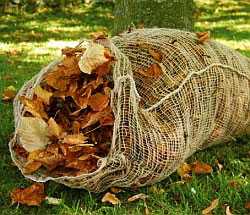 Aerate in the fall to help break up compacted soil and remove excess thatch, allowing fertilizer nutrients, sunlight and air to infiltrate the soil.
Make fall yard decorations with lots of twigs and leaves that look bright and attractive. When you remove them from your lawn, it works as aeration.
Too much or too little of something is not a good thing. Simple and quick actions for weed control, fertilizing, mowing, raking and aerating help ensure that your lawn is ready for next spring, and fall yard decorations make of fall leaves, small branches and twigs make your backyard design look beautiful in fall.
Fall yard decorations and inspirations
Pile of bright fall leaves make beautiful fall yard decorations. Plastic fence and wire mesh are handy for creating these simple and natural fall yard decorations. Use wicker baskets, burlap bags or wooden boxes to collect gorgeous fall leaves that brighten up your fall yard decorating in eco style. A broken umbrella or an old sink with fall leaves make nice centerpiece for your fall yard decorating.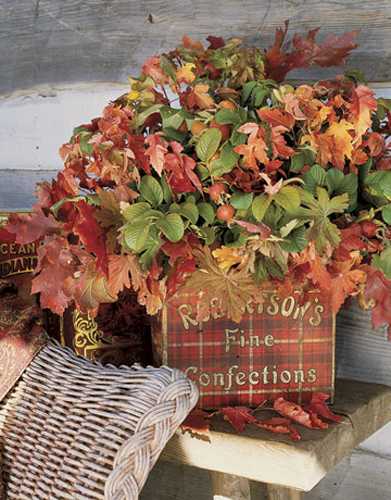 More from yard decorations

Colorful handmade birdhouse designs look beautiful on green branches and garden posts. Creative painting ideas turn wooden birdhouses into bright yard...
and enjoy free articles sent to your inbox