Energy Efficient House Design Competition Evaluates Affordable Eco Homes of the Future

Interior Design Ideas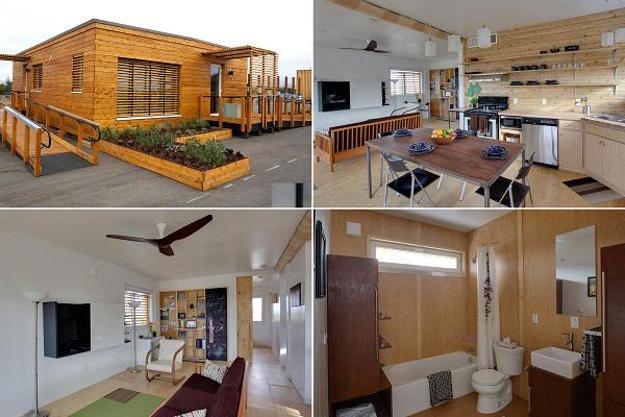 Affordable and sustainable home design by Norwich University team
eco homes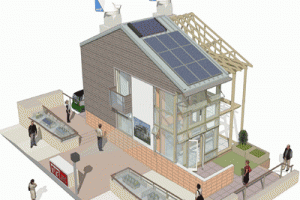 Nineteen student teams are in a tough competition to see who can design, build and operate the most energy efficient and affordable eco home of the future. From solar technology, to sustainable building materials and Green ideas for interior design to futuristic heating and cooling systems, these teams are using the latest innovations in Green building technology and house design from companies across the globe, while pushing the envelope of energy efficiency with their own new, creative and  modern ideas.
These eco-friendly homes are fully built and decorated for comfortable modern lifestyle, and then the student teams perform all kinds of tasks within these innovative, functional and contemporary homes, from washing clothes to boiling water. A team which does it all best wins.
The eco friendly house design competition, which is called the Solar Decathlon, started in 2002. The energy efficient house design competition occurs biannually in Washington, D.C, but this year the Department of Energy-sponsored event moved to Irvine, California, to bring affordable and eco homes of the future to a wider audience.
Eco friendly house designs
Here is just a few amazing Green projects presenting affordable and energy efficient, solar-powered modern house designs for the future.
Das Haus, sustainable design and Green interior decorating
Eco friendly houses of the future, 10 amazing futuristic design ideas
Norwich University Green house design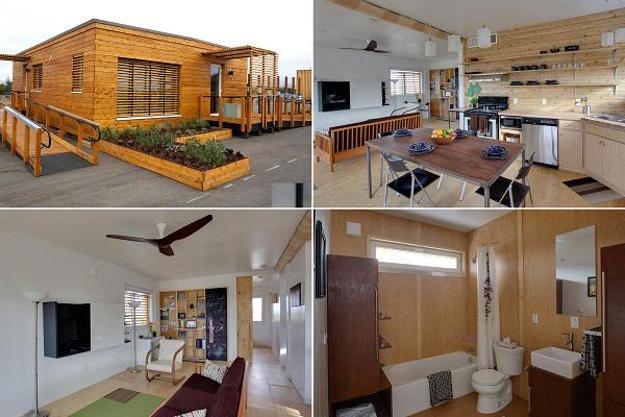 This eco home costs $168,385. It  was built in Vermont. The Norwich University team worked with a home builder, proving that in the future the affordable and eco friendly homes could be made commercially available.
This Green building features smart monitors that allow homeowners to stay informed about their home's power usage and production while maintaining a comfortable 70-degree temperature inside even when the outside temperature is below 20 degrees.
Stanford University sustainable design Start.Home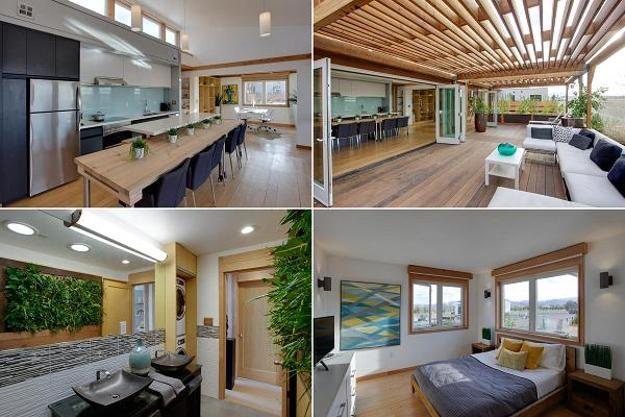 The Start.Home is cost$234,092 and designed as low cost and efficient Green building, solardecathlon.stanford.edu/ The main unit that runs the house can be shipped to home builders as a self-contained unit, so they can build their own customized homes around it. The house features energy efficient appliances and the roof, lined with energy efficient ceiling material developed by DuPont. Homeowners can control and monitor energy consumption using an Apple iPad.
The University of North Carolina at Charlotte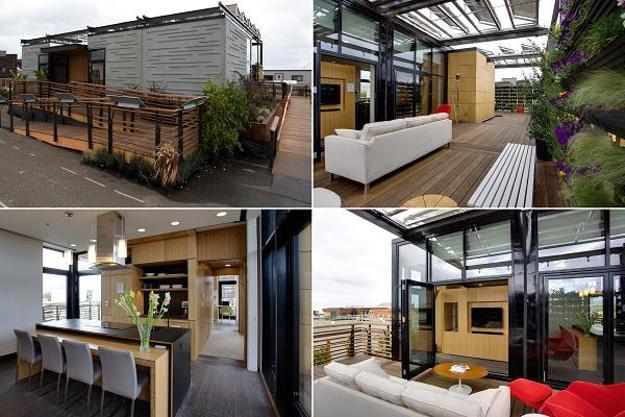 The UrbanEden house design, urbaneden.uncc.edu/ and building construction cost $350,686. The geopolymer cement, used for this house design, is innovative, showing a great way to recycle byproduct materials for Green building. The cement concrete is made up of fly ash, which is a waste byproduct of coal-burning power plants. The house design team estimated their new cement reduces the homes carbon footprint by 90 percent.
25 fantastic architectural designs for Green living in floating cities
Green roof, sustainable architecture and rooftop gardens
This house design features moving walls that turn the living room into a bedroom and transform the outdoor deck into a large living area. The deck is lined with plants. Shrubs and flowers decorate rooms, and edible plants grow near the kitchen.
Team Capitol DC house design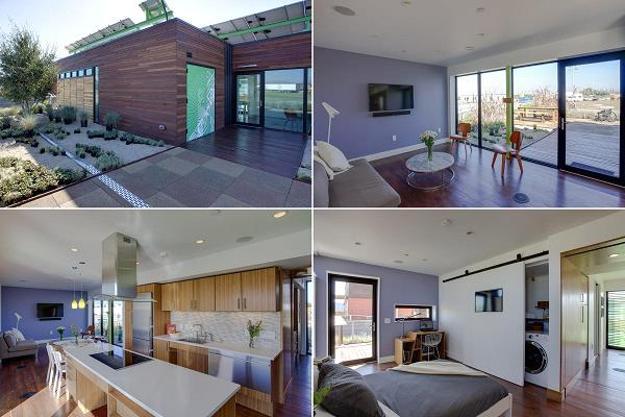 The Harvest House design, www.teamcapitoldc.org/ and its construction costs $280,952. The house features sliding blinds along the front. Strips of metal called lulvers adjust, opening or closing to maximize sun energy. Each blind has a built in heat-sensitive black wire which expands or contracts to open or close the blinds automatically at certain temperatures.
Sustainable home design by SCI-Arc and Caltech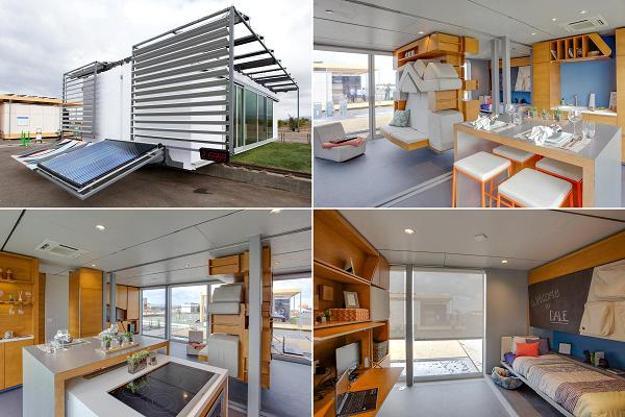 The DALE House, meetdale.com/ costs $274,263 and splits in half to triple its living area. Sliding on rails, the house expands from 600 to 18,000 square feet, opening up to make the most of sunny climate of California. The walls move to maximize or minimize different living areas in accordance with the homeowner needs.
The Phoenix house design by Kentuckiana team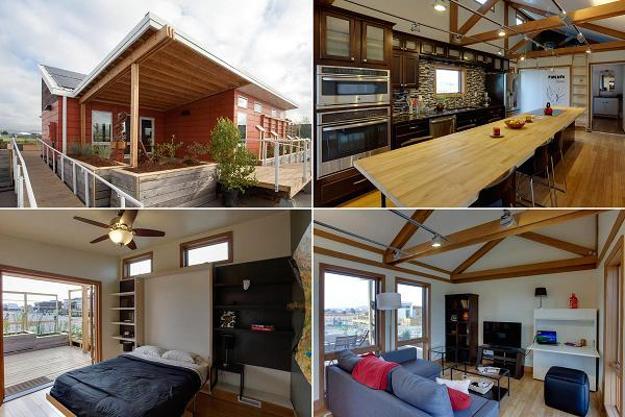 The Phoenix House costs $248,423. It is designed with victims of natural disasters in mind. The modern house is constructed with a roof that easily pops back into shape after it is demolished, sd2013.teamkentuckiana.org/. The bathroom doubles as a safe room for a homeowner to take shelter, strengthen with a strong metal outside door and a shatter-proof window.
The complete list of Solar Decathlon Teams is available from www.solardecathlon.gov/teams.html.

Modern house design in Japanese style celebrates the functionality and elegance of minimalism. Airy, bright rooms look inviting and comfortable. Natural...
and enjoy free articles sent to your inbox