Decorating Ideas for Fall Holidays, Table Decoration in Black and Orange Colors

Decorating Ideas

Dining Room
Holiday Decor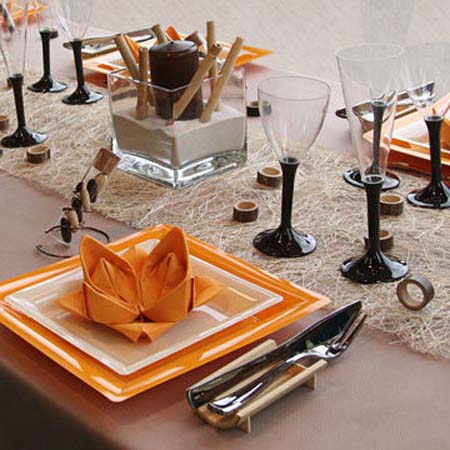 fall colors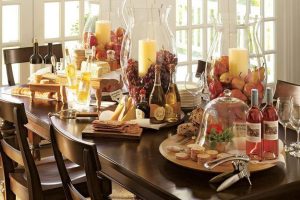 Table decoration in black and orange colors are associated with Halloween decorations and Thanksgiving party table decor, inspired by harvesting pumpkins and fall leaf colors. Orange color schemes are perfect decorating ideas for fall. Orange is the color between yellow and red, that symbolize autumn leaves and fall decorating ideas. Black add mysterious charm to white and orange color schemes, used for table decoration, and light gray color tones add elegance to fall table decor.
Orange is the color of pumpkins, the symbol of Halloween and Thanksgiving.  Orange color schemes look optimistic, rich and happy, adding warmth and coziness to dining table decor ideas. Orange is the color of creativity and new ideas. According to French art de la table experts, orange  color schemes are excellent decorating ideas for fall that blend traditions and contemporary experiments, creating warm and bright table decoration ideas.
Orange colors are perfect for creating a festive holiday atmosphere and casual table decoration ideas for a family dinner. Striking bright or cozy burnt orange color shades add unique flavor to table decorating ideas for fall parties, offering a pleasant and warm color combination with classy black and comfortable brown colors. Orange color schemes, that include elegant gray and neutral beige offer bright and welcoming color palette, that helps people relax and enjoy wonderful food in fall.
Fall centerpiece ideas and table decor from France
Orange color schemes create unique table decoration, when blended with classy black, elegant gray, neutral beige and comfortable brown colors. Soft white, sunny yellow and spicy red color tones, added to black and orange colors, make table decoration ideas feel lighter and brighter for a party on Halloween or Thanksgiving.
Thanksgiving and Halloween decorating ideas
Pumpkin flower centerpieces, fall table decorations
Halloween decorating ideas, Halloween ghosts and bats
Entry decorating ideas for Halloween to welcome trick-ot-treat guests
Orange colors for fall decorating
Warm decorating ideas for fall
Interior decorating, simple fall decorations
Fall decorating color schemes and trends
Light gray and natural wood tones, included in orange color palette are perfect for impressive table decor in eco style. Black and orange colors, combined with soft white shades make table decorations look tender and romantic.
Two beautiful table decoration ideas from French decorators are inspiring. Dynamic bright orange or softer burnt orange color can be used for picture perfect table decoration any time of year, but if you use orange color schemes for Halloween and Thanksgiving decorating ideas in fall, when the nature celebrates the festival of striking fall leaf colors, your table decoration ideas will look especially dramatic.
Orange colors include many wonderful and exciting shades, – carrot and tangerine, orange peel and amber, bright orange and peach, pumpkin and burnt orange tones, bringing natural colors, warmth and inspirations to your table decoration.
You can make various looks, adding dried bamboo sticks or driftwood pieces, fresh flowers or beach pebbles, kitchen spices in orange colors and tea candles, orange napkins and simple handmade of wood table decorations. Unusual table decorations, made of test tubes and cork stoppers, sand, small rocks or beach pebbles, are delightful table centerpieces that give a personal touch to your dinner table decorating ideas for fall holidays.
More from table decoration

Pink is one of the most ubiquitous and versatile Christmas colors that are perfect for elegant table decoration. The tender, pale...
and enjoy free articles sent to your inbox