Brownies and Cupcakes in Egg Shells, Creative Food Design Idea
---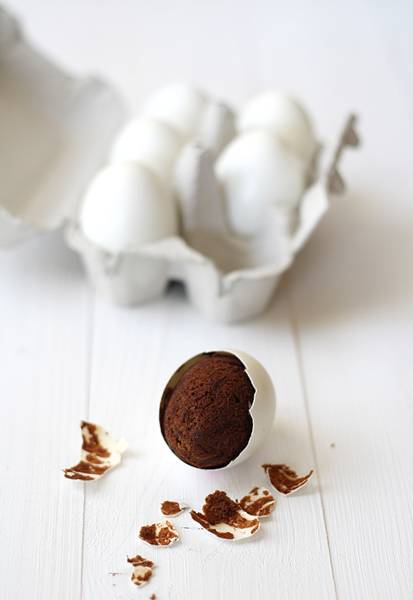 Egg shells with brownies, edible decorations for holiday tables
Chocolate brownies in egg shells looks unusual and bold, blending a simple idea of organic and interesting design with delicious taste. A basket with brownies in egg shells is a wonderful treat for your family and guests. Cupcakes or brownies in egg shells on a plate are a unique table centerpiece, perfect for any holiday or party table decoration.
Brownies in egg shells are a beautiful edible table decoration that adds a strong contrast of dark brown and white colors to your table decor, surprises and delights your family and guests, offering delicious sweet deserts.
The idea of a cupcake or brownie in an egg shell for dessert is very creative and inspiring. Chocolate brownies in egg shells are irresistible, offering lots of fun. Chocolate brownies are great table decoration for Easter and April Fools Day, New Years Eve and birthday party,  when everybody smiles and look surprised.
Brownies and cupcakes baked in egg shells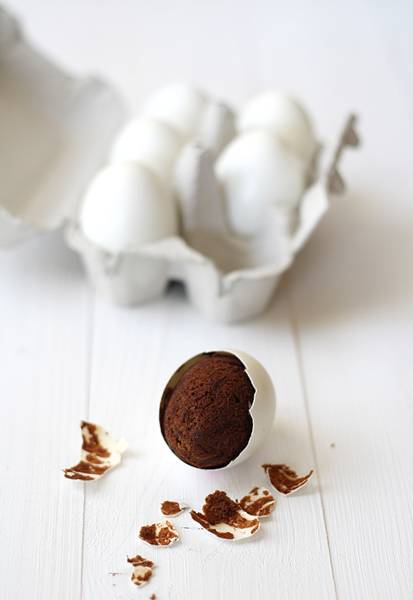 Now your Christmas tree can be decorated differently, because you can paint the egg shells any color and make unusual edible decorations and delicious treats for kids and fun loving adults.
You can add various patterns to egg shells or write numbers, preparing exclusive edible table decoration for a New Years Eve or birthday party.
Decorating with flowers, edible rose petals
Food design and edible decorations, 20 sweet Easter ideas for table decoration
Ideas for New Years Eve, edible table decorations
You will need just few ingredients to create this amazing treats and striking edible table decorations for your party:
12-16 eggshells, better if they are XL
200 g of chocolate to melt
125 g butter at room temperature
3 large eggs
200 g sugar
125 gr of flour
3 tablespoons of pure cocoa powder (type value)
1 pinch of salt
Cupcakes baked in egg shells, colorful edible table decorations
Bake muffins, cupcakes or brownies for your loved ones and enjoy smiles on their faces. (Go to Easter Cupcakes Baked in Real Egg Shell for instructions.)

by Ena Russ
last updated: 13.10.2016