7th Heaven Penthouse in Moscow, Modern Interior Design Ideas from OLSTUDIO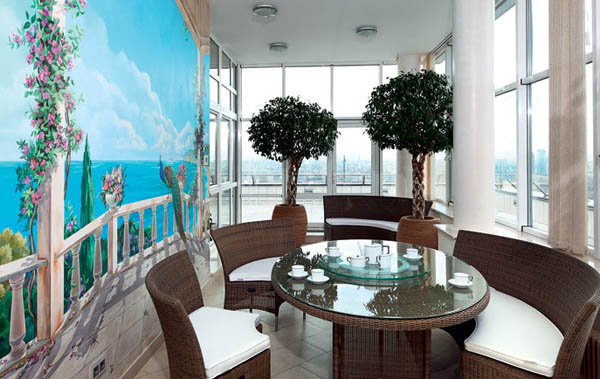 Wall mural, indoor plants and dining furniture made of natural materials, beautiful penthouse design
7th Heaven penthouse design blends the urban functionality with freedom, creating a beautiful home for a family where parents and kids feel joy and satisfaction. Practical, spacious and artful apartment ideas are the key concepts of modern interior design that make this penthouse in Moscow look unique and comfortable.
Inspired by a country home, penhouse's interiors feel inviting, simple and cozy. Light room colors, combined with natural wood tones and floral designs add elegance and charm to modern interior design.
The penthouse offers a panoramic view of the city. Light room colors celebrate airy and spacious interior design ideas, creating a floating living space. The open space is divided into few functional areas, adding more comfort to attractive and modern interior design ideas.
Penthouse interiors in light neutral color palette
Mirrored tiles and white paint, light and spacious interior design ideas
The master bedroom, kids rooms, gym and sauna create the private area. The kitchen, dining and living room area, playroom and home theater are designed to satisfy all family members' tastes and provide an amazing living space for having fun and enjoying family life.
The penthouse interiors look diverse and interesting. Pleasant light neutral color palette, blue and green color shades, and natural wood tones support beautiful, creative and modern interior design ideas. Hardwood floor in pink oak color and natural light stone, used in the central area create a gorgeous color combination. The brown-beige neutral color palette add tenderness and a cozy feel to modern interior design.
Wall mural, indoor plants and dining furniture made of natural materials, beautiful penthouse design
Light interior design colors create attractive contrasts with brown color tones of the oak floor and give the penthouse interiors a feeling of comfort, harmony and tranquility.
Parisian penthouse apartment ideas, modern interior design
5 bedroom interior design trends, contemporary bedroom interiors
Floral designs add natural charm to modern bathroom decor, adding a splash of green color to the floor and wall decoration.
Cozy home theater design, striped furniture upholstery fabric in black-n-white and unique ceiling design
Light and tender interior design color combination, inspired by blue sky and white clouds, include sky-blue color tones, grayish and vanilla shades. Mirrored tiles and silver paint add more light, celebrating airy and spacious room design.
Floral mosaic tiles and flower designs for floor decoration, white and green color palette for modern bathroom decorating
Comfortable and functional, beautiful and modern interior design ideas are combines for creating apartment interiors with country living feel. Magnificent views of the city and a winter garden on the terrace create an amazing illusion of living in the forest and add more harmony to this penthouse design.
Space saving apartment ideas, room dividers and modern interior design ideas for small rooms
Luxurious homes prices, from Montreal penthouse to Bulgarian beach house
More from modern interior design

Here is a new design concept of Ibis Hotel in Sao Paulo, Brazil. The contemporary and original interior design invites everyone...