White Kitchen Cabinets and Modern Wallpaper, Ideas for Decorating with Kitchen Wallpaper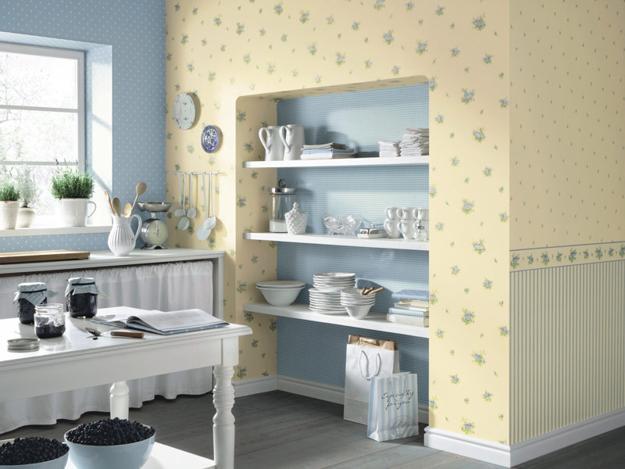 White kitchen furniture and colorful kitchen wallpaper for decorating with blue and yellow color scheme
Modern wallpaper patterns bring more interest into kitchen design with white cabinets. Selecting the best wallpaper pattern for white kitchens depends on homeowners tastes, preferences and decorating styles. Accent wall design with modern wallpaper is spectacular and refreshing. Lushome shares 15 ideas for decorating with kitchen wallpaper.
Black and white wallpaper patterns, abstract and geometric decorations patterns, flower wallpaper and striped wallpaper designs are beautiful modern ideas for redecorating walls with modern wallpaper and wallpaper borders. High-traffic areas such as kitchen interiors can be decorated with vinyl wallpapers and wallpaper borders. This modern  because they are easy to clean and are more durable than standard designer wallpaper.
Wallpaper patterns and colors depends on your kitchen colors and interior decorating style. Modern kitchen interiors with accent walls or entirely wallpapered look interesting, unusual and modern, creating beautiful living spaces for cooking, dining and entertaining with guests.
Modern kitchen colors, elegant white kitchens
Modern ideas for decorating with kitchen wallpaper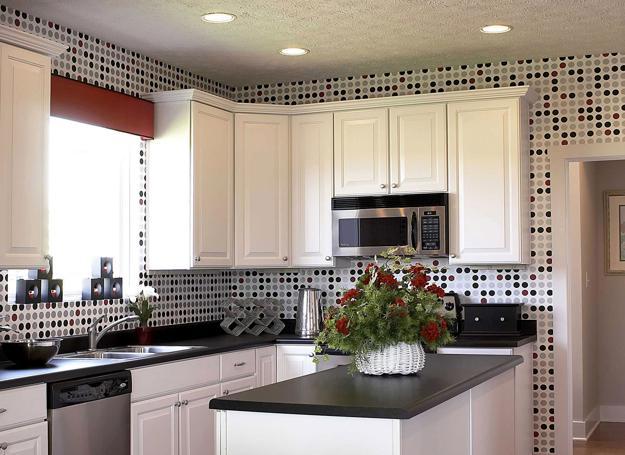 Modern ideas for decorating with kitchen wallpaper patterns are a way to reflect your style and personality creatively and elegantly. Decorating with kitchen wallpaper can be very intimate and passionate. Beautiful wallpapers bring style and unique character into modern kitchen designs.
White kitchen cabinets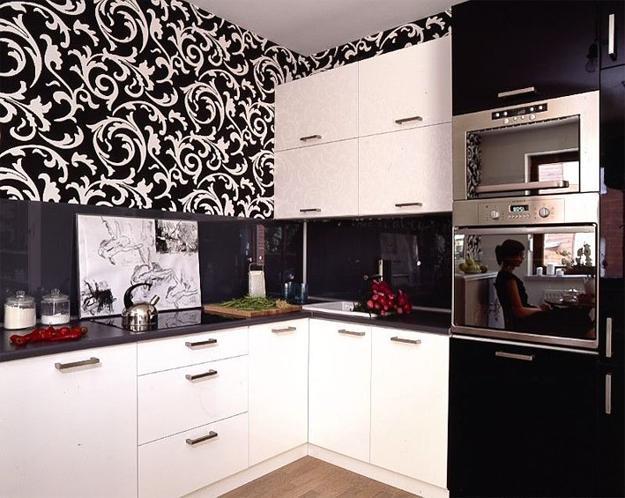 White kitchen cabinets are large surfaces that provide a neutral background for decorating with kitchen wallpaper. Patterns, colors and textures of modern wallpaper design create gorgeous colors and enrich kitchen decor in many attractive ways.
10 modern kitchen design trends
Wallpaper designs, wall tiles, wall stickers, glass panels with digital prints and murals are fabulous ideas for modern kitchen decorating. These kitchen and decor ideas define stylish trends in home decorating and allow to create truly unique and modern kitchen designs.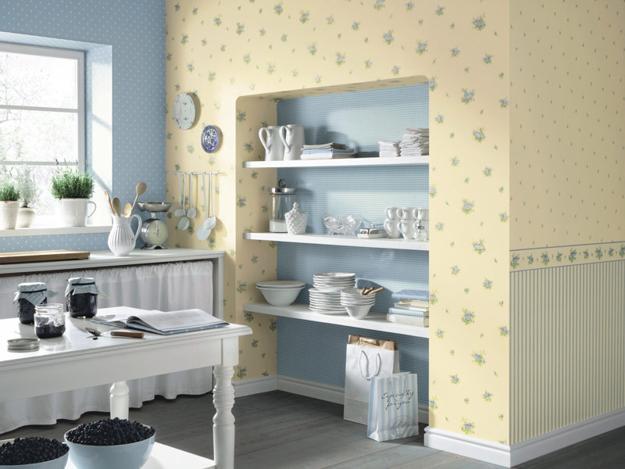 Modern wallpaper patterns and colors create striking accent walls, enrich decorating themes and create highly attractive and personalized kitchen interiors. Black and white wallpaper patterns or bright decorating colors change walls and create vibrant and beautiful kitchens.
Green-white color schemes for spacious and modern kitchen decor
Colorful designer wallpaper, black and white wallpaper designs, wall tiles, wall stickers, glass panels with digital prints, murals and wallpaper borders are a great decorative choice for modern kitchen decor. A good balance between existing kitchen decor colors and wallpaper patterns brings energy and comfort into modern kitchens.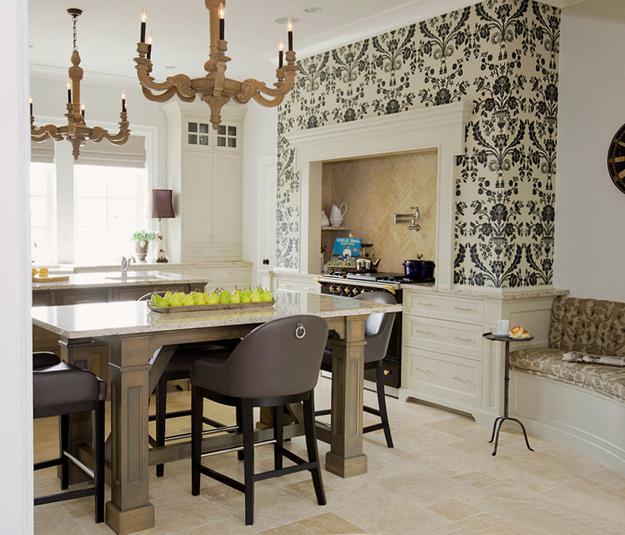 Modern kitchen decor, enliven the walls with modern wallpaper, creative and impressive. Kitchen wallpaper for modern wall decor that match and complement existing kitchen design looks elegant and amazing.
Modern wallpaper for small kitchens, beautiful kitchen design and decor ideas
Modern wallpaper patterns can bring various themes, from country home decorating to contemporary and ethnic motifs, creating one-of-a-kind modern kitchens.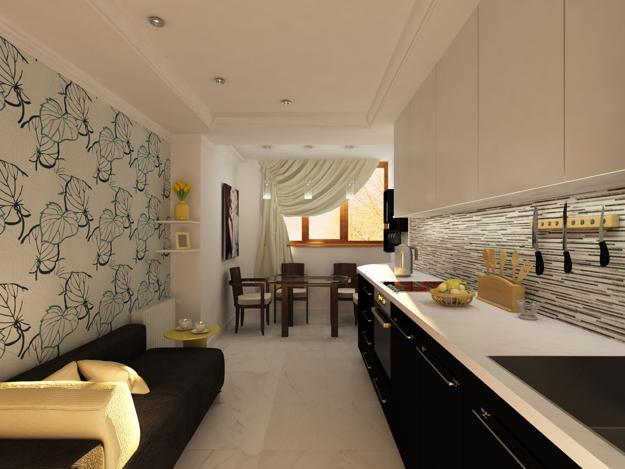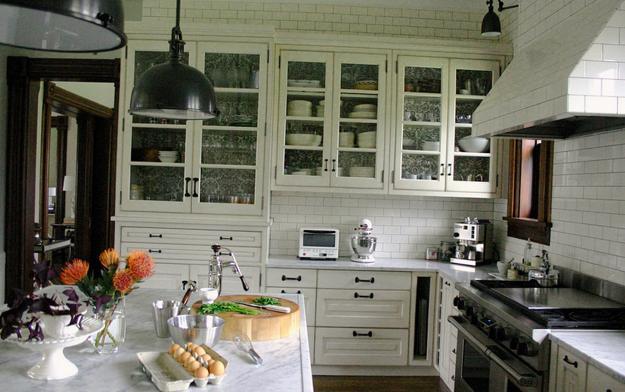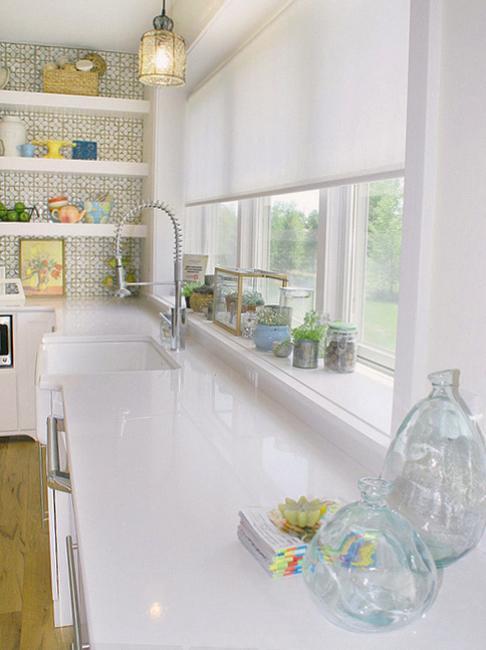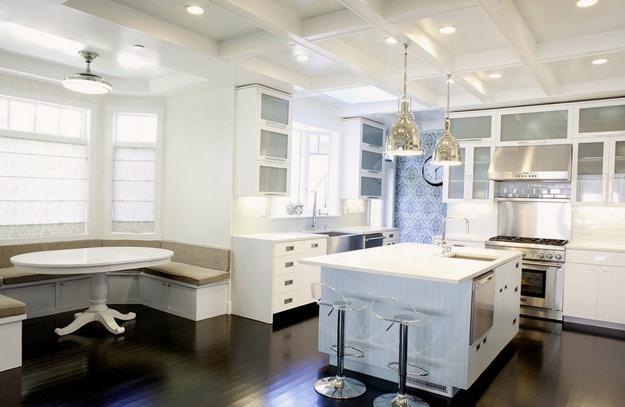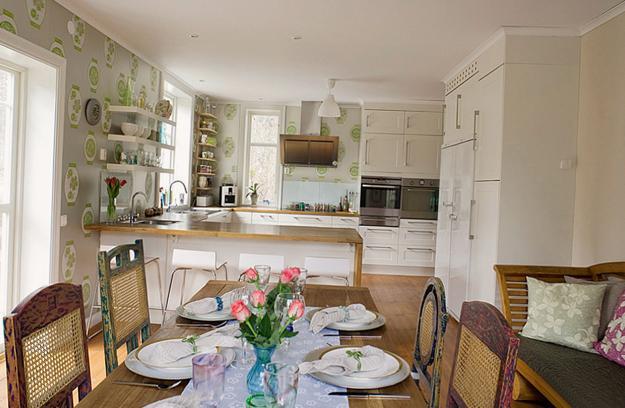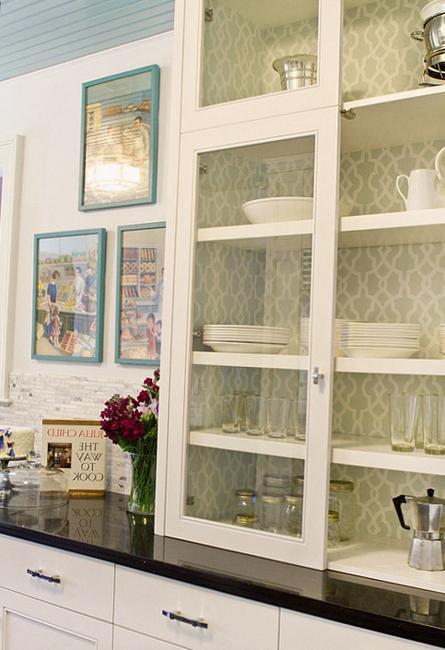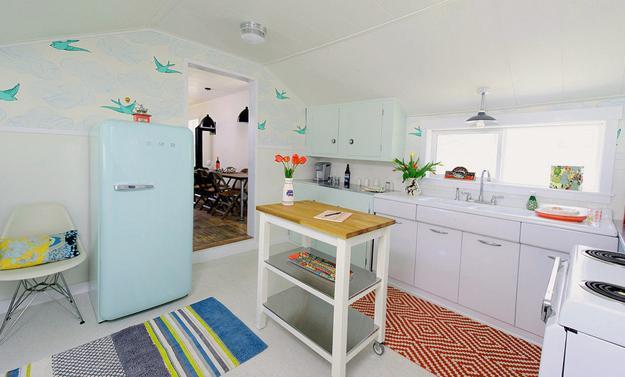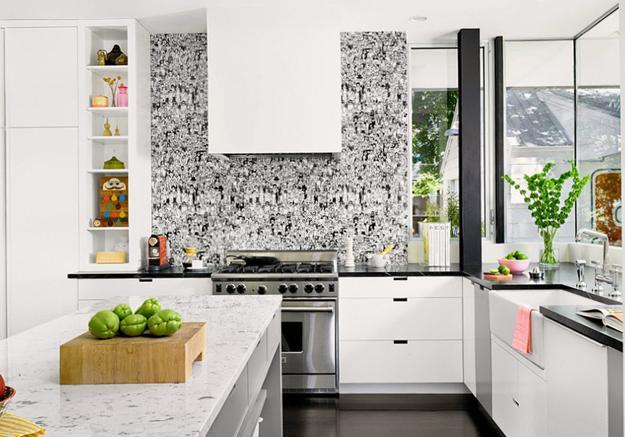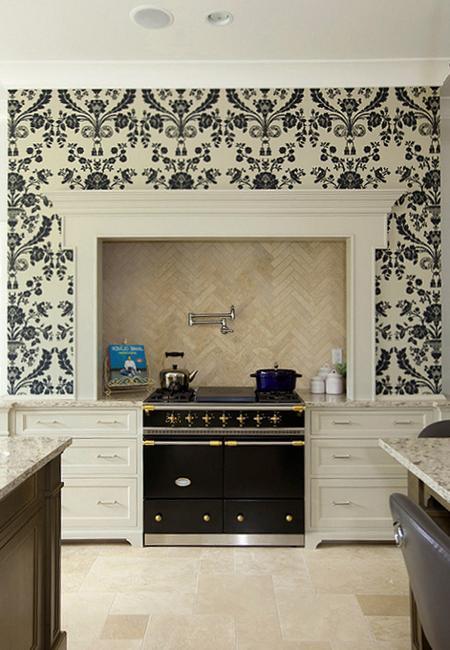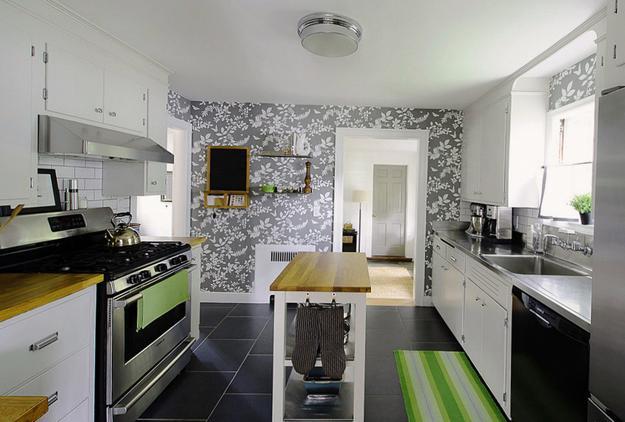 Open kitchen shelves are one of the modern interior trends. Decorating kitchens with corner shelves is inexpensive and stylish. Open corner...