Stone and Wood Bathroom Design with Open Shower, Stone Bathtub and Fireplace
---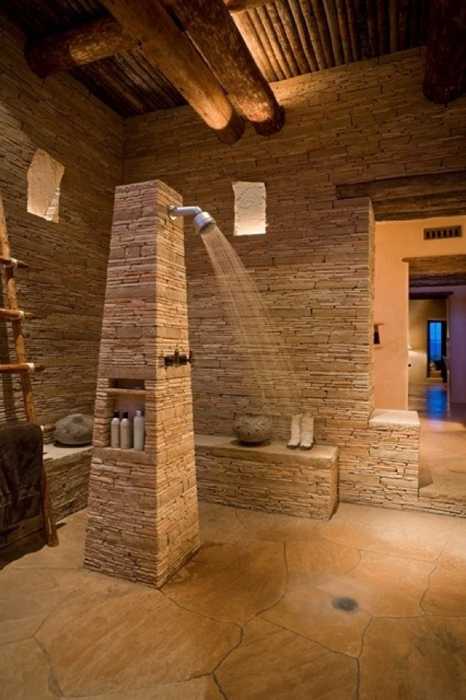 Spacious bathroom design with large open shower and Roman bathtub areas
This amazing bathroom design with an open shower and a tub is created with stone and wood, solid uncut, gigantic logs. It adds true luxury to a large home, satisfying any extravagant taste and creating a spacious and unique bathroom.
The open shower concept is a popular trend in modern bathroom design, and this stone and wood interior reflects it in a surprising, spectacular and impressive way.
This open shower design features a Southwestern flavor and shows exceptional sculptural details. The gorgeous bathroom design with the open shower area and original decor adds to the values of the house, the Rancho Alegre in Santa Fe, New Mexico.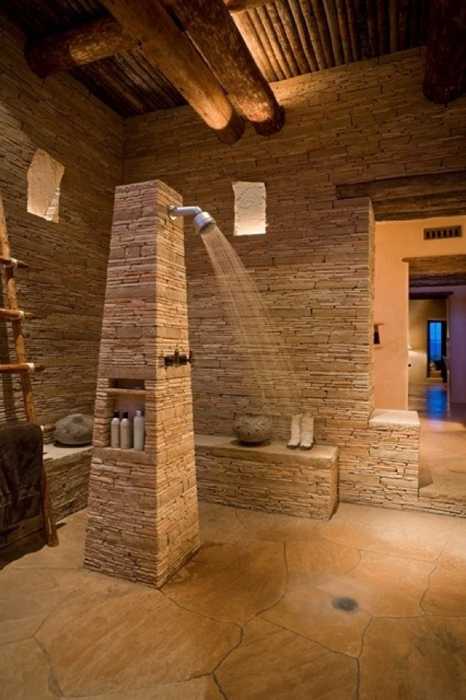 Beneath the exposed giant logs of the ceiling, stone showers create a large and comfortable bathroom interior with a Roman tub, offering various options for bathing experience.
The bathroom design is decorated with a grand candelabra and a cascading water wall, created by a professional artist. The architectural and interesting bathroom design is a blend of warm and cool elements, creating a whimsical and one-of-a-kind interior.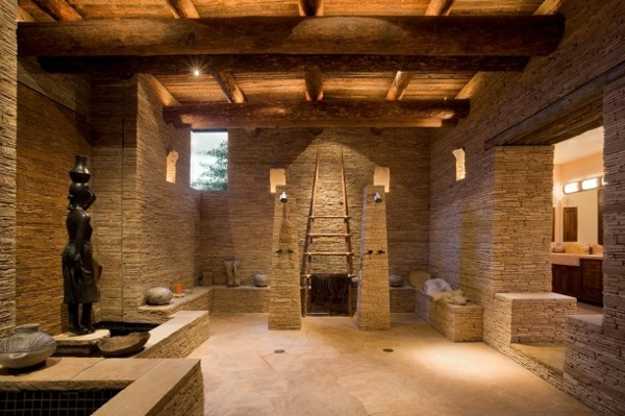 The bathroom design features a wood-burning fireplace to keep the interior warm and pleasant. This bathroom offers an excellent place to wash all worries and problems away.
Walk-in shower art, design for a lonely soul
10 unique shower designs, contemporary shower design trends
Modern bathroom design, walk-in showers and glass screens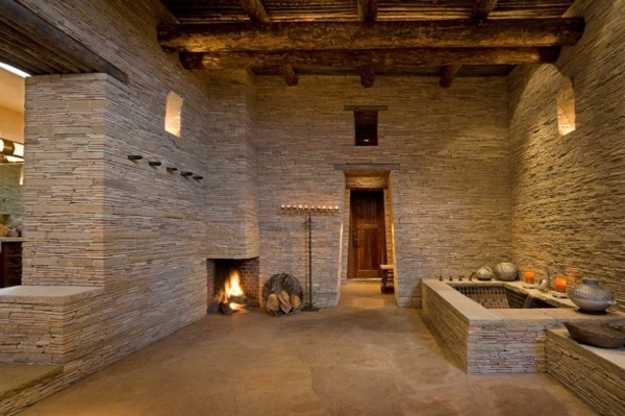 More from bathroom sinks and tubs

Colored bathroom fixtures, beautiful wallpapers, stylish decoration patterns, and colorful accents are the latest trends in modern design which bring back...