Domino Clock in Black and White Colors, New Design Idea for Interior Decorating
---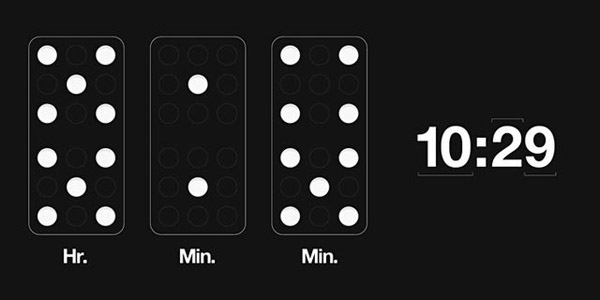 Domino clock is a new design idea from Carbon Design Group to give a different purpose to the simple, familiar and iconic object, like a clock, make interior decorating feel fresh and exciting, and explore new ways to tell time. Domino inspired clock design is a unique modern home accessory that consists of three black wall panels with white dots that tell time.
Domino clock in black and white colors are elegant wall decorations, helping declutter modern homes and make interior decorating look more spacious and comfortable. The clock design will add gorgeous decor accents to traditional or contemporary interior decorating and will look great in any room, kitchen or office.
Domino Clock is a functional home accessory that brings an interesting and playful new design idea into modern interior decorating, blending it with contemporary technology. Interior decorating with Domino Clock in classy black and white colors will feel innovative and sophisticated.
Bath accessories for luxurious interior decorating and home staging
Rain curtains, home decor accents
Black and white Domino Clock
The description from Domino Clock designers
We live in a hectic world. Alerts, alarms, and reminders prod us through our days with unforgiving precision. Challenging this pressure-filled environment, Carbon's Domino Clock™ takes a simple, iconic object and transforms it into a new way to tell time.
The concept is simple. Three larger-than-life dominoes are equipped with articulating "dots" that flip back-and-forth between black and white to keep time. They hang on the wall or stand free, communicating wirelessly as they quietly mark the passing hours and minutes. By subtly abstracting the idea of time, Carbon's Domino Clock creates a more relaxing experience. Carbon Design Group, www.carbondesign.com/
Fruit theme decorations and ideas, functional home accessories
Unusual calendars, design ideas for contemporary home decor
Clock design details
More from contemporary design

Here is a new design concept of Ibis Hotel in Sao Paulo, Brazil. The contemporary and original interior design invites everyone...