---
Multifunctional Wooden Stairs Define Amazing Modern House Design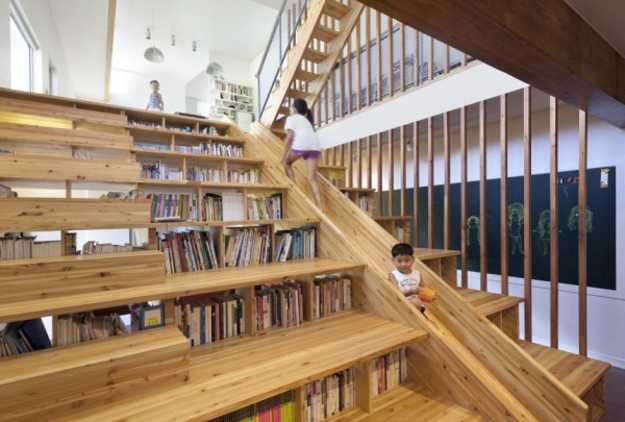 This unusual modern house design is a creative architectural and interiors design project by Moon Noon, an architectural design studio based on Korea. Panorama House  design is amazing, offering multifunctional and contemporary home interiors built around playful and functional wooden stairs.
A large central staircase design with book shelves, convenient storage spaces for kids games or toys, comfortable seats of an improvised home theater, reading nooks and a playful slide is a beautiful feature of this modern house, that offer wonderful living spaces for kids and adults.
The modern house is built in Chungcheon in Korea by Seoul based architectural design firm Moon Noon, www.moonhoon.com Spacious home interiors feature natural materials and lots of windows, enriching modern interior design with grand wooden stairs, a large home library and a home theater.
Modern house design around central wooden stairs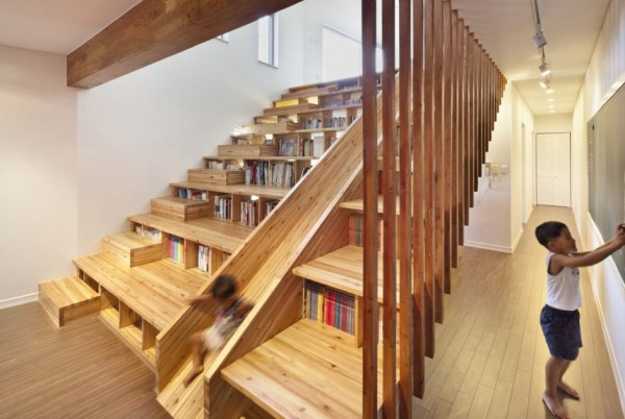 Perched upon high ground, the Panorama House design allows to enjoy breathtaking views of Yangcheong Ri. An angled facade with large and small windows in various geometric shapes looks impressive, intriguing and interesting.
Intended for a family with four children, this large modern house is arranged around a central multifunctional area that features a large wooden staircase with seats oriented towards a projection screen and a playful slide design for a quick and fun way to move around the interior.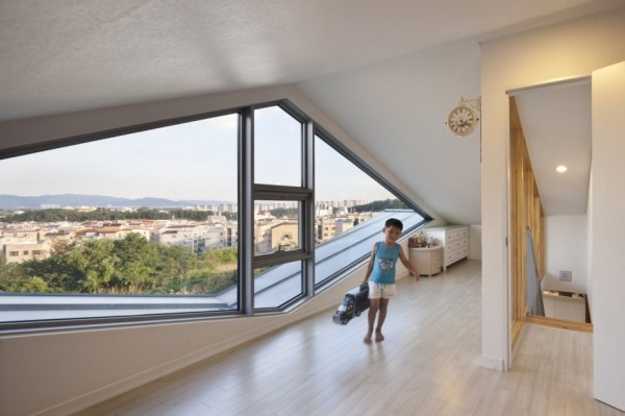 Large and multifunctional wooden stairs are a wonderful element of this modern house design that brings a dynamic energy and a playful mood to the home with young children.
Modern house design featuring an amazing kids playroom, a mini gym and a large indoor pool
Kids room decor, playful wood furniture design for children
Fun interior design ideas, Swing Seats by Svvving
The kitchen and dining room on the ground floor are another wisely designed element of this modern house that unites architectural interiors and create a nice gathering place for all members of the family. Loft space offers panoramic views of the beautiful surrounding landscape and is used as a kids playroom. A second floor and an attic create lots of spaces for kids . Beautiful views, warm wooden floor make home interiors bright and cozy, perfect for seating on the floor and enjoying various activities.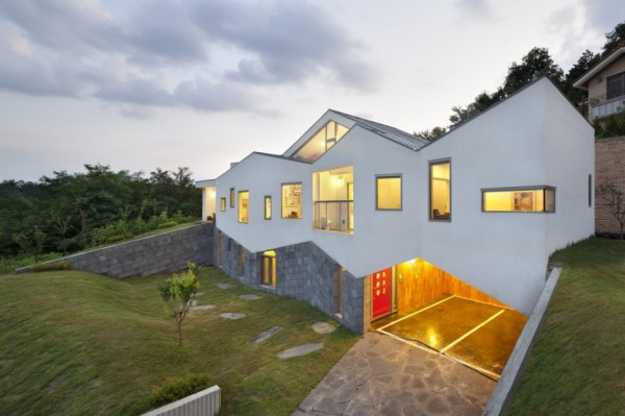 Multifunctional structure of the staircase design and comfortable interior design ideas bring energy into this home and enrich modern house design with playful and adventurous, functional and family-oriented ideas.
Interior design around the wooden stairs

Architectural design
Photography by Park Young Chae
by Ena Russ
last updated: 17.10.2016