Contemporary Office Furniture, BuzzHub and BuzzHood Design Ideas from Alain Gilles
---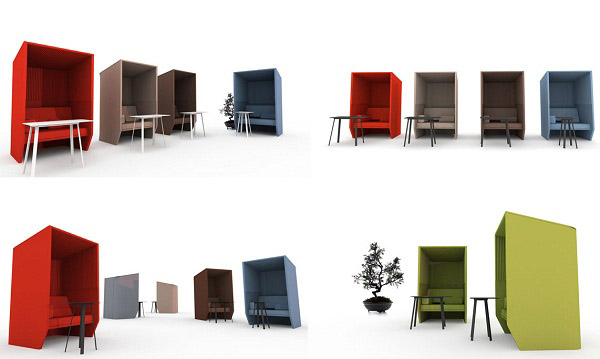 Modern office furniture design ideas, desks with hoods made of sound absorbing fabric
Contemporary hood BuzzHood and small office BuzzHub conceptual design ideas from Alain Gilles are innovative, colorful and attractive. New design idea are developed for Buzzispace to make modern working and living environment quieter and more pleasant for people.
Contemporary home and office furniture design ideas will help to keep the noise level low at home and in the office, providing a private space for telephone conversations and discussions.
Colorful contemporary hoods from the Belgian designer are functional and attractive wall decorations also, perfect for small office, apartments and design studios. Made of innovative fabric that absorbs the sound, BuzzHood is excellent for all who need to talk on phone without disturbing other people in the room.
Alain Gilles, alaingilles.com developed BuzzHood design for creating more peaceful, quiet and comfortable atmosphere in offices and libraries, supermarkets and airports, small apartments and schools.
BuzzHub Single is a unique furniture design idea, a private small office that helps think and concentrate, feel emotional comfort and enjoy quiet environment, while working with a laptop, talking on the phone or writing.
Two BuzziHub Single cabins can be combined together, creating  ideal space for discussions and brain storming meetings with colleagues.
Ergonomic office chairs with unique sound screen design
Green office interior design, healthy environment
The structure of BuzzHood and BuzzHub desk with a hood reminds of an acoustic cocoon, made with a special fabric, effectively absorbing noises and creating quiet and comfortable working space. Colorful contemporary fabric is eco friendly and made of recycled materials. The conceptual design ideas of BuzzHood and BuzzHub will be presented during the design fair Maison & Objet in Paris.
by Ena Russ
last updated: 03.10.2016