Beautiful Old Building Remodeling and Interior Redesign by Elizabeth Roberts Design
---
An old apartment building is turned into beautiful home interiors with creative renovation and interior redesign ideas developed by a Brooklyn-based architectural studio Elizabeth Roberts Design. The old house was divided into several apartments and a medical office. It was in need of a complete overhaul.
Now the gorgeous house Sargisson-Robbins Residence is a modern apartment building with luxurious, bright and stylish living spaces in the heart of the historic district of Park Slope, Brooklyn. The house was reconfigured from an old apartment building into a comfortable and attractive four-story residence with two apartments and a medical office on the Garden Level.
The house exterior features few new windows and entry doors at the Garden level. A new iron gates replaced a chain link fence and look fantastic with exterior brick walls. Throughout the house existing trim and doors were refinished and installed in new locations.
The biggest part of old building remodeling project was the kitchen. A tiny space was stretched by combining two rooms and making one large, light-filled kitchen interior. The kitchen is the center of the home where the family spends most of their time.
The kitchen features a vintage sink, which is set into the soapstone counter. The charming unique sink was found at a salvage yard.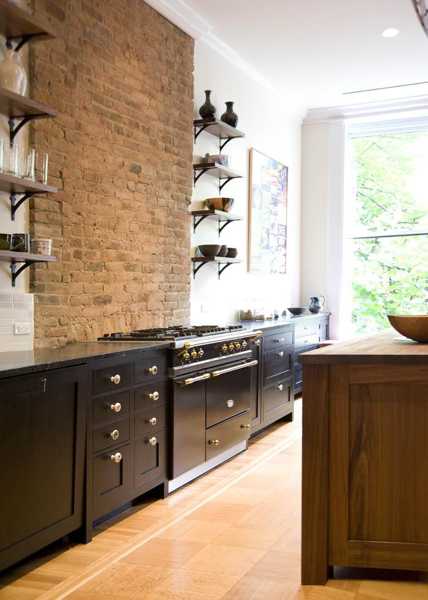 A handmade wooden kayak frame, suspended from the ceiling, gives strong personality to this kitchen design and look harmonious with wood kitchen cabinets. A custom made walnut wood kitchen cabinets in the breakfast area and elegant wooden kitchen island provide ample storage space, creating comfortable, multifunctional and modern kitchen interior.
Home redesign project in Brooklyn, modern kitchen and backyard ideas
Amazing ancient home redesign and interior decorating with antiques
A bay window bench design in the living room creates a convenient and charming additional seating place. The living room design showcases the gorgeous wooden fireplace, wooden floor and window frame, adding warmth to modern interior design and decor in light colors.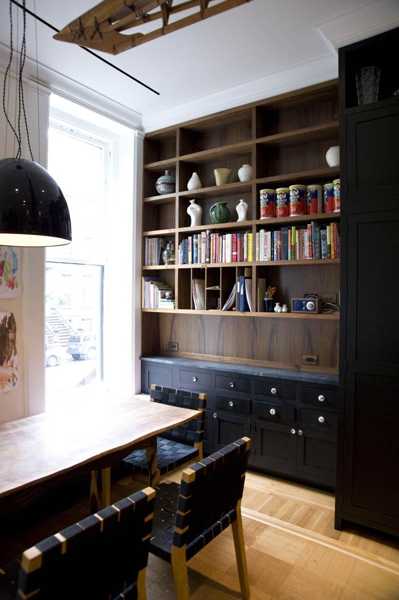 Painted wood of the ceiling makes the room feel quieter and creates a spacious and airy interior with an attractive chandelier. Wall tiles in bathrooms were sorted and rearranged, recycled and reused for personalized, fresh and stylish decorating.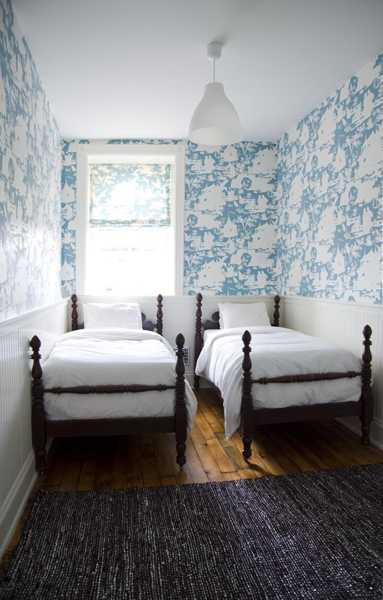 Modern houses with original roofs look unique and spectacular. A roof is a functional architectural element that adds personality to a...